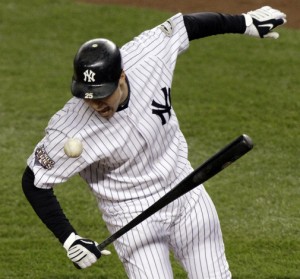 It's difficult to come up with too many criticisms of an offense that's put up a .363 wOBA – best in all of baseball – which is all the more amazing considering the team has seen a number of starters miss significant time due to injury. Unfortunately, as we saw in last night's game and in Tampa, the team, even with a high-scoring offense, seems to strand runners in critical situations. A team with great on-base skills and featuring some of the top hitters in baseball will see a lot of situations with men in scoring position. Of course, the more opportunities the team has with runners in scoring position, the more often we'll see them fail. It's just a numbers game. But considering the talk of how last year's team "was so clutch", it might be interesting to see how the players on this year's roster are doing.
In 2009, the team hit .272/.370/.433 with RISP. They overall hit well with bases occupied, almost regardless of how many outs there were, and .316/.403/.542 in late and close situations also looks great.
In 2010, with runners in scoring position, the team is hitting .279/.380/.458. Hmm…well that overall doesn't seem to be a problem. Ok, what about 2 outs and RiSP? .286/.381/.418. Again, it's not that. Well gee whiz, that's pretty good. What about high-leverage situations? .283/.370/.473. The numbers say the 2010 Yankees are a fairly balanced offensive team. They hit well in tie games, ahead and behind. They hit with bases loaded, they hit well with no outs, kill teams the second and third time through the lineup, hit with RiSP and actually do well in what are considered "high leverage" situations. So maybe this whole notion that the team just isn't "clutch" without Matsui and Smooth Johnny is frankly, bull crap.
But wait.
Look again and you'll find the team seems to have issues with runners on second and third and in late and close situations. The team, with men on second and third, are hitting only .184/.353/.237 this year, with Posada, Jeter, A-Rod having hit one run in (via sac fly) combined over 17 plate appearances. And although the team is bashing pitchers in innings 4-6, too many players are dropping like flies in innings 7-9. Derek Jeter, Winn, Swisher and Teixiera have all had varying struggles in those innings. Add the Bullpen Adventures and you see a nasty witches brew in the cauldron.
The second issue is in "late and close" situations, where the team is hitting .223/.315/.392. When we're in the 7th-9th and it's close, Swisher, Winn and Teixiera have just killed their team's chances of coming out ahead. Teix is hitting a paltry .056/.150/.056, Winn checks in at .125/.125/.125 and Swisher is staring at .143/.143/.143. In fact, if not for Robinson Cano, Jorge Posada and Marcus "The river giveth, the river taketh" Thames, the team would be entirely dreadful across the board in such situations.
As we can see, Randy Winn – possibly the most hated Yankee on the roster (high five, Boone!) – has struggled enormously. It seems that every time a key situation is brewing late in the game, he's up. And the rally is over after he's late on an average fastball. Well, the numbers seem to bear it out. On the year, Winn is striking out 25% of his at bats but over 30% of his PA's late in the game.
Nick Swisher is hitting very well in high-leverage situations at .450/.500/.900(!), but isn't doing so when it's late and the game is on the line. He's hitting .238/.304/.310 in innings 7-9 and has struck out in 5 of his 14 late and close PA's. Jeter, whom I'm sure we're all hoping is just greatly slumping and not declining as a player, is hitting .180/.212/.300 in innings 7-9 and .222/.263/.444 late and clutch.Teixiera might be the most interesting player to study. His slow starts have been well documented. But this start in particular is fairly awful and he just hasn't been there when called upon. Your #4 hitter can only be so futile for so long in those spots before it costs the team ball games.
Luckily, possibly other than Winn, the talent level suggests these players will certainly be hitting well in no time. There's no magic "clutch" concoction we can give these players. As they compile more plate appearances in such situations, they'll start to produce. The 2009 team wasn't some amazing mix of heart, guts and clutch-itity that separated them from all teams before and after them. They hit well enough to be called "the comeback kids" and had some good fortune (which some might call an anomaly). That's it. Less than 20 plate appearances (in some cases) is by no means a good number by which we should judge a player's aptitude in any given situation. All this says is that thus far, the team has had some players slumping at the most inopportune of times. It happens to every team. As we move closer to the dog days of summer, we should expect some of those numbers to improve. And for a team currently featuring a number of AAA players and bench players in their starting lineup due to injury, that's a scary spot for the rest of the league.