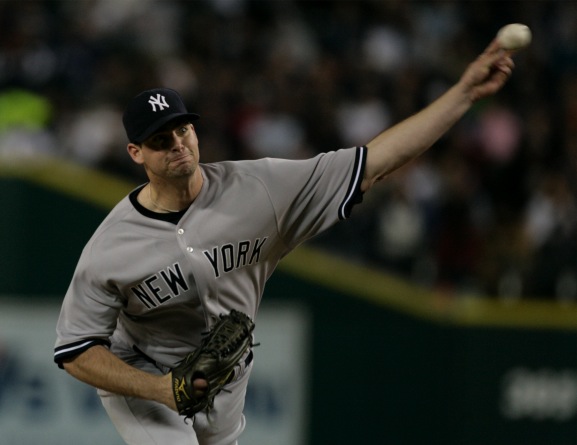 We haven't seen much of Boone Logan this season. Recalled after the Yankees placed Chan Ho Park on the disabled list, Logan has appeared in just eight games and has faced 26 batters. Of those 20 have been in low-leverage situations. In other words, he's something of a mop-up man who sometimes acts as a LOOGY. Either way, he hasn't shown much in his short stint.
It seems like any time a manager has a lefty in the pen he uses him only against left-handed hitters — hence the term LOOGY (lefty one out guy). Joe Girardi has had Logan face 12 left-handed hitters this year, and the results are pretty disastrous. He has walked a quarter of the lefties he has faced. There is no way to rationalize that as acceptable in any way. Logan has never been a control guy, but at least in the past he's avoid issuing too many free passes to same-handed batters.
To his credit, Logan had avoided the extra base hit until last night. Unfortunately, last night's hurt a lot. It started with, guess what, a walk. He had actually walked Johnny Damon to start the inning, but erased him by inducing a ground ball off the bat of Magglio Ordonez. With a fresh slate and two outs he walked Miguel Cabrera. Then, facing lefty Brennan Boesch (shameless Brennan Boesch self-plug here) he laid a fastball right down the middle. That scored Cabrera and gave the Tigers a 5-2 lead. The Yankees would score two in the top of the next inning, but after the extra base hit it wasn't enough to tie the game.
It might seem like Logan is getting a bit unlucky against lefties, since his BABIP against them is .355. That, however, is not the case. Of the six balls in play he has allowed off the bats of lefties, four have been line drives. Those are going to drop for hits more often than not. He has thrown only half of his 52 pitches to lefties for strikes. Apparently he's made those count, laying them right over the plate. Lefties have gotten a good look at him, too, seeing 4.33 pitches per plate appearance. Righties have seen 3.64 pitches per PA.
Even if Logan reverts to his career numbers, he still won't be a quality bullpen component. Against righties he's an unmitigated disaster, a 5.69 FIP and 5.37 xFIP. Against lefties he's a bit better, 3.91 FIP and 3.77 xFIP, but he still walks way too many of them and averages about a home run allowed every nine innings. That's not impressive for a guy whose primary job is to retire lefties. He's also terrible once men reach base, a 5.28 FIP and 5.15 xFIP. He's also more prone to walk guys and less apt to strike them out.
This is mostly an emotional rant about the frustration I feel every time Logan enters the game. I understand that everything he has done falls under the short sample umbrella, and that he's bound to do better against lefties as the season progresses. But, as I said, even his career numbers against lefties don't represent anything special. The sooner he's back in Scranton, the better.