Everything King Midas touched turned to gold, and tonight, the Yanks' King Midas had his golden touch early on. Even without his best stuff, CC Sabathia held the Red Sox to just one run — a solo home run by Kevin Youkilis &mdash and the Yanks were cruising with a 5-1 lead. But then, after 112 pitches, King Midas exited stage left, and everything he had touched turned to dust. Once that perfect storm of bad plays, bad calls and bad pitching settled, the Yankees were on the wrong side of a 7-6 game. Tonight, there would be no pie.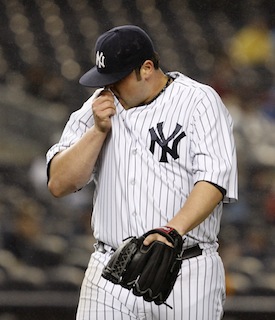 Goat Number One: Joba Chamberlain
Tasked with retiring the top three hitters in the Red Sox's lineup, Joba Chamberlain utterly and spectacularly failed at his job. Although a dubious throwing error by Alex Rodriguez opened the flood gates, Joba couldn't get through the 8th unscathed for the second straight appearance. With a 5-1 lead, he allowed a single, a double and another single following the error before recording an out.
With a runner on second, David Ortiz hit a booming fly ball that, three years ago, would have been a home run, and only Ortiz's classes at the Hanley Ramirez School of Hustle resulted in an out at second base. While Joba had his second out, the damage was done. The Red Sox had tied the game, and the Yanks — who hadn't taken advantage of a bases loaded, one out situation in the sixth — needed to pick themselves up from the letdown of another bad bullpen appearance.
We can wring our hands over the pen's utter inability to get outs. Yankee relievers have allowed 12 earned runs and 15 runs overall in the team's last three games. All but four of those have been charged to Mariano Rivera and Joba Chamberlain.
We can wring our hands over Joba. He threw first-pitch strikes to just two of the seven hitters he faced tonight and couldn't find the zone tonight. When he entered the game, the team's win expectancy stood at 95.9 percent; when he left, that figure had dwindled down to 61.4. With that performance tonight, Joba is your official Goat of the Game.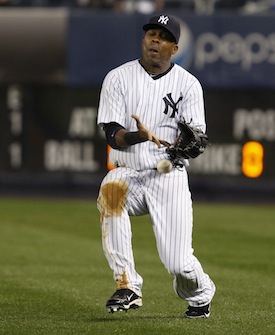 Goat Number Two: Marcus Thames
As a commenter with the amusing handle Jerkface said, "It was the best of Thames, it was the worst of Thames." One night after delivering the Yanks their first walk-off win of the season, Marcus Thames showed us why he's just a bench player filling in only in case of emergency.
With one out in the 9th and Darnell McDonald on first, Marcu Scutaro lofted a lazy fly ball into the no-man's land behind second base in right field. Out raced Robinson Cano, in raced Marcus Thames. The right fielder called for the ball, glanced at Cano for position….and pulled a Luis Castillo. Thames twisted his glove around, and the ball bounced off of him. It was an epic error.
After the game, Thames talked to reporters with tears in his eyes. He said that he lost the ball for a second as he checked Cano's flight and couldn't recover in time to catch it. Had he done so, the Red Sox would have had a man on first with two outs instead of first and second with one out.
Goat Number Three: The Men in Blue
I hate to blame the umpires. I really do. After all, the Yankees' players are the ones who have to do their jobs. Brett Gardner has to do more than bounce to second base with a drawn-in infield and bases loaded with one out in the sixth. Joba Chamberlain has to do anything better. Marcus Thames has to catch the ball. Mariano Rivera has to make his pitches. But tonight, the umpires did nothing to help either team.
For the Yankees, two plays loom large. The first was the ground ball off the bat of Scutaro in the 8th. A-Rod had to rush the throw, and it sailed low to Mark Teixeira. The Yanks' first baseman stretched, appeared to keep his spikes on the bag, caught it and fell. Scutaro was called safe, and no one really put up a fight. The reply seemed to show an out, but we could forgive the umps for this one. The crew had missed a call at second base when Francisco Cervelli threw behind the runner to nab J.D. Drew, but those things happen.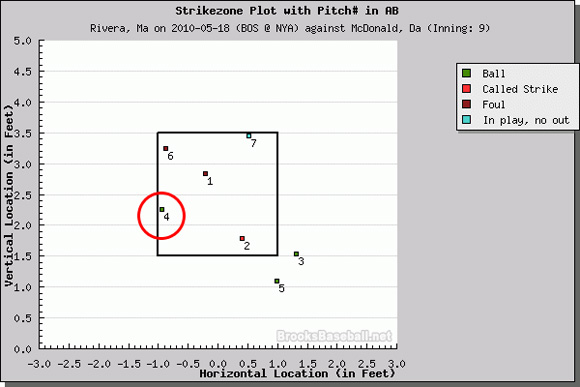 The truly inexcusable call though came in the 9th on a two-strike pitch to Darnell McDonald. Replays showed how the ball cut the plate at the knees and how McDonald swung, but both the first base and home plate umpires refused to call strikes. Just look at the positioning of that thing on the Pitch F/x graph. Had McDonald been rung up, the Yanks would have had two outs on the Red Sox with no one on base.
Still, we can scapegoat the umps until the cows come home, but the Yanks have to get the job done. They didn't.
Annoyances
Where to begin? Where to begin? How about Randy Winn's positioning on Jeremy Hermida's double over his head? Was the bench expected a shallow pop-up? Did Rob Thompson position him improperly? What happened to no-doubles defense? And can someone please stop telling Joba to throw 3-2 sliders? David Ortiz can't get around on a 95-mph fastball, and Joba has to hang a breaking ball to him instead.
Let's also question the Yanks' ability to put a roster together right now. The team has a 13-man bullpen, and apparently, a one-man bench. If neither Jorge Posada nor Nick Swisher were available to pinch hit in the 9th, only Ramiro Pena was a viable bench player. Meanwhile, with the team's decision to send down Greg Golson for Mark Melancon earlier in the day, they had eight relievers in the pen. Tonight was the night they needed Golson the most, and he was on a plane back to Scranton. How infuriating.
Do I consider Francisco Cervelli's bunt attempt an annoyance? Some do, but I'm not sure I'm in the camp. In a very small sample, Cervelli has been a clutch contact hitter with runners on base. Behind him were Marcus Thames, a fastball hitter with strike out tendencies, Juan Miranda just up from AAA and Randy Winn. The Yanks opted to play for just one run and asked Cervelli to bunt. As The Honorable Congressman Mondesi noted, the successful bunt increased their one-run probability from 0.634 to 0.670 but dropped the win expectancy from 46.5 percent to 42.8. If anything, that's a minor annoyance.
Finally, I have an irrational dislike of Randy Winn made worse by the fact that I just knew he would strike out to end the game. He made a terrible play in the top of the 9th and went 0 for 4 with three strike outs. He's hitting .196/.293/.294 on the season, and I have to believe that, when Swisher and Granderson are both healthy, Winn's days with the Yanks will be numbered. That was one off-season experiment that hasn't quite worked out the way it was planned.
The Big Picture
Anyway, despite tonight's maddening game and the team's bullpen struggles, the Yanks are 25-14 with a +71 run differential. They're three games behind a very hot Tampa team that has enjoyed a very easy schedule early on. Later tonight, A.J. Burnett and Wade Davis square off in a battle of AL East powerhouses, and the Red Sox head home to face Minnesota right where they were when they came to New York: in fourth place and at .500. I hated this game, but I'm loving the season so far.
WPA Graph
Just look at that up-and-down 9th inning. This is what a heartbreaking loss looks like on paper.