The Yankees have two questionable pitchers scheduled for the next few games. Sergio Mitre hasn't started a game since last year, and while he has looked mostly good in his 9.2 innings this year, he might not be long for the game. Even if he pitches well he has to deal with the fatigue factor, significant because he hasn't pitched more than three innings since spring training. He appeared to tire late in his last appearance against Baltimore, leaving two sinkers up in the zone to the final batter, Ty Wigginton, who deposited the final one in the seats.
Then comes Javier Vazquez, who will make his first start since May 1 on Tuesday. He has yet to clear 5.2 innings this season, and even in his best start, a six-strikeout performances against the A's on April 20, he left plenty of outs for the bullpen to cover. Maybe the layoff has afforded him the time he needed to rediscover his fastball command, but the Yanks can't quite bank on that. They must prepare themselves for two consecutive short starts, just in case the worst case scenario becomes reality.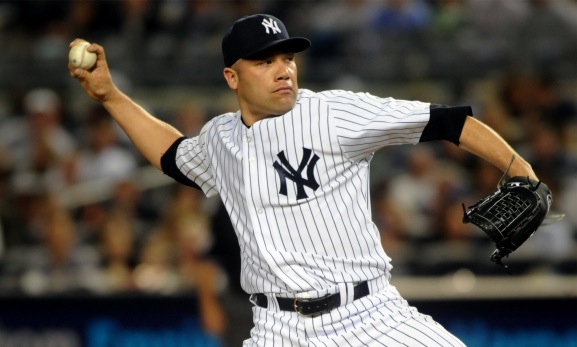 Under normal circumstances, the Yankees would have the situation covered. Al Aceves could pick up in long relief of Mitre tonight, and they could piece together a few appearances tomorrow if Vazquez continues to struggle. Romulo Sanchez then might be available on Wednesday to provide relief if the need arises. But with Aceves nursing a back injury sustained while pitching Saturday, the Yanks might have to look elsewhere for long relief. It would be one thing if this were an isolated injury. Aceves, however, has been battling back issues since the middle of last season.
As Marc Carig reports, Aceves might be ready to pitch in relief this evening. He woke up on Sunday feeling better, and with another day's rest might be back in form. Given his recent history of back troubles, though, I bet the Yankees would love to give him another day off. That way he could still play caddy to Vazquez if needed. The team would still prefer to have a long reliever tonight, in case Mitre fades early or proves ineffective. No one currently in the bullpen appears particularly qualified for the role. Joe Girardi didn't reveal much when asked about the possibility, but given the current roster construction it's a strong possibility.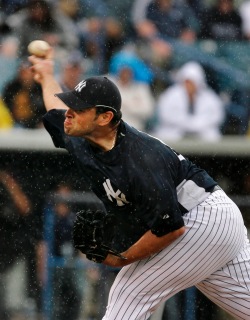 Who would they recall from Scranton, though? Mark Melancon would normally be a primary option, but today is only the seventh day after the Yankees optioned him. He'll have to spend 10 days in the minors before they can recall him, unless they place someone on the DL. Since the Yankees will almost certainly recall someone from the 40-man roster, they're left with just a few options. In fact, given the pitchers on the 40-man, they have just two.
First is a familiar name, Jon Albaladejo. He made a name for himself early in spring training by getting lit up nearly every time out. In 14 appearances for Scranton he's pitched fairly well, allowing just three runs. Encouragingly, he has struck out 18, but also has five walks and two home runs, which bring his FIP to 3.57, much higher than his 1.76 ERA. He also hasn't pitched more than 1.1 innings in any given appearance this year, so he might not be best suited for long relief right now. Knowing they can send him down the very next day, though, the Yankees might opt to recall him this evening.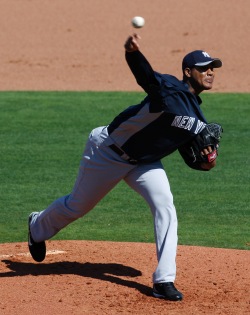 The more interesting option is Ivan Nova. Added to the 40-man roster this winter after a strong 2009 season, Nova has started the season strong in Scranton. He has started six games, throwing 37 innings to a 2.43 ERA and 3.15 FIP. He also does a decent job of keeping the ball on the ground. The most telling sign that the Yankees are at least thinking about recalling Nova is how they've scheduled him. He last pitched on May 3. Zach McAllister pitched the following night. Last night, though, McAllister pitched again. That's not to say that the Yankees did it because they planned to recall Nova. They have, however, kept the option open.
Again, with concerns about Mitre's stamina, recalling a long man for tonight seems like a smart move. The Yankees already have 13 men on the pitching staff, so they can send out someone easily. Sanchez appears a likely candidate because of his workload last night, but I don't think the Yanks should get in the habit of sending down guys who have pitched effectively. After another disappointing performance, David Robertson might spend some time in AAA. The Yanks could then recall an outfielder once they option Nova. A defensive option would certainly help keep Marcus Thames's outfield innings in check.
While it's no lock that the Yankees recall Nova, it certainly makes a degree of sense. He'd be available to relieve either Mitre or Vazquez, and would allow the Yanks to take their time with Aceves. It's encouraging that he has recovered so quickly from his injury Saturday, but there's no reason to push it. The Yanks have some flexibility now, so they might as well use it to their advantage. Adding Nova as a long man would do just that.