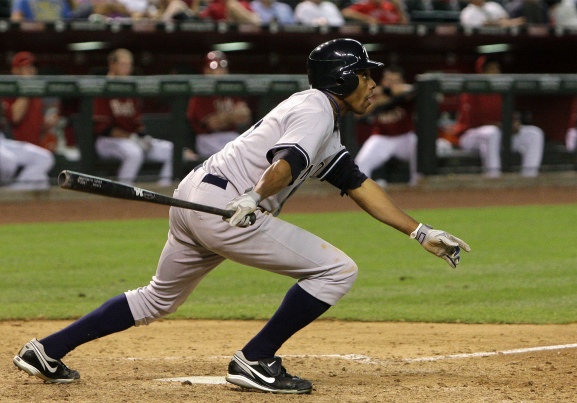 It's the type of play that, no matter how solidly you field your position, will incite anger in fans. On the whole Curtis Granderson has played a solid center field this season. He misplays some batted balls, but no outfielder gets them all. But to bobble the ball — twice — on a hit to shallow center when the runner on second, for some reason, doesn't initially try to score, will incite a few Bronx Cheers. Granderson made up for it to some degree, picking up two hits off Cliff Lee, but for the most part the beginning of his Yankees tenure hasn't gotten off to the start that anyone had hoped.
When the Yankees acquired Granderson in December they didn't think they had traded for the player whose OBP sat at a meager .327 in 2009. Rather, they thought they were acquiring a player who, like Nick Swisher, was better than his poor previous season indicated. The problem did look fixable. Granderson hit the ball on the ground at a rate far below his career norms, leading to many outs in the air. A few of those fly balls cleared the fence, which somewhat mitigated his poor season, but in order to turn things around he'd have to rediscover the approach that made him one of the top center fielders in the AL in 2007 and 2008.
So far this season we've yet to see Granderson make any sort of transformation. His groundball rate, in fact, sits at the exact spot it did last year, 29.5 percent. For a player with speed, this doesn't sound like an optimal rate. His line drive rate is up three points, but he hasn't seen much benefit from it: his BABIP sits just five points above last year. His offensive stats are almost identical to last year, too. While his OBP and ISO sit a tick lower, offense is down league-wide. Granderson's wRC+ sits at the same mark, 107, as it did last season. The Yankees, it would appear, did acquire the player who experienced a bad year in 2009.
The season is still young, though, especially for Granderson, who missed almost all of May with a strained groin. There is still plenty of time for him to turn it around. Yet at this point that seems like an overly optimistic stance. Maybe if Granderson were doing the things that made him successful in 2007 and 2008 it would be a different story. But given his batted ball and plate discipline data, plus the eyeball observation, it doesn't seem like there has been much change. There's a good chance that we're stuck with the 2009 version of Granderson.
This isn't to say that he'll be like this for the duration of his contract. Kevin Long is a world-class hitting coach and I'm confident that consistent work with Granderson can bring positive results. I'm just more skeptical than ever that it will happen this year. At one point I was excited at his results after returning from the injury, but they're returned to a disappointing level. He has hit for a ton more power, which is a huge plus, but he's still at .247/.321/.485 since May 28. That's not the Granderson the Yankees intended to acquire. That was the risk, though. I've been as optimistic as anyone about the guy, but at this point, nearly half way through the season and with little to no discernible change in his approach, I'm no longer so sure.