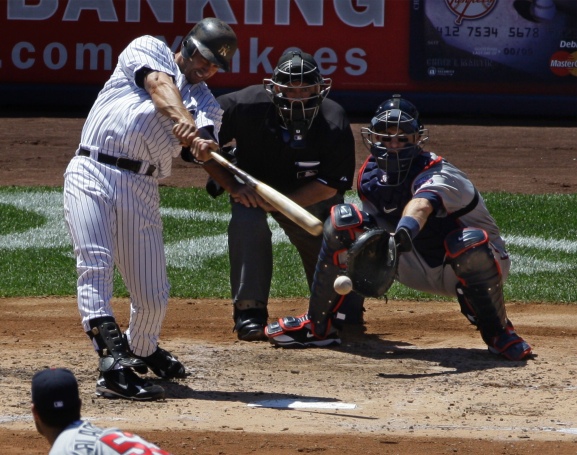 On May 19th, we heard the bad news. Jorge Posada might miss three to four weeks with a fracture in his foot. That wouldn't sound good for any player, and it stung extra hard for a catcher in his late 30s. Three to four weeks? Might as well take the long on that one.
Yet Posada was determined to get back early. "I don't need no four to six weeks," he said before taking batting practice over the weekend. It was strange in the first place to hear about Posada not only taking batting practice, but also running sprints on the field so soon after the injury. Not even two weeks later, just a few days after removing the boot that protected his foot, he wanted back in the lineup.
Yesterday was a long shot. Clearly, if Posada wanted to return early he'd have to slide into the DH slot. The foot injury isn't so much a concern for his hitting, or even his running. The big concern lies in his ability to squat for more than an hour a night. With the lefty Matusz going last night, Marcus Thames would undoubtedly serve as the DH. But tonight, with the righty Brad Bergesen on the mound, Thames will sit. Posada, it turns out, will get his first swings in just over two weeks.
Just over two weeks. It's pretty crazy when you think about it. It's not that Jorge's a slow healer. We know he works back from injuries pretty quickly. Hell, he hadn't even hit the disabled list until his shoulder pain became unbearable in 2008. But a foot fracture sounds serious. It certainly sounds like something that would take more than two weeks to heal. Yet here's Jorge, back after spending just 16 days on the DL. One more than the minimum.
The Yanks will have to make a corresponding move, but don't expect them to DFA Chad Moeller. As The Journal News reports, Posada himself expects the Yankees to carry three catchers for a bit. This makes sense. Jorge hasn't done any catching since the injury, and he likely won't do any for quite another few days, maybe even a week. Again, the concern is with his ability to squat and put pressure on the foot for an entire game. The goal with this move is to get his bat back into the lineup. For the next week, it appears he'll serve as an upgrade to Juan Miranda, who is almost certainly en route to Scranton.
With the minor injuries he's sustained this season, it feels like Jorge has been gone longer than two weeks. At the same time, it feels like he hasn't been gone long at all. Two weeks for a foot fracture? Seems like nothing. In any case, it will be a joy to see him back in the lineup, hitting sixth. Whether it feels like he's been gone for a while or he's just left, it's always a plus to get a boost from his bat.