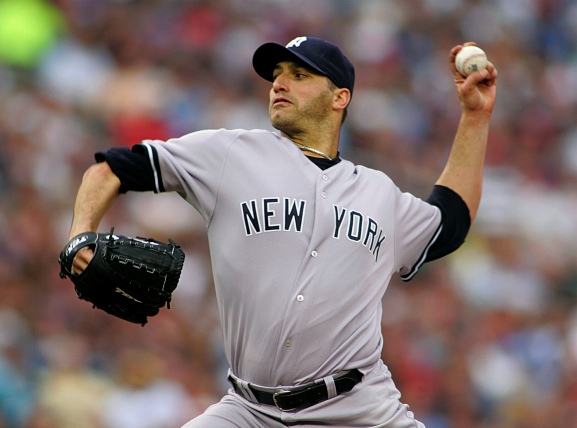 At 7-1 and sporting a nifty 2.48 ERA through 10 starts, Andy Pettitte is off to the best start of his career. As the Midsummer Classic fast approaches, talk is swirling that Pettitte should get Joe Girardi's call as the American League starter. In fact, Times national baseball writer Tyler Kepner made that very argument yesterday.
With the AL aces struggling, who would be a better choice than the 38-year-old lefty? After all, says Kepner, "no one can match Pettitte's combination of record and ERA," those two stalwarts of basic pitching stats. So let us ponder the question of Pettitte and the All Star Game.
There is absolutely no denying Pettitte's value to the Yanks and his great 10 starts. Seven of his ten outings have been quality starts, and although his K/9 IP has dipped to 5.6 from a career norm of 6.6, his BB/9 IP has sunk to 2.5, and he's allowed fewer than one home run every nine innings. By keeping free runners off base and allowing fewer home runs than he had last year at this point, Pettitte has seen his numbers improve markedly.
He is not, however, the best starter on the Yankees from a value standpoint. That honor belongs to Phil Hughes, tonight's starter. The 24-year-old, 6-1 with a 2.70 ERA, has Pettitte beat in the three true outcomes categories. He's striking out 9.1 per nine innings and has allowed 0.6 home runs per nine. His walk rate at 3.0/9 IP is slightly than Andy's, but he has posted a 1.5 pitching WAR to Pettite's 1.2. Hughes' 3.63 xFIP tops Pettitte's 4.12 mark by no small margin.
Yet, there's something about Pettitte that makes him the front-runner for the symbolic mid-July start, and I believe that edge reaches to the essence of the All Star Game. Baseball's showcase is nothing more than a glorified exhibition game/popularity contest (that counts for something but probably shouldn't), and Pettitte is quite likely making a final pass through the Junior Circuit. In his career, Pettitte has swung from underrated to overrated and back again, but his career numbers are hard to deny. He's 236-136 with a 3.87 ERA (and an ERA+ of 117). He has five World Series rings to his name, and on the verge of securing his 200th Yankee win, he's a fan favorite in the Bronx. If anything, he deserves the honor.
Not everyone, though, agrees with that perception of Pettitte. As one of the many Yankees named in the Mitchell Report, he doesn't carry a clean record, and as Will Carroll noted in his Under the Knife column yesterday at Baseball Prospectus, Pettitte, an admitted hGH user, has escaped much scrutiny and criticism over both his drug use and subsequent comments. We've watched people who have done worse, though, outshine the field in the All Star Game and the Home Run Derby over the past 15 years, and if the fans and players want to see the Andy Pettitte Good Bye Tour hit Anaheim for the All Star Game, it should.
As pitchers go this year, Andy Pettitte has thrown up some very impressive counting stats for a 38-year-old lefty who has clearly lost a few miles per hour on the fastball. He's emerged as a smarter and better pitcher this year, and he's now leading a very solid pitching staff in wins and ERA. He might not be atop those lists come July, but if Joe Girardi handed him the ball for the All Star Game start, few should complain all that much.