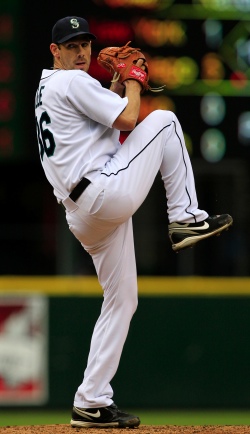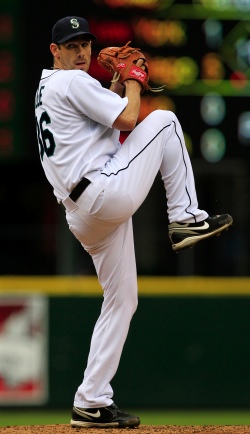 The Yankees' scouts don't have far to travel tonight. The team, you see, is facing off against a familiar foe and the lefty who currently is in demand across baseball. Cliff Lee will make his first start against the Yanks since the World Series, and while the Yankee offense will try to eke out some runs against a hurler who doesn't give up many, the front office will be plotting Lee's future. It is, whether he knows it or not, inextricably tied to CC Sabathia's.
With the Mariners at 31-44, 15 games behind the Rangers and going nowhere fast, it is a foregone conclusion that Cliff Lee will don his fourth uniform in two seasons before July is out. Seattle will look to recoup some of their investment while building for a future that still isn't even on the horizon, and some team looking for an extra push — perhaps the Mets, perhaps the Twins — will land Lee in the biggest blockbuster of the 2010 trade deadline.
The Yankees won't enter those sweepstakes. Speaking last night at a Times Talk, Brian Cashman said he's focusing more on the bench and the bullpen. A.J. Burnett's recent struggles notwithstanding, they're quite satisfied with their starting five, and according to Ken Rosenthal's latest, the price tag could be Jesus Montero and a "solid pitching prospect." (At the same time, Rosenthal thinks the Mets can land Lee for Josh Thole, Fernando Martinez and a pitcher of a lesser caliber. What?)
Instead, the Yanks will bid on Cliff Lee during the winter. It's no secret that he's their number one target, and as he showed while pitching in the World Series for the Phillies last year, he can thrive on the game's biggest stage. A veteran of the AL, in 86.2 innings this year, Lee has a 2.39 ERA. He's striking out just under 8 batters per 9 IP and has issued four — 4! — walks all season. Opponents have hit just three long balls off of the southpaw.
In a word, those numbers are sick, and they're lining Lee up for a handsome payday. Lee turns 32 in August, and the contract he signs this winter will be his last big payday. Based upon the recent deals for A.J. Burnett, John Lackey and Cliff Lee, I believe he'll get a five-year deal with an option year and an average annual salary of $20-22 million. The Yanks could be nearing a winter where they dole out another nine-figure deal for a left-handed ace.
I say the Yankees so confidently because they need Cliff Lee right now more than just about any other contender. The Red Sox have two hurlers locked into long-term, high-dollar deals. The Mets are on the verge of getting burned by Johan Santana. Few other teams can afford Lee's price tag or do business that way.
But what, you may ask, of the Yanks' starters? Their rotation is impressive today when all is going right, but the long-term outlook of the 2010 five is no sure thing. Javier Vazquez is a Type A free agent this winter, and the Yanks will offer him arbitration before letting him walk. Andy Pettitte, despite his stellar first half, has been grumbling about retiring. With those two out of the picture, the need for Lee is clear, and it only becomes clearer when we consider the rest of the rotation.
Beyond Pettitte and Vazquez, the Yanks have young Phil Hughes, A.J. Burnett and CC Sabathia. Hughes will stick around, but the futures for Burnett and Sabathia are hazy. We don't know if we're seeing Burnett decline or just suffer through a bad stretch of pitching. We must also consider Sabathia's opt-out, and it is here that the two are inextricably linked.
If CC Sabathia exercises his opt-out clause following the 2011 season, the Yankees will need an ace to fill the void. By then, A.J. Burnett probably won't be anything close to a potential number one, and even if Hughes continues his rise, the Yanks will need more pitchers — and a lefty — to fill the holes. With no better pitchers nearing free agency, Cliff Lee, then, is as close to a need as the Yankees have right now.
Even if CC doesn't opt out, the Yankees will need to fill out their rotation. A.J. Burnett circa 2012 will be an adequate fourth starter, and maybe we'll see an Andrew Brackman as the fifth starter. But a front three of Lee-Sabathia-Hughes is drool-worthy today. So in a few hours, we'll see Cliff Lee start, and we just might be watching the future of the Yankees take the mound. Tonight, though, I'll be rooting against him.