The 1970s were a wild time for Major League Baseball, and as I page through Dan Epstein's new book Big Hair and Plastic Grass: A Funky Ride Through Baseball and America in the Swinging 70s, I am learning more about a care-free, anything-goes approach toward popularizing the game as America adjusted to shifting cultural and societal norms. Epstein intersperses straight-ahead chronological examinations of baseball with chapters about the game's development. I've read about cookie-cutter stadium, the "We Are Family" Pirates, Oscar Gamble's afro, AstroTurf and, of course, mascots.
The mascot craze started in San Diego with the chicken and spread east with the Phillie Phanatic and Montreal's Youppi. These oversized…things…shook their guts, taunted third base coaches and generally played up to the mayhem of the era. Even in the Bronx, that bastion of Proper Baseball, where facial hair and giant afros were banned, got in on the mascot act with Yankee Dandy, a hideous seven-foot-tall bird who resembled Sparky Lyle.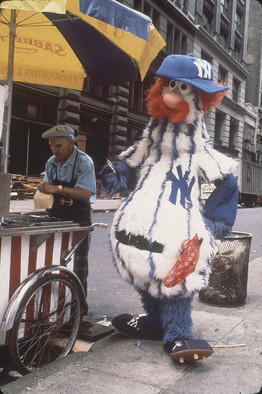 Today, Scott Cacciola in The Wall Street Journal remembers Yankee Dandy. Calling Dandy the biggest bust in Yankee history, a title for which Carl Pavano and Kei Igawa regularly battle, Cacciola delves into the mascot's painful history. Designed by Wayde Harrison and Bonnie Erickson, the team behind the Phillie Phanatic, the Yankees embraced Dandy only reluctantly, and today, this mascot's history is hazy. While Cacciola says the team used Dandy only from 1979-1981, previous jaunts through history say Dandy worked for the Yanks from 1982-1985, and few fans remember this ill-begotten experiment in ostentatious showmanship. "The Yankees didn't even want people to know there was a mascot," Rick Ford, the college student hired in the 1970s to perform as Dandy, said.
Cacciola's history grows more exciting after an incident in Seattle where the San Diego Chicken was moonlighting as the Mariners' mascot. The Yanks had forked over $30,000 for three years of Dandy's antics and were set to debut him in July of 1979 when disaster struck.
On July 10, 1979, the Chicken—on sabbatical from the Padres, his regular employer—was working for the Seattle Mariners at the Kingdome, where he threw a hex on Yankees pitcher Ron Guidry as he warmed up. Mr. Piniella, the Yankees' left fielder at the time, considered this to be in poor taste, so he chased the Chicken and, lacking apparent success, fired his glove at him in a fit of rage.

In the wake of that fiasco, Mr. Steinbrenner supported Mr. Piniella by telling reporters that mascots had no place in baseball—this, just two weeks before the Yankees were to introduce their own.

"It was so unbelievable," Ms. Erickson said. "We just sat there in front of the TV with our mouths open. Did he forget or something? I can remember hearing him on the news: 'Those things don't belong on the field.'"

It portended disaster for Dandy—and for Rick Ford, a recent college graduate who had been hired to perform as Dandy. He had been choreographing routines for his debut. Eddie Layton, the Yankees' longtime organist, had even composed an original song for Dandy. But Mr. Layton never got an opportunity to perform it at a game, thanks largely to Mr. Piniella's squabble with the Chicken, according to Mr. Ford.
Practically since its debut, then, the Yankees have been trying to erase Dandy from its team history. The mascot was banished to the Upper Deck for nearly its entire tenure, and in 1998, George Steinbrenner, before he started to suffer the ill effects of old age, claimed to have "no recollection" of the mascot.
Today, former Yankee spokesman Marty Appel sums it up best. "It was sort of un-Yankee-like to have a big mascot running around," he said. "It had no resonance."