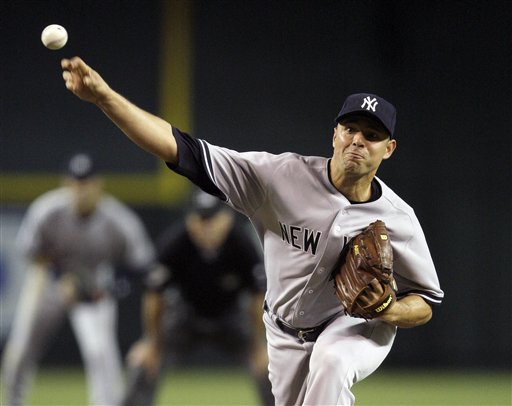 Last night's game was so ugly and frustratingly long that by the time Curtis Granderson gave the Yankees the lead and Mariano Rivera pulled his Houdini act, everyone had pretty much forgotten that Dontrelle Willis and Javy Vazquez started the game. Willis was simply dreadful, throwing just 27 of his 66 pitches for strikes and eclipsing the 88 mph plateau a whopping five times. I haven't seen any of his other starts this year, but the last thing he looked like on Wednesday was a Major League caliber pitcher.
Vazquez didn't pitch too well himself, though he looked like Cy Young compared to Willis. The former Diamondback let Arizona off the hook just as much as the Yankees' offense did, surrendering a pair of runs in the bottom of the 1st after walking the bases loaded. It probably would have been more if not for some dreadful baserunning (theme of the night, apparently). A dozen pitches in, he finally threw a pitch over 88.
But then Javy settled down for a bit. He retired the side in order in the 2nd on a dozen pitches, and did the same in the 3rd on seven pitches. Miguel Montero led off the 4th with a single, then moved to third on a Chris Young double. Adam LaRoche plated two with a single, giving Arizona the league, but otherwise Vazquez would retire the next three batters to escape the inning the next six batters he faced overall to end his night. He wasn't terribly efficient, needing 85 pitches (exactly 60% of which were strikes) to record 15 outs, and he only recorded five of those 15 outs via strikeout or ground out.
After the game, Michael Kay said something to the effect of "Vazquez regressed back to where he was in April," which on the surface probably seems true. He allowed six hits and four runs in just five innings and walked two guys compared to a lone strikeout. Following his seven start stretch of brilliance, this game certainly had an April feel to it. At the same time though, it didn't.
The early season version of Javy Vazquez couldn't stop the bleeding. A one run inning turned into a two or three or four run inning in the blink of an eye, and the game was out of reach by the time he hit the showers. That's not what happened last night, he pitched around some defensive miscues (namely Frankie Cervelli on that rundown) and managed to hold the D-Backs to two two run innings when they easily could have been worse. What Javy did last night was something people say only about Andy Pettitte or Phil Hughes or other fan favorites: he grinded it out ("ground" sounds weird in this situation, no?).
The first inning was obviously the worst of the night. Vazquez walked leadoff hitter Kelly Johnson on four pitches before falling behind 3-1 on Stephen Drew. Just six of his first 19 pitches were strikes, and he hadn't even recorded an out by then. It was clear he didn't have his best stuff going, and that it was going to be a battle all night long. Yet in the end, four innings later, he was lifted for a pinch hitter after retiring 12 of the final 15 batters he faced and the Yankees were still in a game. That's not April Javy, that's a veteran starter bearing down and keeping his team in it on one of those days when he didn't have it working.
No pitcher will be on each time out, and Javy is no different. It was just a bad start, not a regression to Bad Javy or a sign that all the progress he made recently has stalled. There's no reason to hold Vazquez to a different standard and think every start has a deeper meaning that it does. He's just a pitcher that struggled on a random Wednesday night in the desert. That's all.