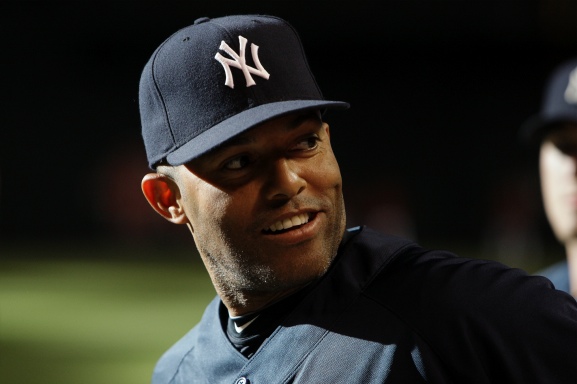 Sometimes you have to wait to get to the good part. Sometimes that involves suffering for three hours before something really good happens. Last night the Yankees and the Diamondbacks played some sloppy baseball that covered up for shaky — to be kind in at least Arizona's case — performances from their starting pitchers. Players were gifting outs to the other team, which killed a number of scoring opportunities. Instead of having an 8-7 game after three innings it was tied at two.
From there we saw a see-sawing of the score. Adam LaRoche put the Diamondbacks up by two. The Yankees came back to score on a groundout and then an infield single off the glove of a drawn-in LaRoche. Damaso Marte couldn't hold Arizona scoreless in the bottom half of the inning, and it took until the Yankees' last at-bat to pick up that tying run, a sac fly off the bat of Alex Rodriguez. Thankfully, at that point the Yankees were prepared to do battle in extra innings. The great Mariano was warming up.
Like all managers, Joe Girardi makes some odd in-game decisions. Even last night he pulled a strange substitution in the ninth. I had no idea why he took Swisher out of the game to gain maybe a step advantage with Kevin Russo. The trade-off didn't make sense to me at the time. Why take out one of the team's best hitters just to gain a fractional advantage on the bases? But then it became clear: Girardi planned to use Mariano, and he planned to use him for more than one inning.
This decision, too, seemed odd, if only because Girardi has played this situation by the book in every instance I can recall. A tie game on the road usually means that Mariano sits around and waits for the offense to capture a lead. Sometimes, as we saw in Toronto, it never happens. But because Javy Vazquez had pitched only five innings, Girardi had used many of the arms in his bullpen. Marte pitched an inning. Robertson pitched an inning. Chamberlain pitched an inning. Only Park, Gaudin, Logan, and Mo remained. Girardi made the obvious choice.
Part of that choice, it appears, came because Mo was not only the best choice but also the easiest. The Yanks, down by one, put the tying and go-ahead runs on base with none out in the ninth. If Teixeira and Rodriguez came through they'd probably have taken the lead. Girardi obviously wanted Mo ready for that situation. When A-Rod hit the sac fly to bring home Jeter and tie the game, Mo was already going through the motions. At that point it was a no-brainer. He hadn't pitched since Sunday, and couldn't pitch until Friday. Girardi not only made the call to bring in Mo, but he called on him for two innings.
Unsurprisingly, Mo pitched brilliantly and kept the game tied in the ninth. It took him 19 cutters, sitting at 92-93 mph, to sit down the Diamondbacks in order. There was a little scare when Kelly Johnson hit a fly ball to right, but it was just a warning track shot. Curtis Granderson wasted no time in showing him how it's done. That meant Mo could come back in the bottom of the 10th with a chance for the win. The Diamondbacks didn't go easily. In fact, Mo had loaded the bases with none out. Three pitches to Chris Young resulted in a pop out. Ditto LaRoche. It took five cutters, the last at 93, to finish off Mark Reynolds, but at that point the pitches didn't matter. The great Mariano had delivered.
There was plenty of bad in the game. Both teams made plenty of mistakes that cost their team runs. The players knew it. Here's Mo's take, via Fack Youk:
We pulled this game [out] but we played horrible. It's unacceptable, the way that we played. We can't be playing games like that, you know? We are better than that are we are supposed to do what's right in baseball.
A-Rod, too, knows they need to play better.
"Obviously, we're not happy with the way we played today," Rodriguez said. "We know we have to do a lot of things better. We'll take the win, but we really don't feel good about it. In order for us to do what we need to do late in October, we're going to have to clean it up a little bit."
In a way, this cancels out the terrible loss to the Indians earlier in the season. That's how I'm going to view it. Mistakes were made, but when the last out was recorded it was the Yankees celebrating. They might have done so reluctantly, but they did nonetheless.