The July 31 non-waiver trade deadline just gained some urgency for the Yanks. With Andy Pettitte gone for anywhere from two to five weeks, the Yanks could use some help in the rotation. That's in addition to the help they already could have used on the bench and in the bullpen. The latter two are common needs for contenders at the deadline, but the former might present something of a problem. There just isn't much good starting pitching left on the market. But could the Yanks turn to one team to fill all of their needs?
During the past few weeks we've seen the Yankees connected to a number of the reportedly available Florida Marlins. Earlier in the month we learned that the Yankees were in attendance to watch Ricky Nolasco pitch against Dan Haren. The Yanks, of course, could have been there for Haren, or they might have been there to scout other Marlins targets. Later in the month we saw the Yanks connected to Cody Ross and Leo Nunez, and just recently we saw that they had interest in Wes Helms. Clearly the Yanks won't acquire all four of these players, but they certainly could turn to the Marlins for a couple of them.
While Brian Cashman has stated his preference for in-house options to replace the injured Pettitte, that might not be a realistic option. Mike went over the Pettitte replacement options earlier, and none of the in-house options seems all that attractive. Moving outside the organization, however, would bring the Yankees many benefits. First, it would give them an established starter to replace Pettitte temporarily, allowing the Yanks to play it conservative with the 38-year-old. Then, when Pettitte does return, the Yankees can use the extra starter to help more easily control Phil Hughes's innings. As long as they're not committing big dollars for multiple years, a la Roy Oswalt, acquiring a pitcher will work in their favor.
Nolasco, 27, could fill that role in the rotation. For the second straight year he's sporting a poor ERA, but also for the second straight year his component stats suggest that he's actually a bit better than that. He has a career 3.98 FIP, including a 3.77 mark in 2008 and 3.35 last year. His xFIP also sits below 4.00 at 3.85 for his career. In the last three years that has been 3.75, 3.28, and finally 3.73 this year. His current strikeout rate, 7.91 per nine, matches his career total. We also know he's capable of more, as he struck out 9.49 per nine last year.
Home runs have been Nolasco's most concerning problem this year. He has allowed 20 in 116 IP, a high number for sure but one that might come down if he leaves Miami. Of those 20, 11 have come at home. That might not seem like a huge difference, but he has also pitched 13.1 fewer innings at home than on the road. In other words, a move away from whatever they're calling the Marlins' ballpark right now could be to his benefit.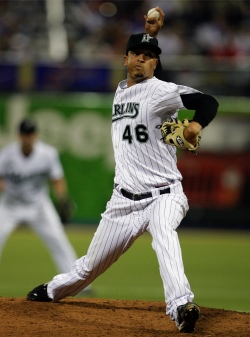 Starting pitching, according to Cashman, is a luxury at this point. Even with Pettitte's injury he's focusing on bench and bullpen. He might find solutions to both issues also on the Marlins. Leo Nunez has pitched very well this year, boasting a career-high strikeout rate to go with a very low walk rate and a nearly nonexistent home run rate. That last stat might seem ripe for regression, but as his 2.83 xFIP shows, that's not the case. The reason: he's posting a career high groundball rate, probably because he's turning to the changeup more often than in the past. All of these attributes would make him not only an excellent candidate for the pen, but also one for Mariano's primary setup man.
Cody Ross and Wes Helms would present options for the bench, though Ross could also serve as a platoon partner for Curtis Granderson should the Yankees decide to take that road later in the season. He has a .379 wOBA against lefties this season and a .398 mark for his career. This season hasn't been that great from a power perspective, as he's hitting the ball on the ground more often. Even so he's a decent option for the Yanks against left-handed pitching. Helms, 34, can man the infield corners and little else. I'm not sure how interested the Yanks are in him; if you'll remember back to the 2006-2007 off-season the Yanks actually had the highest bid for Helms, then a free agent. He ended up taking less from the Phillies, and has been decidedly mediocre ever since.
Florida currently sits 9.5 games out of first in the NL East and 6 games out of the NL Wild Card, so they could become aggressive sellers in the coming weeks. A notoriously cheap team, the Marlins have spent more money this year than they have since 2005, which could affect their desire to unload players. But considering all of these players will be under control next year (Nolasco and Nunez have two more years of arbitration), the team might not be so inclined to move them. Maybe they'll provide a multi-player discount for taking the current and future salaries off the books, but I doubt it would be anything significant. The Marlins have proven to be a stingy bunch.
Acquiring any of these Marlins players would help the team this year, and if the Yanks can get more than one of them all the better. The question, as always, comes with the price. The Yanks don't appear willing to include Jesus Montero in any future deal, nor should they. Austin Romine is probably off-limits, too. That doesn't leave the team with a ton to trade, especially if it involves multiple players. Considering that the marlins come as stingy dealers, I doubt these two teams match up. It's a shame, because a few of those players would fit right in (also because Joe Girardi managed a few of them in Florida). But with the presumed costs involved I wouldn't count on anything imminent.