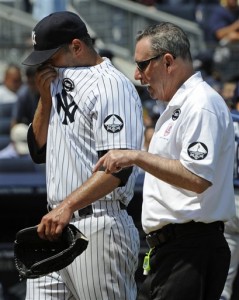 It's not quite the worst case scenario, but it's pretty damn bad. The Yankees lost Andy Pettitte yesterday for what GM Brian Cashman estimated to be four-to-five weeks with a Grade I groin strain. Sergio Mitre, coming off an oblique injury, will take Andy's spot in the rotation for now, just like he did earlier in the season. That's all well and good if this was a short-term thing, but we're talking about a month long fill-in here. It could be even worse if Pettitte's 38-year-old body doesn't recover as quickly. There has to be a backup plan.
The Yanks sacrificed some pitching depth this offseason when they traded Ian Kennedy, who is having a decent enough season out in the desert (4.83 FIP, 4.32 xFIP). He assuredly would have been given the first crack at that rotation vacancy if he were still around. Luckily the Yanks still have plenty of options to fill that spot, some internal, some external. Let's run them down.
In-House
Mitre is first in line for the open rotation spot simply because he's the incumbent sixth starter. His spot starts against the Tigers (4.1 IP, 4 R) and Twins (5 IP, 1 R) were acceptable, even though the Yanks lost both games. Mitre has definitely looked better this season than he did last, but we have no idea what the injury will do to him. Chad Gaudin is another possibility out of the bullpen, but he's been a mess this year and I suspect he's a "break glass in case of emergency" option only. Ditto Dustin Moseley.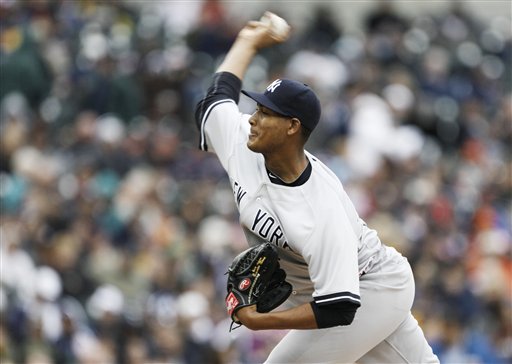 Down in the minors, the Yankees have two viable starter options in my opinion: Ivan Nova (above) and Jason Hirsh. Zach McAllister has the shine of being a former top prospect, but he's spun his wheels in Triple-A this year. He's been far too hittable (.298 AVG against), hasn't missed nearly enough bats (5.38 K/9), and isn't getting ground balls either (37.4%). Sorry, that's not deserving of a promotion. Tim Redding has been good in the minors this season (3.23 FIP, 84.2 IP), but we've all seen this movie before. It doesn't have a happy ending.
Nova has a leg up on Hirsh simply because he's already on the 40-man roster. His three inning cameo with the big league team earlier this season was mixed in with 103.2 innings of 3.92 FIP, 52.1% ground ball pitching in the minors. Not a set-the-world-on-fire performance, but certainly worth a look. Another thing Nova has in his favor is his schedule. He starts today from Scranton, which lines him up perfectly to start on Saturday, Pettitte's next scheduled turn. If nothing else, they could keep Nova lined up with that spot so if he does get called up, the transition is seamless.
Hirsh actually spend a chunk of the season pitching out of Scranton's bullpen before moving back into the rotation when the team decided Romulo Sanchez was better utilized in relief. As a starter this year, Hirsh has pitched to a rather ugly 4.96 FIP in 74 IP, with the big problem being the 11 homers he's given up. That homer rate is high compared to the rest of his career, but I'm not sure you can call a guy up and count on the regression happening in the show. Hirsh isn't on the 40-man either, which would require another move. That's simple enough though, since Al Aceves can just slide over to the 60-day DL retroactively.
So out of the internal options, Mitre is Plan A, Nova Plan B, and I guess Hirsh and Gaudin duke it out for the title of Plan C.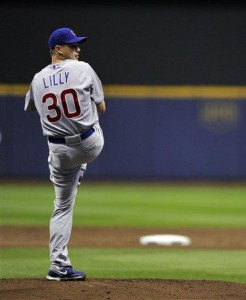 Trade
The first name everyone will talk about here is Ted Lilly. He's a former Yank that reportedly begged the team to bring him back as a free agent after the 2006 season only to watch them pick up Kei Igawa instead. Lilly has been rock solid in Chicago, though he missed the end of last season and the start of this season after having surgery to fix a debridement in his pitching shoulder. Unsurprisingly, his already not-so-great velocity has been further reduced, and his strikeout rate is down one full whiff per nine innings from the past few years.
Lilly is arguably the best starting pitcher on the market considering what should be a relatively low cost, so the Yanks will have plenty of competition for his services. His season marks of 4.62 xFIP and 4.58 tRA are right on par with Mitre's career marks (4.29 and 4.64, respectively), so the upgrade might be minimal. The upgrade in name value is considerable though, too bad that doesn't affect anything on the field.
Roy Oswalt and Dan Haren are pipe dreams, the Yanks aren't going to make a major move like that to fill a hole for one or two months. I suppose Ricky Nolasco fits in this category as well. Ben Sheets has been dreadful on the road (6.29 FIP), Kevin Millwood has been dreadful everywhere (5.03 FIP).  Brett Myers of the Astros is a bit more realistic, and he is very much available. He's having a nice bounceback season (3.71 FIP) and throws a ton of innings (at least six in all 19 starts), but again there will be plenty of teams interested in acquiring him. Former Yank Jay Westbrook (4.34 FIP) is another guy like Lilly and Myers. Got the name, not guaranteed to outpitch the in-house options.
If the Yankees do make a trade, the real question is about cost and what Cashman is willing to pay for a guy that might only be in the rotation for six or seven turns, maybe less. Since none of the reasonable targets currently available is an elite arm, I suspect not much.
Waiver Trade
If Cashman does make a deal for another starting pitcher, I'm willing to bet this is the route he takes. Waiver trades take place after the July 31st trade deadline, when any player on any team's 40-man roster has to clear trade waivers (100% revocable) to be a traded. If a player is claimed, he can only be traded to the team that claimed him. Almost every player clears, situations like Alex Rios last year are few and far between. Pretty simple, and very rarely are their any complications.
Last year Cashman waited until August to essentially purchase Chad Gaudin from the Padres (he cleared trade waivers beforehand), who then went on to be very servicable down the stretch. We're talking low risk, low cost, low expectations here.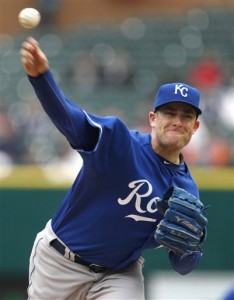 Someone like Jeremy Bonderman (4.27 FIP) could make sense here if the Tigers fall out of the race, though his salary (still owed more than $5.5M this year) is an issue. Detroit has already swallowed everything left on Dontrelle Willis' and Nate Robertson's contracts this year (more than $21M), so I can't imagine they'd be willing to do that again. There's always Brian Bannister (right), who was connected to the Yanks last year before they acquired Gaudin, but he's not exactly setting the world on first this year (5.26 FIP). Dave Bush (4.98 FIP)? Meh.
That about sums up the state of the waiver market, but remember, right now there are eight-frickin-teen teams within six games of a Wild Card spot. Some of those clubs will inevitably drop out of the race over the next few weeks, and more players will become available.
The Yankees have the comfort of a three game lead in the division and a six-and-a-half game lead for the Wild Card if it comes down to that. They're in a position where all they have to do is maintain the status quo while Pettitte is out, they don't have to worry about playing catch-up. Of course that shouldn't stop them from trying to field the best team possible, and might mean finding someone besides Mitre to start every five days. Remember, Phil Hughes is going to need a breather every now and then to avoid an unnecessarily dangerous increase in workload, so they're probably going to need another spot starter at some point.
Mitre and Nova are solid sixth and seventh starters, but of course they're not going to replace what Andy was doing this year. Solid outings every five days and enough to keep the team in the game is really all we could ask for, and if the Yanks don't get that, Cashman will do something about it. I'm sure of it.