There is no doubt that Phil Hughes's fastball has been his most effective weapon this season. FanGraphs' pitch type values rates it as 12.7 runs above average, and he has gotten the majority of his swings and misses this season with the four-seamer. It has been the main difference between Hughes the starter in 2008/2009 and Hughes the starter in 2010.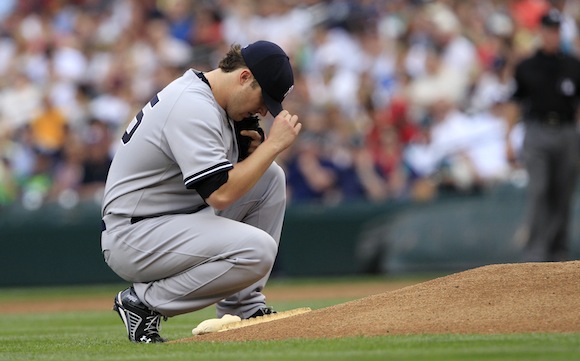 After gaining a reputation in the minors for throwing 92-94 and touching the upper 90s, Hughes had trouble cracking 91 on the radar gun during his early years. This was less noticeable in 2007, when PitchFX data wasn't widely analyzed. But in 2008 his velocity was front and center. After suffering a hamstring injury in 2007 Hughes might have been tentative with his fastball in 2008, but even in 2009 he wasn't hitting 92 with any consistency as a starter. It took a move to the bullpen for him to rediscover his fastball.
Given the opportunity to empty the tank in short spurts, Hughes took advantage. His fastball averaged around 95 mph while pitching out of the pen, and he took those lessons with him to camp this year. His fastball now averages 92.5 mph, made all the better by his newfound cut fastball. That one comes across a bit slower, but it substitutes speed for movement, giving Hughes two different looks with the fastball. He has played them off each other well, and has generally been effective with both.
Lately we've seen a big of change in Phil. He has gotten hit a bit harder, resulting in an ERA that has gone from 2.54 at the beginning of June to 4.04 following yesterday's game. Not all of his starts have been bad in that span, but he hasn't been particularly effective or efficient in general. For instance, he pitched seven innings only three times in the past two months, while he reached that mark four times in May alone. He's still throwing strikes, but it seems like they're not of as high a quality as earlier in the year. Part of that rests on his fastball.
That's not to say that there are problems with his fastball. He's actually been pretty consistent with the speed, as you can see in his velocity chart:
Yesterday his velocity was a bit down from normal, averaging just under 92 mph and maxing out at just 93, while he had consistently broken 94 in nearly every previous start. That's not a huge dip, though. What caught my eye, though, was the loss of vertical break. For the season Hughes's fastball has averaged 9.9 inches of vertical break, which is right in line with where it's been for most of his career. Just last Tuesday, when Hughes faced Anaheim, the vertical break on his fastball was above 10 inches. That resulted in five swinging strikes, a good rate for him this season. Yesterday, however, that break fell all the way to 8.91 inches, which is fairly pedestrian for Hughes.
A high vertical break number usually leads to what commentators will call a sneaky fastball. It doesn't necessarily travel at breakneck speeds, but it kind of sneaks up on the batter. This was said of David Robertson last season, and to no surprise he averaged 11.2 inches of vertical break on his fastball. Hughes just didn't have that sneaky aspect of his fastball going yesterday, and unsurprisingly he saw a lower than normal swinging strike rate, just 3 of 56 fastballs. Against the Angels last Tuesday he induced swinging strikes in five of 61 pitches. In his July 4 start he got seven swings and misses on 61 fastballs.
Normally we could just see this as a blip and move on — possibly being a bit thankful that it came against the Royals and not a team that could really capitalize. But with Hughes we're moving into rough waters. He's now past his innings total from last year, which wouldn't be a big deal if he'd thrown more than 75 innings in 2008 and 105 innings in 2007. Instead he hasn't hit the 111.1 inning mark since 2006. It makes projecting the remainder of his season a difficult proposal.
One thing we for which we can be thankful: Phil Hughes is not Joba Chamberlain. They've taken different paths to the bigs and have developed in distinctly different manners. There is no guarantee that Phil experiences the same issues that Chamberlain did last year when he hit his previous innings high. But underscores the big point: we don't know how Hughes will react from here on out. That's a bit scary for a team that need to continue its strong play for another two-plus months.
The good news is that Hughes has used his curveball a bit more. It's gotten hit a bit, but it should become a more effective weapon as he uses it more. Yesterday he throw it 20 times, a healthy number considering his overall pitch total (95). If he does lose a little bit off the fastball due to fatigue, it's the curveball he'll need to get him out of jams. That seems like a positive for his development. The Yankees can only hope that it's also a positive in terms of 2010 results.