By the end of the 2008 season it became clear that, health permitting, Derek Jeter would reach the 3,000-hit milestone sometime during the 2011 season. He had just 179 hits that season, his lowest total since his injury-shortened 2003 campaign, which left him with 2,535 career hits. Yet even if he'd matched his career high of 219 hits it still would have taken him until 2011. It's a shame that the target date comes after his 10-year, $189 million contract expires, but that's the way things work in baseball.
At 2,847 career hits, Jeter is the active MLB leader. He has 100 hits on the 2010 season, which puts him on pace for 196 if he matches his 2009 total of 716 PA. Let's give him another seven, just because I think he'll perform better in the second half (it would give him a .284 average on the season). That would put him at 2,950 career hits, meaning he'd break the record probably some time in May of next year. It will be a joyous time for Yankees fans, not only because it's Jeter accomplishing it, but because we've never witnessed a player reach 3,000 hits as a Yankee. While the milestone is real in the official record books, Jeter has actually already accumulated more than 3,000 career hits.
Under MLB guidelines, postseason numbers do not count towards a player's career totals. I guess they do this to create a level playing field for everyone. Players from an older era are at a distinct disadvantage because they did not have the playoffs. Even before 1995 there was just one round, the LCS, before the World Series. With three rounds, modern players would have the ability to tack on even more stats to their career totals — notice how almost all playoff records were broken after 1995. Still, it's something to ponder. Those hits did happen, they did count, and they did occur during a championship season.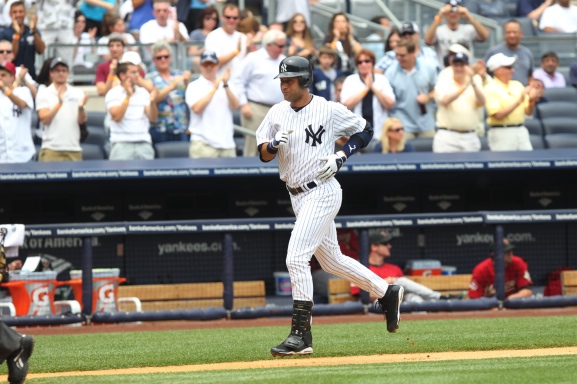 As Tom Tango pointed out this morning, Derek Jeter reached his true 3,000th career hit on June 12th this year, when he homered off Wandy Rodriguez in the bottom of the first. There were no fireworks, and there was no celebration. I'm sure that exactly zero people were even aware of the feat. I don't think that makes it any less meaningful. The 3,000 hit milestone is arbitrary anyway. What's the difference between Sam Rice's 2,987 and Roberto Clement's 3,000? I don't see much there.
No one will officially recognize Derek Jeter as having 3,000 hits until next May. That's fine. Those are the standards MLB set for its record keeping, so for the sake of uniformity that's what we'll use as the official marker. But make no mistake: Derek Jeter has 3,000 hits that have counted towards a championship season. This just makes me question how truly meaningful the milestone is.