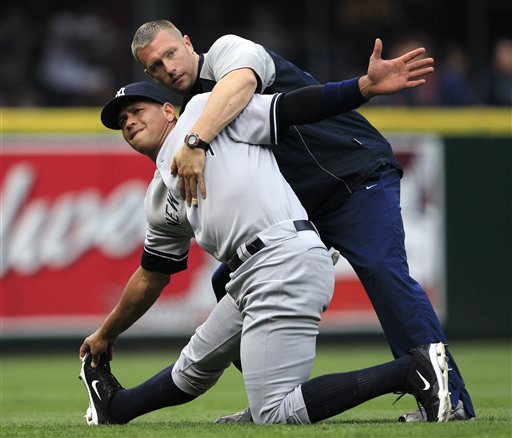 The next big thing in entertainment is going to be 3-D TV, and YES is making history tonight by broadcasting the first ever baseball game in three dimensions. Granted, you need a fancy 3-D TV set, but if you have one and you're a Verizon FiOS customer, then you're in luck. You'll get to see Mark Teixeira hit baseballs right into your living room. If you don't, don't worry, there will be a regular old broadcast as well.
As for the actual game, the Yanks won't be as lucky as they were yesterday today. Felix Hernandez isn't getting traded before first pitch, so they're stuck facing the guy that two-hit them in the Bronx last week. Hopefully the Yanks went to town in the video between then and now and will be better prepared for King Felix tonight.
Here's your starting nine, on the final 10pm ET start of the season…
Brett Gardner, LF
Nick Swisher, DH – this will be his fifth time DH'ing in the last eight games
Mark Teixeira, 1B
Alex Rodriguez, 3B
Robbie Cano, 2B
Curtis Granderson, CF
Colin Curtis, RF
Frankie Cervelli, C
Ramiro Pena, SS
Javy Vazquez, SP
Three lefties in a row? Joe Girardi's gone mad, mad I tells ya!
Anyway, like I said, 10pm ET start tonight with YES carrying the game. I'm not sure how this whole 3-D thing works as far as channels and what not, but I assume everyone tunes into YES until further notice. Enjoy the game, no matter how many dimensions you watch it in.