Over the last few weeks I've been profiling some players on the trade market that may or may not make some sense for the Yankees and their needs. That series was more or less an introduction to those players, not necessarily an endorsement of their acquisition. This time I'm going to cut right to the chase: I want the Yankees to trade for Adam Dunn.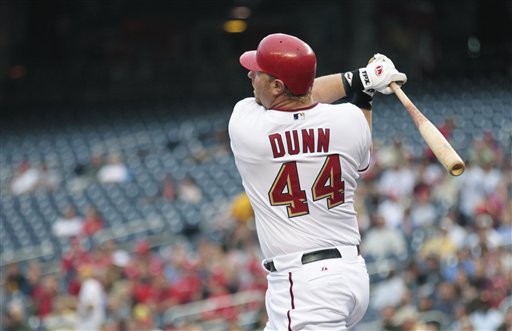 I had been lukewarm about the idea all year long likely because he'd just be  rental, but the more I think about it, the more I want him in pinstripes. Perhaps the failed Cliff Lee got my hopes up and I'm still trying to cope with the disappointment of losing out on that big fish. Either way, Nick Johnson's setback means the team currently has no designated hitter, which puts the Yanks at a considerable disadvantage in an ultra-competitive division. Another bat is very much needed in order to keep Ramiro Pena and Colin Curtis and Frankie Cervelli on the bench where they belong.
Scheduled to become a free agent after the season, Dunn is reportedly losing interest in signing a long-term deal with the Nationals. He's a lock to be a Type-A free agent, and his $12M salary this year isn't crazy enough to keep a team from declining to offer him arbitration. Even if he were to accept, there are worst things in the world than having a guy that productive signed for one year at $14-15M. It's not like there are any age related concerns either, Dunn is still very much in the prime of his career at age 30.
Dunn's credentials are well-known. In an era of baseball that suddenly features fewer homeruns and less offense in general, Dunn is arguably the best and most consistent longball threat in the game, whacking 38-40 homers in each of the last five years. He's on pace for 39 this season, and that's without the New Stadium's short porch in right. All those homers are supplemented by a ton of walks (16.5% walk rate for his career), though he's traded in some free passes this year in exchange for some more singles, kinda like Nick Swisher. There's nothing wrong with that, a hit is always better than a walk.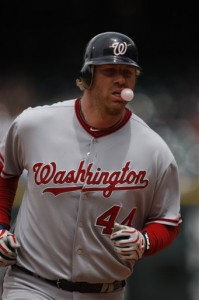 Yes, Dunn does strike out a ton, there's no denying it. He's on pace for 191 whiffs this year, which would be the eighth highest single season total in baseball history and the third highest single season total of Dunn's career. Strikeouts are (usually) the worst possible outcome, but we know that sometimes you have to trade them off for big time power, something Dunn obviously provides. His platoon split isn't as crazy as you might think; he's got a .397 career wOBA against righties, and .361 off lefties. That's more than acceptable.
Dunn is so comically bad at anything on a baseball field aside from swinging a bat that it's almost not worth mentioning his defense and baserunning. His three-year UZR's in the outfield and at first base are -49.4 and -18.6, respectively, among the bottom two scores in the game. So yeah, Dunn has been one the game's two worst defensive players at not just one, but two positions over the last three years. His last stolen base came in 2008, and he has a grand total of two steals in the last two and a half seasons. Baseball Prospectus' baserunning stats say he's cost his teams an even six runs on the bases during that time, which actually isn't as bad as I expected. That doesn't change the point though, Dunn is strictly a designated hitter.
Nats' GM Mike Rizzo maintains that it would take an "extraordinary offer" to pry Dunn loose, but it would be irresponsible of him to ignore offers with his team out of contention (14 games back) and Dunn's sudden lack of interest in signing a new deal. Sky Kalkman's trade value calculator pegs Dunn's value at $11.3M assuming a strong second half, which is equivalent to something like a Grade-B pitching prospect plus a Grade-B position player prospect according to Victor Wang's research. I'm not talking Jesus Montero or Austin Romine here, those guys should only be moved for a super-elite player.
The Yanks have some surplus Grade-B prospects, so they can afford to overpay a little if that's what a takes. Zach McAllister or Ivan Nova plus one of David Adams or Eduardo Nunez could headline the package with another low level, low probability prospect thrown in for good measure. For comparison's sake, the last time Dunn was traded (from the Reds to Diamondbacks), he fetched a Grade-C hitting prospect (Wilkin Castillo), a Grade-B pitching prospect (Dallas Buck), and the perpetually over-rated Micah Owings (he can hit, he's an ace!). Z-Mac/Nova and Adams/Nunez plus a third player isn't all that far off.
The Yankees already have a fine offense. They lead baseball in on-base percentage at .353, but their power output has dropped off noticeably from last season. They're on pace for 182 homers as a team (244 last year), and their isolated power has dropped from .195 to .174 from '09 to '10. It's still a very good offense like I said, no doubt about it, but adding Dunn makes it the best in the league, with over-the-fence power everywhere you look.  The Yanks don't need Adam Dunn, but they didn't need Cliff Lee either. That didn't, and shouldn't, stop them from trying to improve the team wherever possible.