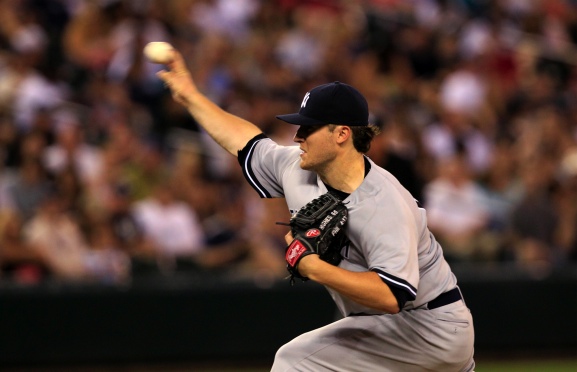 How do you freak out Yankees fans these days? By telling them that the team will skip a young pitcher's start. It happened last year with Joba Chamberlain, and the reactions to Phil Hughes this year have been similar. That Hughes pitched poorly in the start following his long rest didn't help matters. Thankfully, the Yankees don't take fan reaction into account when making moves for the long-term good of the club. Skipping Hughes wasn't about some arbitrary innings limit. It was about monitoring the workload of a relatively inexperienced pitcher to help keep him healthy and pitching in the future.
As discussed this morning, the Yankees won't have many opportunities to skip Hughes in August. They're going through a long stretch of games that will give them just two days off between now and early September. The Yankees could opt to skip Hughes during those days, but considering the summer heat and humidity, combined with Andy Pettitte's absence, it's more likely that they just give everyone an extra day during those breaks. So where will that leave Hughes as the team enters the home stretch?
With starts scheduled tonight, Sunday, and then the following Friday, Hughes will have 19 starts under his belt, a mark he hasn't reached since 2006. If he averages 6.1 innings per start he'll be at 120 innings before the calendar flips. Again, that would be the most he's pitched since 2006. That in itself should cause concern; imagine going through a rigorous weight training program four years ago, then going a bit lighter during the ensuing three years, and then picking back up at that heavy pace again. Even if Hughes does not present a greater injury risk because of this increased workload, chances are he could face fatigue issues. Again, a break during August is basically out of the question.
After his start on July 30, he would then line up to pitch Wednesday, August 4 against Toronto. That is followed by an off-day, and chances are everyone will just take a breather. The Yanks could choose to go with Hughes on four days' rest and have him pitch against Boston on Monday the 9th, but I think they'll have him throw down in Texas on Tuesday the 10th. He'd then go Saturday the 14th, Thursday the 19th, and then Tuesday the 24th before getting another longer layover. Then it's the 30th against Oakland to close out the month.
Using the 6.1 innings per start guideline, that would bring Hughes to 158 innings heading into September. That's just 22 innings below the arbitrary 180-inning ceiling they mentioned earlier in the season, so maybe that's four more starts. He clearly wouldn't make it through September at that pace, so the Yankees have to hope they have enough of a cushion to skip Hughes a few times in September. Even so, given the tough schedule I can't see them skipping him more than once. Chances are that if the Yankees don't have a comfortable lead in the East by mid-September, Hughes could actually hit the 200-inning mark.
Does this affect the Yanks' strategy in acquiring a starter at the deadline? I think it most certainly does. The easiest transition for Hughes is to move right to the bullpen for September and the playoffs. Skipping his starts might help in the long-term, but the Yankees haven't realized any short-term success when implementing that tactic. By adding a starter the Yankees can not only replace Pettitte's production and give him more time to recover, but they can more easily handle Hughes's workload. It's not an ideal situation, but it's one the Yankees seemingly feel necessary for the long-term health of their rotation.