Phil Hughes is no No. 5 starter. He might have won the competition for that spot in spring training, but his results have been more in line with a No. 2 or No. 3 guy. It was what the Yankees had in mind when they placed him in the 2010 rotation instead of their 2009 No. 5 starter, Joba Chamberlain. Given their first half performances, that decision appears justified.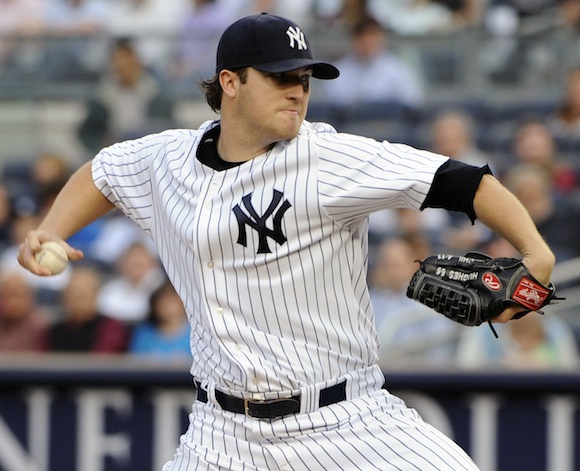 While Hughes has shown flashes of his ceiling at times, he has also hit a few rough patches. In four of his 16 starts he has allowed five or more runs, and in another he allowed four runs in 5.2 innings while using 117 pitches. The seven starts with seven or more innings and two or fewer runs helps offset those, but they don't make them go away. There are still issues he needs to work on in the second half if he's going to reach his ceiling.
Overall Hughes's numbers look great. He not only sports a 3.65 ERA, but he has the peripheral stats to go with it, a 3.59 FIP, 3.96 xFIP, and 3.66 tERA. He has struck out 22.2 percent of the batters he's faced, and has walked just 7.1 percent. As a testament to his control, with a little nod to luck, he has avoided hitting a single batter this year. His HR/FB ratio and BABIP are right in line with his performance last year. Yet despite these numbers Hughes has shown a few concerning trends in his 16 starts.
Performance in 3-2 counts
Of the 410 hitters Hughes has faced this year, 49 have run the count full. This is a bit below the league average rate, but I'm guessing above average for a top of the rotation starter. In those counts Hughes has fared terribly, allowing opponents to hit .258/.531/.419. Of the 29 batters he has walked this season, 18 have come in full counts. It certainly hasn't been his best situation, though it doesn't appear he's doing anything differently.
In full counts Hughes throws 55 percent four-seamers, 28 percent cutters, 15 percent curves, and 1 percent changeups. He throws pitches with nearly the same frequency in 2-2 counts. Why the difference in performance, then? Clearly, throwing the ball outside the zone on a 3-2 count has been a problem. When he does throw a strike opponents hit for a better AVG and SLG than league average in full counts. That's something he's going to have to improve on in the second half. Thankfully it's not something that comes up too often.
Facing the No. 9 hitter
Starting pitcher will obviously face the No. 9 hitter at a lesser rate than hitters higher in the order. In the first half Hughes faced the No. 1 hitter 50 times, while facing the No. 9 hitter just 38 times. Against the leadoff men he's been quite excellent, allowing them to hit just .213/.240/.340. Opponent batting numbers rise through there, peaking at No. 5 hitters, who have a .879 OPS against Hughes. Then it starts to decline as the hitters get worse. Yet there's another peak at the bottom of the order.
No. 9 hitters have knocked Phil around, hitting .344/.432/.500 against him. It's a small sample, sure, but those are still terrible results against the nominal worst batters on each team. The AL average against No. 9 hitters is .239/.299/.342, which actually looks even worse for Hughes because he doesn't have to face the best No. 9 hitter in the league, Brett Gardner. It seems like a fluke that Hughes would fall apart against these guys. I doubt it's anything more than that, but if I find some time this week I might examine this a bit more deeply.
Bad when behind, but not behind often
Opposing hitters go nuts against Hughes when they're ahead in the count. In 108 plate appearances they're hitting .321/.500/.526 against a league average of .308/.477/.507. But while Hughes manages a worse-than-average line while behind in the count, he doesn't face those situations often.
In the American League the hitter has been ahead in the count 35.9 percent of the time — that is, 35.9 percent of plate appearances have ended with the batter ahead in the count. For Hughes that number is just 26.3 percent. He has faced an even count 33 percent of the time and has been ahead in 40.7 percent of plate appearances. The league as a whole faces an even count more often than having the pitcher ahead.
This trend might be related to the 3-2 count as well. Again, it will take a bit deeper of a look to make a determination, but intuitively the connection makes sense. Maybe he's trying a bit too hard and ends up not throwing his best stuff. Maybe he throws fatter pitches when behind, as to avoid walking batters. Again, I'm not sure. I'm just glad that Hughes doesn't face those situations often.
The first half has been mostly good for Phil Hughes, despite a handful of pitiful starts. He's had his share of excellent ones, though. His biggest problems seem like either flukes or correctable aspects of his game. If he can make those adjustments in the second half we could see a better Phil Hughes. That's a scary proposition for the American League contenders.