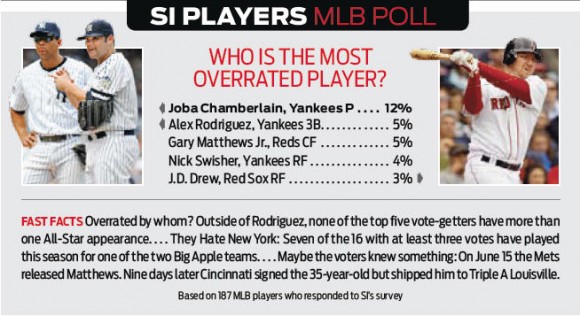 The Yankees may be, for the 8th year in a row, the game's most popular team among baseball fans, but its players aren't well loved by those on other teams. According to a recent Sports Illustrated poll of 187 Major Leaguers, players have view a handful of Yankees as the most overrated players in the game.
Leading the pack is 24-year-old reliever Joba Chamberlain. A whopping 12 percent of respondents picked him as the most overrated. Despite Joba's struggles this year, he's still young and should have a promising future ahead of him. He can take comfort in the fact that Derek Jeter earned the same honors in the 2008 poll.
Joining Joba on the list are fellow teammates Alex Rodriguez and Nick Swisher. It's hard to say if this hatred is justified or if other Major Leaguers simply don't like the guys who grab headlines. The other two in the top five were J.D. Drew, one of the game's best hitting outfielders over the last five years, and Gary Matthews, Jr., someone regarded as so bad that it's hard to believe he could be overrated.
It's pretty clear to see how players view this question though. It's not about which players are actually overrated. Rather, it's about which players receive too much attention based on their skills. A-Rod is hated because, well, he's A-Rod, and we know of his crimes against baseball. Nick Swisher ran one of the most over-the-top All Star Game vote campaigns in the history of the Final Vote, and if he weren't a Yankee, we'd probably hate him too.
Joba's inclusion on this list is because he's legitimately overrated. Right now, he's a 24-year-old struggling to find consistency at the Major League level. There's certainly nothing wrong or unexpected in that. But because of the amount of press he has received and the way he blew away the league in 2007, other players expect him to be better than he has been this year. We shouldn't expect Joba to be as dominant as he once was, and although he can still have a very successful career as a starter or reliever, right now, perception of him as a pitcher just hasn't lined up with the results.