This was a high scoring game that didn't bring much drama. Sure, Joba made things interesting in the eighth, letting the Royals get to within two before he recorded an out, but even then the game was rarely in doubt. The Yanks' hitters were out in force yesterday, and after Joba's slip-up they came back and made the lead Chad Ho Moseley proof. It was a nice four-game series win, though against the Royals that's to be expected.
Biggest Hit: Derek ties it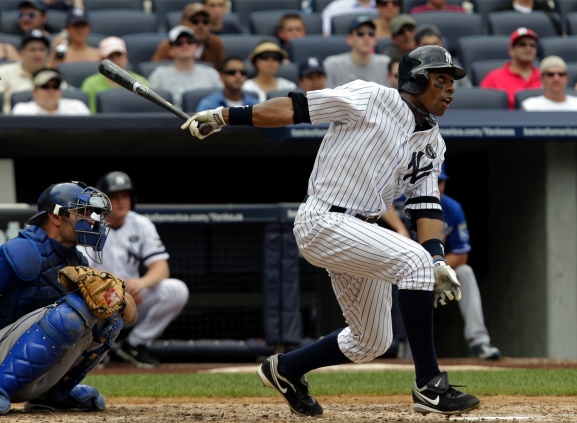 After going 0 for 4 in the first game of the Anaheim series, Derek Jeter was making some noise — though not the good kind. His season line fell to .268/.332/.380, which naturally led to more talk about his winter contract negotiations. Five games does not a turnaround make, but any sign of life is welcome from Jeter. After his 3 for 4 day, which included a walk, Jeter is now 10 for his last 24 with two doubles, a homer, and two walks.
His big hit yesterday came during the team's rally in the third. The Royals had just taken a 2-0 lead on what might have been the shortest home run in Yankee Stadium history, and wanted to get their guy back some runs. Granderson delivered the first with a homer to lead off the inning. Two batters later Ramiro Pena singled. And when Ramiro Pena gets on base, well, you've got to bring him around. You don't want to waste such a rare opportunity.
Sean O'Sullivan, who had held Jeter hitless on Tuesday, started with a fastball up and in that Jeter fouled away. Then he came back with a curveball that caught a bit of the plate, though it was still in the favorable low-outside portion. WIth many hitters that will work. With Derek Jeter it can spell trouble. He delivered with a liner to center, bringing Pena all the way around to score. With the throw Jeter himself moved to third.
That position became important just two batters later, when Mark Teixeira grounded a single that scored Jeter. And then Alex Rodriguez brought Tex all the way around to score in a double. That made the score 4-2. Total WPA added in the bottom of the third: .375.
Biggest Pitch: Pods's first shot, Aviles's double play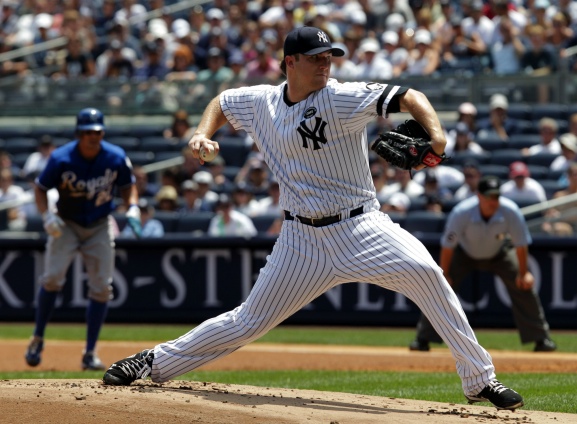 Sometimes the biggest pitch comes on a negative, when the Yanks' pitcher gives up a particularly important hit. Other times it comes when he gets out of a jam. It's pretty clear that Podsednik's homer was a bigger negative than Aviles's double play was a positive, but because Phil pitched fairly well I thought we'd include both.
First off, the base runner for Podsednik's homer, Chris Getz, got on by lining one off Phil Hughes. He almost recovered to make the play, but instead Getz made it to first safely. After getting checked out by Gene Monahan and company, Hughes went to work on Podsednik. He went exclusively with the fastball, mostly high in the zone. He worked the count 0-2 and then missed high with a third fastball. Then on the fourth he still missed high, it appeared, but Podsednik went with it and looped it out to left. It dinked off the foul pole and that was that.
The only times the Royals got to Hughes were on home runs. In the fourth he put a 3-2 fastball right down the middle for Rick Ankiel, and Ankiel did that thing where he provides value to his team, a rarity for sure. Otherwise Hughes was okay, not great, but certainly not as bad as he looked in previous games. After the Ankiel homer he allowed just one more hit, a dinky single to Alex Gordon. He also walked none in the game.
As for his biggest positive, that came in the second. He had allowed Ankiel to single leading off the inning, but then got Mike Aviles to ground into a 4-3 double play. It wasn't anything fancy; just your basic twin killing. But it took the pressure off, at least.
Where he's going, he doesn't need home runs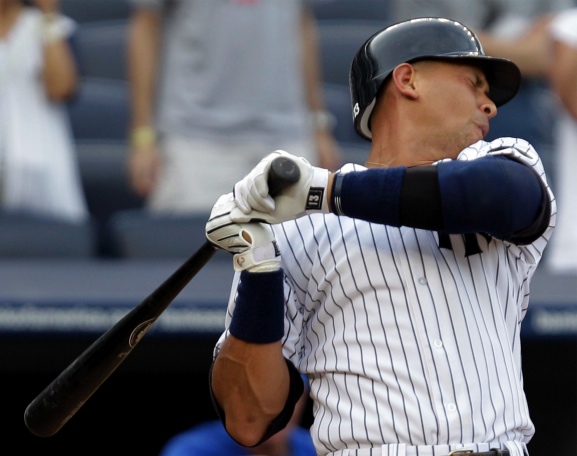 On Thursday, in his final at-bat, Alex Rodriguez hit home run No. 599. Since then the Stadium has waited in anticipation of No. 600. It was his third hit of the night, and he has delivered with hits in each of the next three games, though none of them left the yard. With his 2 for 4 day he is now 5 for 12 with a double, walk, and HBP since No. 599. So even while he's not smacking his historic homer, he's still been productive as ever.
That HBP did cause a scare, as the ball deflected off his hand. It just left a mark, though, and everyone seems to agree that he's fine. I wouldn't be surprised to see him take a seat tomorrow, but with A-Rod you never know.
Miscelanny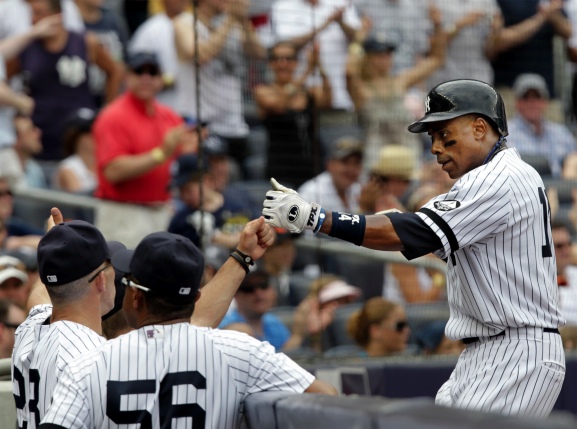 From the Oakland series through the Anaheim series Brett Gardner was 6 for 37 (.162) with no extra base hits (though he did walk nine times). In the Royals series he was 3 for 11 with two doubles and two walks.
Before yesterday Curtis Granderson hadn't homered since the extra-innings affair in Arizona. With his 2 for 4 day he is now 16 for 49 (.327) with two doubles, two homers (.490 SLG) and four walks (.370 OBP) since the Seattle series.
Happy 1,000th career hit, Robinson Cano. He did that in his 3,454th career PA. It took Jeter until career PA No. 3,542 to hit his thousandth.
Mark Teixeira watch: .264/.375/.488. It will take 18 total bases in his next 25 AB to reach a .500 SLG.
Graph, box, and video
Domination, homes.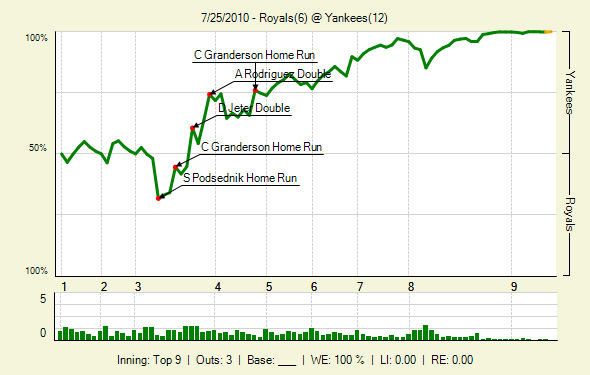 More at FanGraphs. Also, the traditional box and highlights.
Next Up
Yanks head out to Cleveland to face old friend Jake Westbrook. Javy Vazquez will hopefully be effective for more than four innings.