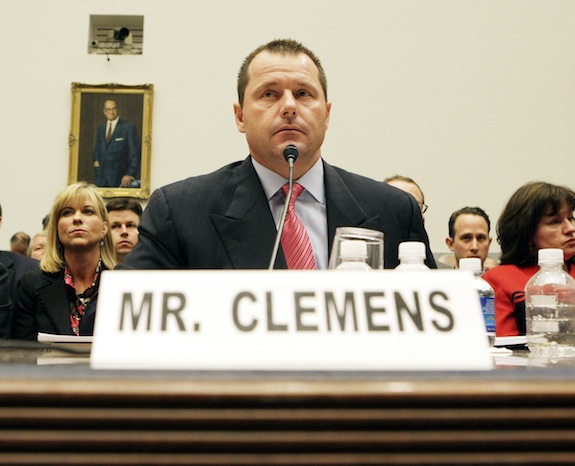 Update (5:25 p.m.): A federal grand jury has filed an indictment against former Yankee pitcher Roger Clemens facing a federal indictment for perjury in connection with his 2008 testiomy to the U.S. Senate. The 19-page indictment, unveiled today, charges the disgraced hurler with three counts of making false statements and two counts of perjury. While the Department of Justice will not seek to arrest Clemens, the Rocket's legal troubles are just beginning.
Michael S. Schmidt of The Times has more details on the incidents out of which the indictment arises:
Clemens's allegedly false testimony came in a public hearing in which Clemens and his former trainer Brian McNamee, testifying under oath, directly contradicted each other about whether Clemens had used the banned substances.

"Americans have a right to expect that witnesses who testify under oath before Congress will tell the truth," United States Attorney Ronald C. Machen Jr. said in a statement announcing the indictment. "Our government can not function if witnesses are not held accountable for false statements made before Congress. Today the message is clear: if a witness makes a choice to ignore his or her obligation to testify honestly, there will be consequences."

The congressional hearing at the heart of the indictment came just two months after McNamee first tied Clemens to the use of the substances in George J. Mitchell's report on the use of performance-enhancing drugs in baseball. After Mitchell released the report, Clemens claimed McNamee made up the allegations.
Clemens joins Barry Bonds as the two most prominent former players to face perjury charges in connection with statements concerning PED use. Bonds is scheduled to go to trial in March, and the two will appear together on the 2013 Hall of Fame ballot.
The Feds, as Schmidt reports, investigated Clemens after Congressional leaders raised concerns over his testimony. Still, there are elements of a witch hunt here as Congress and the Justice Department have gone after only the two biggest names to be accused of drug use. If convicted, Clemens could face a sentence of 15-21 months, but my guess is that this case doesn't get that far. Because Clemens allegedly never failed a drug test, the government's evidence rests on the testimony of Brian McNamee, a former Clemens confidante who turned informant to avoid federal drug charges. McNamee claims to have old syringes that reportedly tested positive for both steroids and Clemens' DNA.
The Rocket this afternoon issued a statement via Twitter denying the charges. "I never took HGH or Steroids," he said. "And I did not lie to Congress. I look forward to challenging the Governments accusations, and hope people will keep an open mind until trial. I appreciate all the support I have been getting. I am happy to finally have my day in court."
Click through for an embedded copy of the indictment, courtesy of Maury Brown's Biz of Baseball. The unnamed Strength Coach #1 is widely believed to be Brian McNamee.