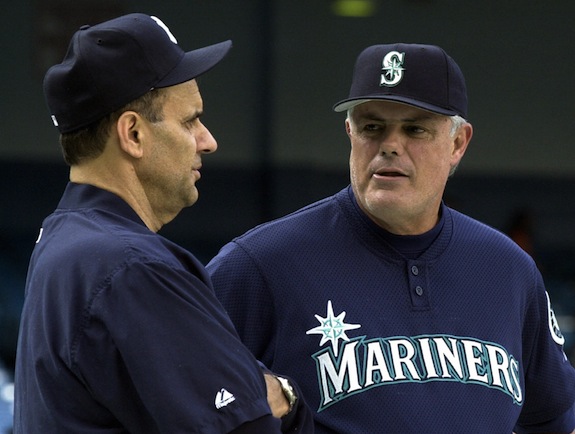 Last night in Philadelphia, the Dodgers lost a game that summed up their season. Jonathan Broxton, the once-untouchable closer, allowed four runs without retiring a batter in the 9th, and Joe Torre's previous bullpen machinations failed. Minus Mariano, it was a familiar story for Yankee fans as Torre used five relievers to try to get the final seven outs of the game.
With their loss, the Dodgers dropped to 59-56, nine games behind the Padres and in fourth place. They're just 6.5 out of the Wild Card but behind five teams, and the team is treading water as the season nears an end. Their manager too is just treading water, and Los Angelenos are awaiting to see if Joe Torre will come back for another stint in Chavez Ravine or call it a career. Fans, it seems, are ready to let him go. Jon Weisman for Dodger Thoughts opines:
There's also the fact that Torre has always felt like something of a visiting professor here. There was a ticking clock –partly self-imposed by Torre — from the moment he hastily replaced Grady Little in the fall of 2007. Torre has been liked by many and loved by some — but he hasn't penetrated the hearts of Los Angeles' baseball community in a meaningful way. His ties to New York's string of World Series titles can't be broken by a couple of NLCS runs. It took Jackson several NBA crowns before Lakers fans could begin to feel that the former Chicago Bulls coaching legend was really theirs. Torre is never going to reach that level in Los Angeles, and the people here intuitively know this. It's noteworthy that the single act Torre might be most remembered for as Dodgers manager could be coaxing the greatest Los Angeles Dodger of them all, Sandy Koufax, into a rare public conversation earlier this year…

Things might have been different if the Dodgers had been able to take advantage of their chances to even the 2008 and 2009 NLCS at two games apiece. But Torre's magic couldn't save Los Angeles those years, and now the odds are against him doing any more.

"My feeling is that Torre won in New York because of an unlimited payroll, though he couldn't do it every year," another Dodger Thoughts commenter said. "That's not necessarily to say he's bad under a more financially constrained regime, but I consider him replaceable in every aspect except his celebrity (which he owes to his time in New York City). I would not miss him, but I'd like to see him go out with a World Series championship – which, however, would probably bring a clamor for him to stay."
Since leaving New York, Torre has had to face a legacy not of success but of late-career failure. After setting himself up with impossible standards, Torre hasn't won anything since 2000. A bitter defeat in 2001 wasn't really his fault, but both the World Series defeat in 2003 and the ALCS collapse in 2004 bore his managerial signatures. A post-New York tell-all memoir didn't endear him to fans who demand nothing short of a World Series trophy every year. If he retires after this season, he will be feted in New York, but we continue to grapple with the complexities of the Torre Years.
A few thousand miles closer to New York but years removed from Torre, another ex-Yankee manager is calling it quits after this season plays out. Late last month, Sweet Lou announced his intentions to depart from Chicago after the 2010 campaign. Piniella got his managerial start in New York in the mid-1980s, captured a World Series title in Cincinnati in 1990, and hasn't been able to push the Mariners, Devils Rays or Cubs past the finish line. He'll retire with over 1850 wins and three Manager of the Year awards.
When the Yanks picked Piniella to take over from Billy Martin in 1986, the choice was controversial. Lou had a fiery temper but no managerial experience, and few in the Yankee organization knew how this approach would play at the Big League level. He led the Yanks to a 90-72 second place finish and earned himself a two-year deal. Following the 1987 season, Piniella was promoted to GM while Martin returned until he was fired again in mid-June. Following the 1988 season, Piniella would be gone from the Bronx.
Over the years, Lou and the Yanks would be forever intertwined. As he headed up the Mariners from 1993-2002, a fierce East Coast/West Coast rivalry emerged. The Mariners stunned the Yanks in 1995, and the Yanks returned the favor in both 2000 and 2001. Piniella's name briefly popped up when Joe Torre's tenure ended, but the two sides never had their long-awaited reunion.
As these two men prepare for what comes next, both will be linked forever with the Yankees even if both left on less than ideal terms. As a player, Lou won some memorable titles, and as a manager, he served as the perfect foil for Joe Torre's victorious Yankees. That they will probably retire at the same time is fitting indeed.