The games are always more fun when the offense comes alive. Last night's game wasn't perfect, but every time the Tigers even tried to make it interesting the offense came back and put it further out of reach. Chad Gaudin, in what is probably his last appearance for the Yankees, tried to make things interesting, but Robertson bailed him out. After the dust settled and the bullpen was emptied, the Yanks had secured their second win of the series.
Biggest Hit: Don't give Teixeira a pitch like that…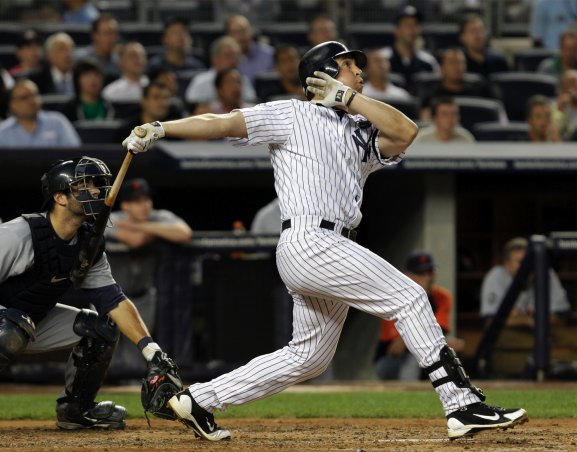 …He might just crush it. Jeremy Bonderman didn't look so hot at the start of this one. His first pitch caught Brett Gardner on the calf, though that might have been retaliation for Gardner's slide on Monday night, which put Carlos Guillen in a bodybag on the DL. Bonderman then got Jeter to strike out swinging, though the two called strikes were pretty borderline and Jeter took a poor swing at ball two. That brought up Teixeira, who took two pitches that looked out of the zone, though the first was called a strike. I dunno, maybe that angered him or something.
Or maybe Bonderman just threw a horrible pitch. It was a changeup that didn't get down far enough. Tex clobbered it, sending it into the second deck for his 27th home run of the year. That's not a bad total for a guy who is hitting far below his normal level on the season. Robinson Cano wasted little time in extending the lead, hitting an inside fastball over the right field wall for his second home run in as many games. Offense? Game on.
Honorable Mention: Pena triples
If Ramiro Pena triples, chances are it's going to feature prominently in the recap. It helps that it was the second-largest WPA swing of the game, giving the chances a 13 percent better chance of winning the game. That came in the fourth, after the Tigers, on the power of two Miguel Cabrera home runs, had cut the lead to 3-2. Pena came up with Austin Kearns on first base and hit the ball with precision. It landed and rolled in a way that prevented both Ryan Raburn and Austin Jackson from fielding it before it rolled to the wall. Combine that with them rightfully playing Pena shallow and it was an easy triple and RBI.
The very next batter, Brett Gardner, did something similar, splitting the center and left fielders for a double of his own. This is one reason I like the Yankees offense so much: precision and power. They can manufacture runs and they cudgel a team. Either way they score more runs than any other team in the league.
That Miguel Cabrera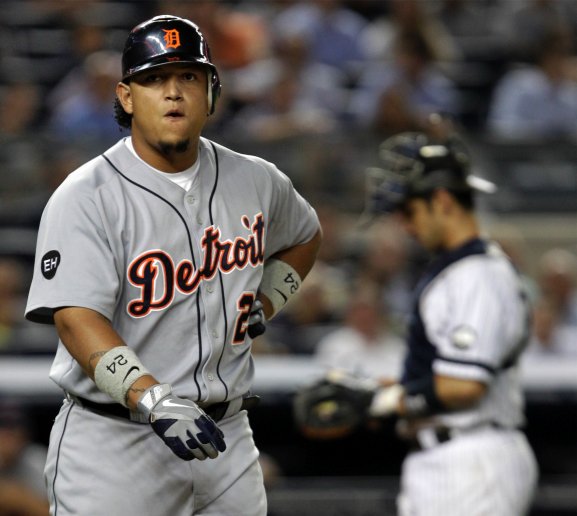 Thankfully, neither of Miguel Cabrera's home runs hurt the Yankees tonight. Which is perfect. Before the season I did a FanGraphs podcast with Dave Cameron where we exchanged predictions. He had Josh Hamilton as AL MVP, I had Miguel Cabrera. His pick was more of a reach at the time, and he's probably winning. I just thought Cabrera was going to have a monster comeback year, creating an excellent story following his drunken antics at the end of last season.
After his 2 for 3, two-homer night Cabrera sits at .340/.433/.644, which trails Hamilton only in BA. He also now leads the AL in RBI with 98; A-Rod has 97. In many years a .340 BA with 30 HR and 98 RBI might start a Triple Crown watch, but Cabrera is seven homers behind Jose Bautista and is 16 points behind in BA. He could still take the triple crown of, I dunno, RBI, walks, and OBP. In any case, it's always nice to watch a player like that at work when he's not causing your team to lose.
Miscellany
Gaudin again brought into question why he's on this team. Aceves could be back tomorrow. Roster move? I'm not sure, only because of the depth issue.
Could Ivan Nova, who had another excellent game in AAA, take Moseley's next turn in the rotation? They'd line up.
Another game, another homer for Curtis Granderson. That's three now since the Kansas City series. That's now 9 for 26 (.346) with three walks (.414 OBP), two doubles, and three homers (.769 SLG).
Two more walks gives Cano 44 on the season. He's already five up on his previous career high, and in 160 fewer PA. That puts him on pace for 58 walks, which would be more than his last two seasons combined.
Austin Kearns and Kerry Wood: good deadline pickups.
Graph and box
A couple of dents, sure, but man is that line moving in the right direction.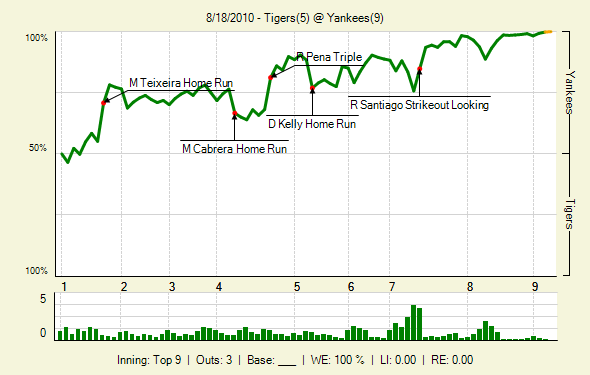 More at FanGraphs. And here's the box score.
Up Next
Getaway day, which only happens when the Yanks are home. Phil Hughes could use a good start after the Yanks emptied the bullpen. He'll face Rick Porcello at 1 tomorrow afternoon.