Four questions in this draft-free mailbag. If you're interested in the draft though, check out today's open thread. Otherwise, think up some questions for next week's mailbag and send them to use with the Submit A Tip box in the sidebar.
Kenny asks: What are your thoughts on re-signing Phil Hughes next year to close? Granted, he'd have to want to close and it would take a few other things like Michael Pineda coming back strong, re-signing Hiroki Kuroda and David Phelps continuing to progress, but he could dominate there.
Barring injury or a complete performance collapse, there's no chance Hughes will re-sign with the Yankees as a closer. Zero. None. Not unless they pay him like a starter. Some team(s) will offer him a nice contract and a rotation spot, and that's where he'll go. He has no reason to come back as a reliever.
I do think Hughes would be awesome in the bullpen though, and in fact we already know he would be. We've seen him do it in 2009 and remember, he was dynamite out of the bullpen late in 2011 and during the postseason. If for some unexpected reason the Yankees don't need a starter next year, sure, bring him back a reliever. He wouldn't be open to it, however. The money is in the rotation.
Nick asks: Why not have an eleven-man pitching staff? They have several guys in the pen who can throw multiple innings, and a long man in Adam Warren so I think they can handle it. The 12th guy on the staff seems to go weeks between games (at least for the last few years). The extra bench player could allow them to do more of a platoon with several of their veterans, who are old and have platoon splits.
The easy answer is that a seven-man bullpen is commonplace these days and teams always hesitate to go against the grain. It's been a while since the Yankees used a six-man bullpen and I don't see them going back anytime soon. Having the extra arm is always nice, really.
That said, I do think teams could get away with it as long as they have three or four relievers capable of throwing two innings at a time. It also means having no lefty specialist. The Yankees have more platoons than they know what to do with — seriously, pretty much the only positions they aren't platooning in some way this year are catcher, first base, second base, and center field — so having that extra position player would be nice.
Considering how important the pitching staff is for this team, carrying the extra pitcher (Joba Chamberlain? Shawn Kelley? Preston Claiborne?) over the extra position player (Brennan Boesch?) isn't the end of the world. I do think a six-man bullpen is more doable that most realize, however.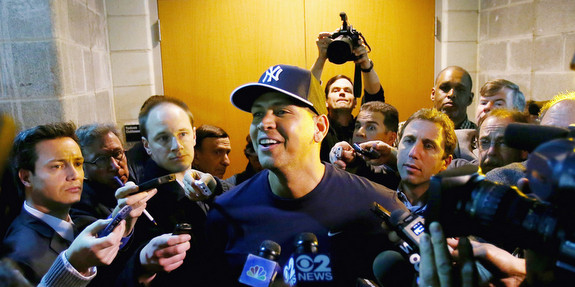 Biggie asks: If an Alex Rodriguez suspension comes is he suspended without pay? If so, does his entire salary count against the salary cap or is it adjusted? We are almost 60 games in and suspensions sound two weeks away. Add an appeal and this can possibly carry over into next year. What would that mean to the 2014 $189 budget if anything. Thanks!
Well, the suspensions are nowhere close to two weeks away. The appeals alone will probably take months, especially if they do indeed go after 20 or so players. If A-Rod gets suspended, it won't happen anytime soon.  This labor war party is just getting started.
Anyway, yes the salary Alex forfeits during a suspension would not count against the luxury tax. Ken Davidoff was nice enough to spell it all out today, so I strong suggest reading that. We're talking upwards of $15M in savings if he does get the 100-game ban MLB is seeking, so it's a big chunk of change. That can fill a lot of roster holes.
Ariel asks: With our replacement shortstops playing abysmally, do you think the Yankees regret giving up on Ramiro Pena? Do you think he would be playing as well as he has with the Yanks?
You can file this under questions I never thought would be asked. New York has gotten a .216/.286/.289 (67 OPS+) from their shortstops this year while Rakin' Ramiro has hit .318/.372/.506 (143 wRC+) in 95 plate appearances as utility infielder with the Braves. What the hell is that about?
Now, obviously Pena won't maintain that pace. It'll be a minor miracle if he does. A 50.0% ground ball rate and 16.7% HR/FB rate in that ballpark just don't make sense considering the type of hitter he is, plus the .353 BABIP is a bit above what you'd expect even if he was a true-talent .320 BABIP guy. Pena could always pick it defensively, so that wasn't the issue.
Considering who the Yankees have used at short and what they've gotten out of the position this year, I definitely think they want him back. Of course this kind of production was completely unforeseen, and I don't think he'll maintain this at all. He might hit better than he did in the Bronx, but Pena didn't suddenly become Troy Tulowitzki.