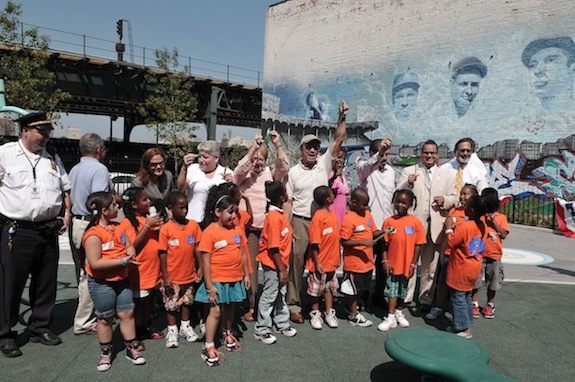 Five years ago, city politicians and Yankee officials celebrated the groundbreaking for new Yankee Stadium, and as they did, the South Bronx lost a significant chunk of its green space. Although the plans for the new stadium called for replacement parks scattered throughout the neighborhood, with the slicing and dicing of Macombs Dam Park, the neighborhood lost a focal point for athletics and play. This week, though, the city celebrate progress, if a bit sluggish, in replacing these parks.
City politicians and Parks Commissioner Adrian Benepe gathered on Tuesday for a ribbon-cutting ceremony for two River Ave. pocket parks. Featuring a playground for kids and skate plaza, the park is located aside the elevated tracks of the 4 train at around E. 157th St. "Thanks to $6 million in funding from the Yankee Stadium redevelopment program, there's a brand new place to go rolling on River Avenue," Benepe said. "The skate plaza on the south, and playground on the north are two examples of the city's commitment to expanding fitness and recreation opportunities in the South Bronx."
Both the skate plaza and playground are located on the sites of former parking lots, and the city worked with the community to design and incorporate the parks into the urban landscape. The skateboarding community suggested numerous features including half-pipes, ramps, stairs, rails, ledges, gaps and other elements for their area, and this park alos includes a bit of green space. It is, says Parks in a press release, "one of city's first skate parks to use traditional New York City Parks materials, and references elements from the city's past and present."
The playground, meanwhile, uses the subway to the delight of children. It features spray fountains and lights that are turned on as subway trains pass by. It must be particularly exciting on a day such as today when post-game 4 trains bound for Manhattan clank by every 2-3 minutes.
In unveiling these parks, the city proclaimed its $195 million investment in new parks surrounding the stadium, and while praise for these projects is warranted, the parks have often seemed like an afterthought. This skate park was supposed to open in 2007, and Bronx residents will still be waiting at least another year before the Heritage Field centerpiece is ready for play. Still, progress is progress, and the city is slowly putting a not-so-flattering chapter of community development behind it.