The unveiling of a larger-than-life George Steinbrenner plaque in Monument Park wasn't about any single member of the so-called Yankee family last night. While the typical luminaries and club veterans made their ways to Yankee Stadium, the only people who warranted introductions were the members of the Steinbrenner family. David Wells simply walked down the field; Don Mattingly, alone, strolled out to Monument Park; and Joe Torre and his wife Alli, making their return to the Bronx for the first time since 2007, were pelted with cheers only after a camera found them.
Yes, last night was about George M. Steinbrenner, and the way he turned the Yankees and himself into something (and someone) who towered over the baseball and city landscape for the better part of four decades. But earlier in the afternoon, the day was about reconciliations for Joe Torre, the one man who, during his prime, was capable of taking the backpage away from the Boss, and the Yankees, an organization which spurned him and which he spurned in return.
For Torre, a George Steinbrenner memorial just a few days he called it quits in Los Angeles served as the perfect excuse for a homecoming. Based on the narrative of the time, Joe Torre was, by the end, Steinbrenner's guy through and through, but by 2007, the Boss wasn't living up to his nickname. After another first-round playoff exit, the Yanks wanted a change at the helm, and they brought it about by low-balling Torre. The four-time World Champion manager repaid the favor by burning every bridge he had built by writing a largely unnecessary book. He returned yesterday not to make nice with the men who fired him, but to honor the guy who gave him a chance back in 1996.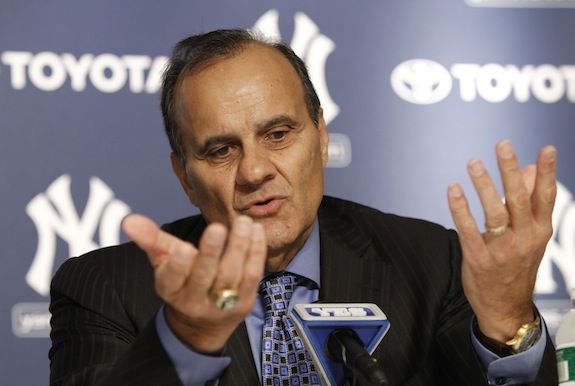 The media response to Torre's turn in the Bronx is as any Yankee fan would expect. The press embraces Torre as they always did, but the writers and columnists note, as Tyler Kepner did, that this isn't Torre's time any longer. No one knows that better than baseball fans 3000 miles away. After Torre was ousted from the Bronx, he headed into the sunset and found himself in Los Angeles, atop another franchise struggling through years of mediocrity.
The Dodgers haven't won much of anything since 1988, the longest such drought since the team fled Brooklyn for Hollywood, and Joe Torre was supposed to change that. He took the job in Los Angeles to turn around a stagnant franchise just as much as he did to try to teach the Yankees a lesson. I'll win anywhere, he wanted to tell them, and he fell just a few wins short of his goal.
In his first two years with the Dodgers, Torre's team reached Game 5 of the NLCS before petering out. This year, the team is bound for fourth place and a sub-.500 record. Come March, Don Mattingly, another former Yankee great, will be at the helm in Chavez Ravine, and although Torre, 70, says he'll listen if the Mets come a-knockin', his managerial days are probably behind him.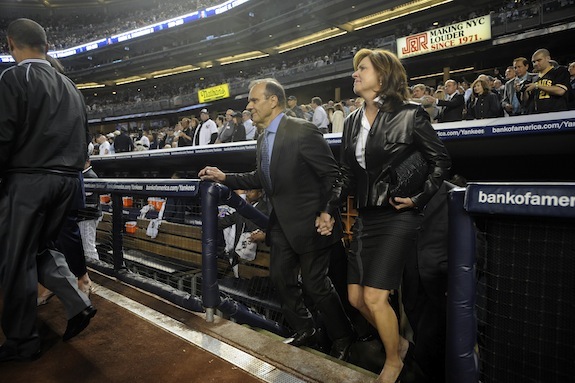 Yesterday, at Yankee Stadium, Torre and Cashman seemed to bury the hachet. "When I left, that was a very dark time for me," Torre said. "I was hurt, and yet if you try to be rational about it, you had two parties not knowing how to say goodbye. That's what it turned out to be.
Cashman, who Torre acknowledged was hurt by the book, is ready to let bygones be bygones as well. "I think we've agreed to just put it behind us," the Yanks' GM said. "We had a long, terrific run. I would put our relationship while we were working together up against any GM/manager combination in the game. We both agreed it's just not healthy. It's time to turn the page. Whatever happened on that side, it's a small sample compared to the huge sample of all the good stuff that took place."
The Yankees can afford to let Torre's words slide. They've won a World Series without him, something they could not accomplish in his any of his last eight seasons as manager. They've ushered in a new stadium and feature a young core of players who can lead the team more wins. Plus, they're doing so with their own Joe who just so happens to be a disciple of Torre's at the helm.
So the Yankees can turn the page. Last night, when the camera found Torre, the crowded roared in recognition. They know that Torre will be back, maybe even next year, for a ceremony retiring number 6. They know Torre will probably be enshrined with a Yankee cap on in Cooperstown for his work as the team's manager. They know they don't need to carry much of a grudge because life and baseball have gone on without Torre.
Maybe he wouldn't have gotten the same round of applause if he had been formally announced. Maybe the boos would have been there. But why not send him off in style? When all is said and done, it is what Joe Torre deserves.