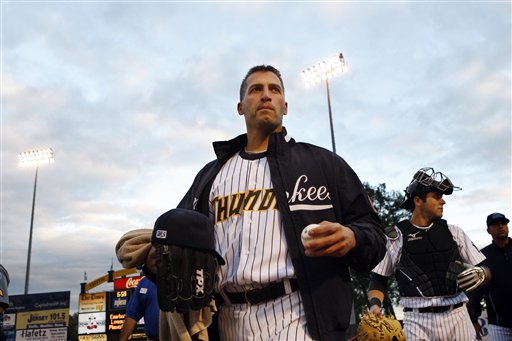 It's nearly impossible to look at anything in a positive light given how awful the last week-and-a-half have gone for the Yankees, but if there's any good news, it's this: Help is on the way. A trio of maybe not frontline players, but highly productive secondary pieces are returning from various injuries very soon, and that could be the boost the Yanks need to get out of this hideous slump.
Right now, the one return that is set in stone is that of Andy Pettitte, who is scheduled to start on Sunday in Baltimore. He's been out since mid-July with a groin injury, and it's pretty amazing how the rotation really started to fall apart once he went down. Of course, Pettitte's injury had nothing to do with the deterioration of Javy Vazquez's stuff or A.J. Burnett's consistent inconsistency, but it certainly factored into Dustin Moseley making seven starts with a 5.03 ERA and .853 OPS against. If nothing else, Pettitte's return will stabilize at least one rotation spot and push guys like Moseley and Vazquez into lesser roles, always a good thing.
Pettitte's return will help the rotation, but two outfielders are due back from injuries soon as well. Both Nick Swisher (knee) and Brett Gardner (wrist) received cortisone shots earlier in the week and are expected to be back sometime this weekend. There's no concrete return date for either, but the Yanks played it extra cautiously and gave each player ample rest with the idea of having them back for the Orioles series.
The return of Swisher and Gardner means no more Austin Kearns and Colin Curtis, which will be music to everyone's ears. Even if Swish and Gardy come back and struggle a little bit, 75% of them is still greater than the production the Yanks are getting out of their left and rightfielders right now. They lengthen the lineup and at the very least will put together better at-bats even if the end results are the same. Both will take pitches, foul balls off and make pitchers work, something Kearns and Curtis fail to do basically each time up these days. The automatic outs will be gone at long last.
It's going to take a whole lot more than the return of these three players to right the Yankees' ship, but it's certainly going to help expedite the process. Or so I hope. The players that are and have been healthy certainly need to improve their production with men on base when they have a chance to tack on runs, and the other starters (except CC Sabathia) need to be more efficient and give the team length. Pettitte, Swish, and Gardy aren't going to come out of a phone booth with their Superman outfits on and cure all of the team's ills, but that's three above-average players the Yanks will have at their disposal that they don't right now.