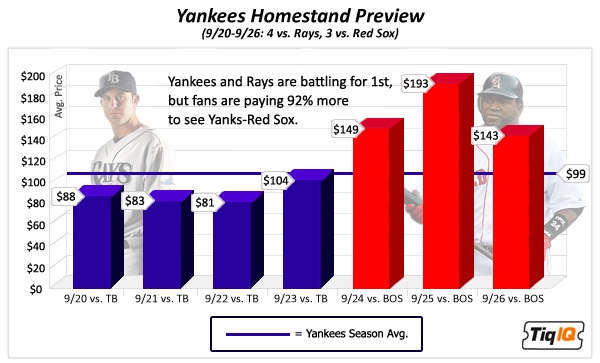 As the final homestand of the regular season gets started this evening, ticket prices are on the rise. After a few homestands featuring mediocre opponents, the Yanks end their Yankee Stadium slate against Tampa Bay and the Rays, and RAB Tickets still has some great deals.
As the above chart from our partner TiqIQ shows, seats for the Rays' games are currently going for less than those against the Red Sox. Only Thursday's CC Sabathia/David Price rematch is going for above the season average. Meanwhile, even though the Red Sox face an elimination number of seven, the seats for this weekend are still going for a pretty penny. I'd expect the weekend prices to come down by a few bucks before all is said and done, but the Battle for First Place and potential ALCS preview should outpace yet another Yanks/Red Sox series.
Don't forget to check out RAB Tickets for all of your game needs. We receive a cut of the sales and always appreciate the help. It's also now possible to get away game tickets via TiqIQ by clicking on the "Other Yankees Games" link at the RAB Tickets home page.