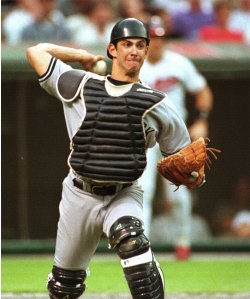 Who has been the most valuable Yankee of the past 15 years? Last month Joe Posnanski wrote about the topic, assuming that it came down to Derek Jeter and Mariano Rivera. That's not a poor assumption. Those two have been staples in the Yankees' lineup during that span, and they're certainly the two most famous Yankees of that period. But he missed someone who deserves to be in the conversation. In fact, if you run a quick text search on that post you won't see Jorge Posada's name mentioned once.
According to the FanGraphs WAR system, Jorge Posada has been worth 52.8 wins over a replacement catcher in his career, which place him 14th all-time. That list also includes some players, like Joe Torre, who didn't catch for their entire careers. The Baseball-Reference database has him at 46.4 WAR, 12th all-time among catchers. It's just so rare to see a catcher be that good for that long. That gives Posada incredible value to the Yankees.
Even as he ages Posada continues to produce for the Yankees. He just turned 39 in August, though this is his age-38 season. Only one catcher in history has produced an OPS+ of more than 100 in his age-38 or later season while playing at least 60 percent of his games at catcher. That would be Carlton Fisk, who had a 136 OPS+ in 419 PA at age 41, and a 134 OPS+ in 521 PA at age 42. This year Posada has a 123 OPS+ in 421 PA. His .478 SLG currently ranks above any catcher in his age-38 or higher season.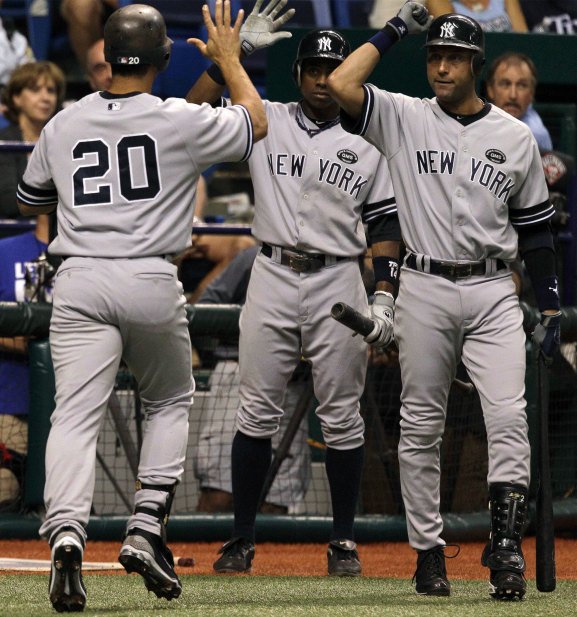 Posada takes care of everything for the Yankees. Sometimes that means hitting a gargantuan game-winning home run in Tampa. Other times it means working an 11-pitch at-bat to start the ninth, opening the door for a teammate to drive home the winning runs. He might not hit for that high an average, but he can hit for power and he gets on base at a clip far better than most catchers. He is one player who helps the lineup go 'round.
Chances are Posada will never be a Hall of Famer. He just doesn't have the sexy numbers. But if he finishes this year strong and puts up a similar season next year, he has to at least cause a Bert Blyleven-like debate. I'll look forward to that one sometime at the end of this decade. For now I just want to take the time to appreciate all Jorge Posada has been for the Yanks over the years.