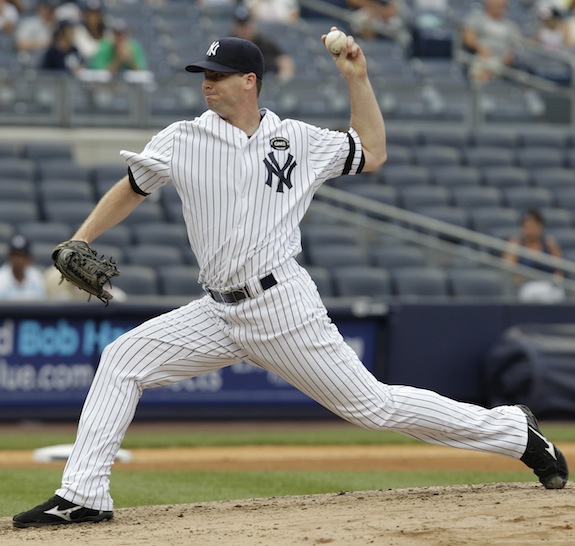 Once upon a time, the thought of Boone Logan's pitching meaningful innings in high-leverage situations filled me with dread. Through the first two months of the season, Joe Girardi kept deploying the 26-year-old lefty in match-up situations, often in close games, and the results were enough to condemn the process. When he was finally sent down to AAA at the end of May, Logan had accrued 10.2 innings while walking more than he had struck out. Opponents were hitting .310.408/.452 against him. The spare part in the Javier Vazquez deal seemed nothing more than that, and the icing on the cake was, of course, the No More Boone Logan jpeg.
Since Logan's return to the Majors in late June, though, something has clicked, and yesterday, as I sat in the Grandstand and watched Logan strike out Luke Scott and Felix Pie in the top of the 8th of a one-run game, I marveled at the turnaround. Over his past 27 games spanning 24 innings, Logan has been nothing short of spectacular. He sports a 1.13 ERA with a 26:9 K:BB rate. Opponents are hitting just .195/.278/.264 against him, and his two strike outs yesterday gave him 22 scoreless straight appearances, the third longest streak in Yankee bullpen history. Only some guy named Mariano and Steve Farr have topped that.
Praise for Logan has become the norm amongst Yankee writers and baseball analysts. The guys at The Yankee U highlight just how good the bullpen has been of late, and Mark Simon at ESPN profiles the rise of Boone Logan. Simon explores the differences in pre-demotion Logan and the new and improved Boone Logan 2.0:
The biggest positive to come out of this stretch for Logan is that he's not walking hitters anywhere near as frequently as he was earlier this season. In his last 14 2/3 innings, Logan has issued just four walks. He was averaging 5.4 walks per nine innings prior to this streak.

Key to that: The effectiveness of Logan's breaking ball, the one he used to strike Luke Scott out on Wednesday. Inside Edge, which tracks every pitch thrown, by type, has 20 of Logan's 30 strikeouts this season coming on breaking balls.

Of the 63 breaking pitches that Logan has gotten opponents to swing at, they've missed on 35 of them, including 3-of-3 Wednesday. That miss rate (55.6 percent) rates third-best in the majors.
Confidence in a breaking ball plus the ability to throw swing-and-miss pitches are, obviously, paramount to a reliever's success, and Logan has used his ability to throw in the upper 90s along with his breaking pitches to dominate hitters. While relievers may be a volatile bunch, for the last few months, Logan has been able to harness the stuff that has followed him around since he made his Major League debut in 2006.
For the Yankees, Logan's emergence as an effective bullpen piece couldn't have come at a better time. With Damaso Marte shelved, as Joe wrote in July, the left-handed spotlight turned to Logan and shine he did. Filling in for the injured Marte, Logan has limited lefties to a .188 /.278/.219, and he has struck out a third of all left-handed batters. Right now, Joe Girardi has enough confidence in Logan to have him face lefties in any situation and at any point in the game, and the stuff and numbers would back up that match-up.
Still, Logan's biggest tests are still to come. As the Yankees get their ducks in a row for another playoff run, they won't have Damaso Marte. Today at the Pinstriped Bible, Cliff Corcoran dispatches the idea that Marte was a revelation last year in the playoffs. He got only one out with the tying or winning run at the plate, and five of his 12 outs recorded came in losing games. Four others came with four-run leads in the 8th inning, and seemingly his biggest out — a Game 4 Ryan Howard K — came with a two-run lead and seven outs left in the game.
Yet, the playoff teams the Yanks could face this year have lefties in key spots in their lineups. Josh Hamilton remains a feared hitter for the Rangers. Joe Mauer, Jim Thome, Jason Kubel and Justin Morneau fill out the Twins' order, and Carl Crawford, Carlos Peña are formidable foes within the Rays' order. Boone Logan will inevitably be called upon to face these lefties late in the game.
A few months ago, Boone Logan was the throw-in piece in a five-player trade. Today, he could be the better and more important player as the Yanks stare down 22 games and 11 more wins before they can claim a 28th World Series championship trophy. No more No Boone Logan.