The Yankees played catch-up for most of Monday afternoon, but they couldn't quite surpass the Baltimore Orioles. A.J. Burnett was neither good nor bad, but he gave the team a chance to win. The offense had its chances, but went 1 for 7 with runners in scoring position. That led to just three runs, which just wasn't enough.
Biggest Hit: A-Rod ties it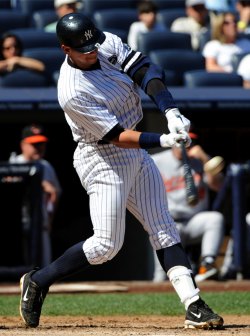 Derek Jeter doubled to lead off the game, but he was the only one who could hit Brian Matusz early. He retired the next 11 straight and looked generally in control of the game. With two outs in the third he missed low with two curveballs to A-Rod. He got him to swing through a high fastball and then came inside with one. It wasn't quite as inside as the one A-Rod popped to left his first time, and that gave him the opportunity to get out in front of it. Into the visitor's bullpen it went. A-Rod had tied the game.
The Orioles answered with one in each of the fifth and the sixth, but the Yankees started a rally in the sixth. Swisher walked and Teixeira singled, putting runners on first and second with none out. A wild pitch made it second and third. A-Rod got home the first run with a sac fly, and Cano followed with a game-tying RBI single, still with just one out. Cano had reached second with two outs, and although Jorge Posada worked a quality seven-pitch at-bat he ended with a slow grounder up the middle. The Yanks had tied it, but missed an opportunity to extend the rally.
The two RBI, as you might have read, give him an MLB record 14 seasons, and an all-time-tying 13th consecutive season, with 100 RBI. If he does it next year he'll surpass Lou Gehrig and Jimmie Foxx.
Roberts kills Yanks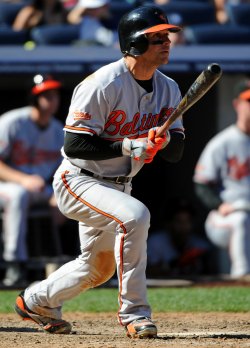 The two biggest hits of the day for the Orioles came off the bat of Brian Roberts. In the fifth he came up with Cesar Izturis on second and two outs. Burnett threw a 2-0 fastball on the outside edge and Roberts lined it the other way for a go-ahead RBI. Then again in the seventh he came to bat with a runner on second with two out. This time Burnett threw him a 2-1 curveball on the inside corner. Roberts pulled this one on a line, again breaking the tie.
While Roberts broke two of three ties in the game, he also hurt his team with some poor base running. After fielding Roberts's liner in the fifth, Marcus Thames fired towards home. A-Rod cut it off and caught Roberts trying to take second. Then in the seventh Roberts really got caught in a bind. I guess he thought Francisco Cervelli would be preoccupied with a play at the plate. Instead the throw was slightly up the line and Patterson was about to score anyway. Roberts got hung up between first and second, eventually being tagged by Derek Jeter. Both miscues ended the inning.
The plan backfires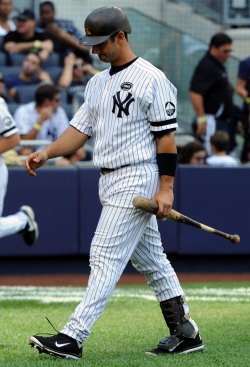 When they're on, the Yankees can run up their opponent's pitch count. This comes in especially handy against young pitchers, who might not go as deep into games as veterans. The Yankees made Matusz throw 106 pitches through six innings, so they got to the AL's second-worst bullpen for the final three. Considering they got three off Matusz, another two off the bullpen didn't seem unreasonable. But the birds closed the door.
Matt Albers, Jim Johnson, and Koji Uehara held the Yankees hitless during their comeback attempt. Among them they struck out four and left both baserunners stranded. That was the big difference for Baltimore. The offense did an adequate job, and their starter gave them the minimum. Good bullpens can work through situations like this — the Yanks have put together three-plus-inning bullpen strings lately. Bullpens like the Orioles are normally prone, but this time they came through.
That said, play the last three innings 50 times and I bet the Yanks win more than 30 of them. Sometimes things just work out this way.
Miscellany
After recording two outs Boone Logan has lowered his ERA to 2.38. He has allowed just three of 22 inherited runners to score (14%).
In the past month Derek Jeter has hit .205/.273/.295. Get better, Derek.
I just noticed this, but before yesterday's game Mark Teixeira's OPS+ was 141. It might have dropped a point yesterday, but that's still 140 or so. Last year his OPS+ was 149.
Jorge Posada worked his third hat trick of the season. He hasn't been horrible as a DH, .248/.328/.416, but he's a much bigger threat when behind the plate, .276/.384/.529. A lot of that is probably him DHing when he's a little banged up.
I wouldn't expect to see Austin Kearns for the next couple of days. If his finger were feeling fine I'm certain he'd have pinch hit instead of Curtis in the ninth.
Graph and Box
So close. So close.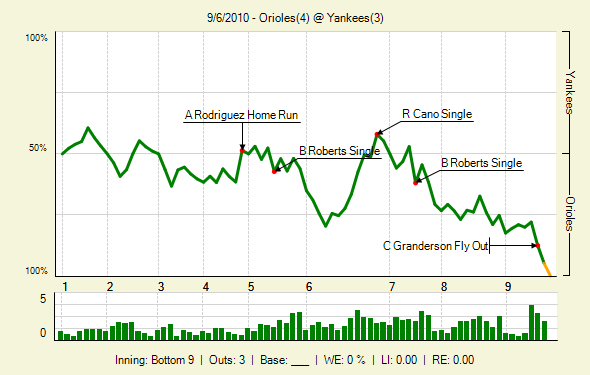 More at FanGraphs. Here's the box.
Up Next
Back to the night games. I couldn't be happier. It's the Big Stoppa CC Sabathia against rookie Jake Arrieta.