The 2009 Yankees were a club that relied heavily on its bullpen, and for the most part to great success. Chien-Ming Wang was horrific before being sidelined with a shoulder issue, Joba Chamberlain was perpetually bumping up against some kind of limit, and the fifth starter conglomerate of Sergio Mitre and Chad Gaudin were hardly reliable. The bullpen picked up the slack, and the Yanks were able to ride that bullpen right to a World Championship.
The bullpen was again a strength in 2010, especially in the second half, but two key contributors from the previous year were essentially non-factors after the first few weeks of the season, and the Yankees suffered because of it.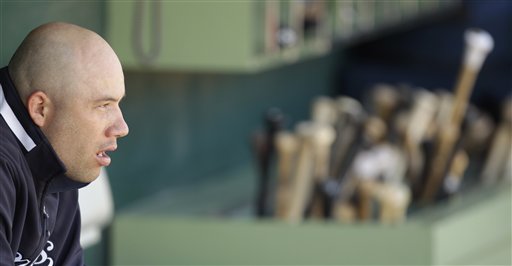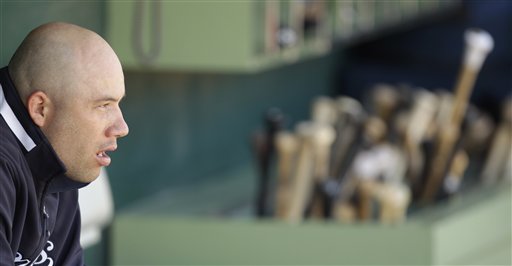 Al Aceves
Maybe not the most valuable member of the 2009 bullpen, Aceves was certainly the most versatile and relied upon. His 80.2 relief innings were by far the most on the team (Mariano Rivera was second at 66.1 IP) and he pitched in every possible role. Long-relief, righty specialist, middle relief, setup man, four-inning closer, you name it and Aceves did in the 2009. The Yankees penciled Ace in for a similar role this season, but it was not meant to be.
The Mexican Gangster missed the end of Spring Training with a stiff lower back, a sign of things to come. He was healthy enough to crack the team's Opening Day roster, and proved his value in the second game of the season, firing two perfect innings in a tie game against the Red Sox in Fenway Park on just 23 pitches. He was used somewhat sparingly through April and early May, perhaps held back because of lingering issues with his back that we didn't know about, but when he pitched he was pretty good: nine games, eleven innings, and just four earned runs allowed, all of which came within his first three outings of the season. The only concern was his lack of strikeouts (just one compared to four walks), but that early in the season no one thought much of it.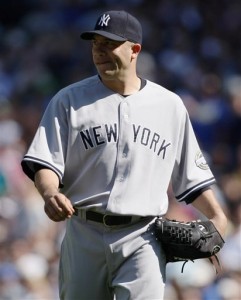 The Yankees were again in Fenway on May 8th when a rain delay forced starter CC Sabathia from the game. Aceves was brought in to pick up the slack, his third appearance in five days, and after recording the final out in the fifth, he went back out for the sixth. Kevin Youkilis led off the frame with a single, and two batters later J.D. Drew singled as well. Boston was mounting a mini-rally with the Yanks up by three. Jeremy Hermida stepped to the plate with men on the corners and two outs, and one pitch later Aceves was done for the season.
A first pitch curveball to Hermida dropped in for a strike, but it also dropped Aceves to the ground. Okay, not really, he never went down. But he did buckle at the waist and limp off the mound in a way that made you think it was a hamstring or quad or something like that. Aceves immediately left the game with what turned out to be the same thing that hampered him in March: a stiff lower back. Three days later he was placed on the disabled list with a bulging disc, and two weeks after that he reaggravated the injury while rehabbing in Tampa. Aceves had a few epidurals throughout the summer but nothing worked, and he was eventually shut down for the year after re-injuring himself in a minor league rehab start.
The Yankees were never able to replace Aceves in that jack-of-all-trades role, instead relying on several pitchers to pick up the slack. Gaudin and Mitre were given opportunities to do it, but they just couldn't replicate the Gangster's success. The Yankees had a solid setup crew for the seventh and eighth innings, but the gap between them and the starter was largely a revolving door all season.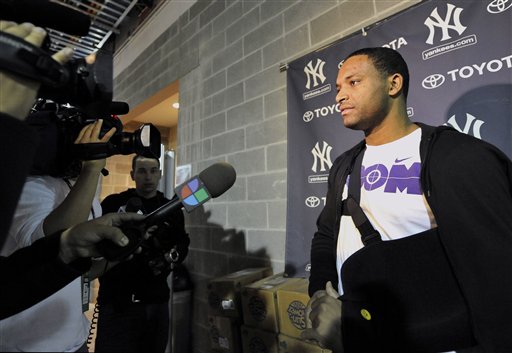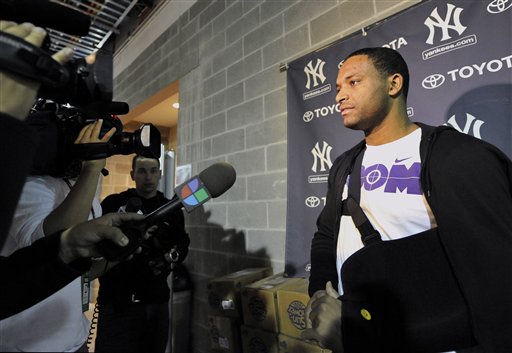 Damaso Marte
Marte's absence wasn't as damning as Aceves', nor was it as unexpected. After all, he did miss a huge chunk of the 2009 season with a shoulder issue before returning for that brilliant playoff run. The 35-year-old lefty specialist not only managed to stay on the field into July this season, he was also pretty effective. His overall numbers (4.08 ERA with a dozen strikeouts and eleven walks in 17.2 IP spread across 30 appearances) don't really tell the story given the nature of his job. Marte faced 45 lefty batters in 2010 and just nine reached base. They hit just .146/.200/.268 against him, which works out to a .227 wOBA. He did a fine job neutralizing lefthanders, exactly what he's supposed to do.
Marte pitched a scoreless inning in Oakland on July 7th, but that was the last time we'd see him this season. He was placed on the disabled list the very next day with shoulder inflammation, an issue that just kept lingering all summer. The Yankees eventually ruled him out for the season in early September, and he had surgery to repair a torn labrum just last week. Damaso won't return until after the 2011 All Star break at the very earliest.
* * *
The Yankee bullpen managed to survive the injuries to Aceves and Marte, but there's no denying they would have been a better team with those two healthy and performing like they're capable of. We already know that Marte is basically a no-go next season, but Aceves' status is still up in the air. Given the nature of back injuries, it's wise to expect nothing from him in 2011 and treat whatever he gives the team as a bonus.