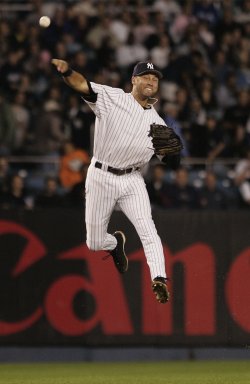 The baseball hot stove season is rife for what-if scenarios. One of the most popular right now questions how the Derek Jeter situation would have unfolded had he produced a 2010 season more in line with his career numbers. Would there be adequate pressure for the Yankees to offer a fourth, or even fifth, year? Or would other teams be just as reticent to sign a 37-year-old shortstop? While these questions are interesting enough, they're not nearly as interesting as another what-if. Ben hinted at it earlier in the month, and William mentioned it more explicitly in a recent post at The Yankee U. Where would the Yankees be right now if Derek Jeter had signed a long-term contract after the 1999 season?
At that point in his career Jeter had all the leverage in negotiations. He was heading into his age-26 season and had produced two tremendous seasons in 1998 and 1999. In '98 he had a .385 wOBA and produced 7.8 bWAR, which was just 0.1 behind Alex Rodriguez for the league lead. That landed him third in the MVP voting. His 1999 follow-up was the greatest season of his career. His 8.0 bWAR was tied with Manny Ramirez for second in the league — Pedro Martinez produced 8.3 WAR in his historic season. Yet the voters discounted Jeter, voting him sixth when he probably should have won the damn thing. Still, the numbers were there. The Yankees were going to have to pay Jeter.
What made Jeter's run all the more remarkable was that he still had two years of arbitration left. The Yankees sought to buy out those, plus five years of free agency, with a seven-year, $118.5 million offer. The Jeter camp was apparently ready to pay, but George Steinbrenner wouldn't sign off on the deal. The Yanks instead paid Jeter a $10 million salary in 1999 before eventually signing him to the infamous 10-year, $189 million deal, which came as a direct result of Alex Rodriguez's 10-year, $252 million contract. It would appear that failure to execute the contract one year prior ended up costing the Yankees $80.5 million (the $10 million 2000 salary plus the $189 million contract, minus the $118.5 original). Yet that leaves the story short by four years.
Had Jeter signed that contract he would have been eligible for free agency after the 2006 season, which was another marvelous year. Jeter produced a .399 wOBA on the power of a .343 BA and .417 OBP. To put that in perspective, Jeter's gross offensive numbers amounted to 41.8 batting runs above average — which factors in playing time and park, but not position. That ranked sixth in the AL. The only players ahead of him were 1B/DH/OF types. This was enough for 6.2 WAR, which ranked second behind Grady Sizemore. I'm not sure why the baseball writers were infatuated with Justin Morneau that season, but Jeter probably should have won the MVP. And had the Yankees executed his original extension, he would have taken that hardware into free agency.
The situation then would have been the same as the situation now, in that both sides need each other. The difference, of course, is that then Jeter was a 32-year-old coming off a career year. Now he's a 36-year-old coming off the worst season of his career. Chances are the Yankees aren't going to go far above their three-year, $45 million offer. Maybe sentiment turns that into $60 million, but I very much doubt it. Unless Jeter picks up his ball and signs with another team for less, he'll end up having made $250 to $260 million with the Yankees. He would have made much more if he had become a free agent after the 2006 season.
Through the 1999 season Jeter had earned $6.43 million. Then add in the $118.5 million through 2006. That puts him at just under $125 million before he hit free agency. The economy was booming in the winter between 2006 and 2007. Barry Zito got seven years and $126; Carlos Lee got six years and $100 million; Alfonso Soriano got eight years and $136 million. Derek Jeter would have gotten more than all of them. I'm betting he would have matched Soriano's eight years, which would have kept him around through age 40. I'm also betting he would have easily topped $20 million per season — perhaps all the way to $25 million. Splitting the difference, the contract would have been worth $180 million, and would have paid Jeter through 2014. His career earnings would then have been $305 million.
Sometimes these things end up working out for the better. There is simply no way that Jeter will cross the $100 million mark with his new contract. In that way, the Yankees will have saved money with the 10-year, $189 million contract. While the seven-year deal proposed after 1999 looks better because of the shorter term and lower average annual value, it would have given Jeter one more chance at a big pay day. With his status among Yankees fans, his age, and his stellar 2006 season, he would have cashed in considerably. While the negotiations for his next contract aren't exactly smooth, they're certainly preferable to paying Jeter north of $20 million per season for the next four years.