Last week I explored the possibility of the Yankees pursuing Japanese righthander Hisashi Iwakuma, noting that I wasn't thrilled about his low strikeout, pitch-to-contact approach. I still implored the Yanks to submit a moderate bid, $8-10M or so, just in (the unlikely) case that he fell into their laps for a lower than expected price. With the bidding now closed, we know that three AL West teams – the Rangers, Mariners, and Athletics – submitted competitive bids, but it's those small market A's that won out. All they have to do now is work out a contract with the player.
Over the weekend Ken Rosenthal reported that the A's, already flush with young pitching, were likely planning to move one of their excess starters for a bat if they landed Iwakuma. They desperately need offense, as their .315 team wOBA was fifth worst in the league. That's what happens when you have and just four (!) guys who hit more than eight (!!!) homers. The Yankees, as you already know, are in the market for a starting pitcher or two. The younger the better, and that's what the A's have plenty of. Let's break them down quickly…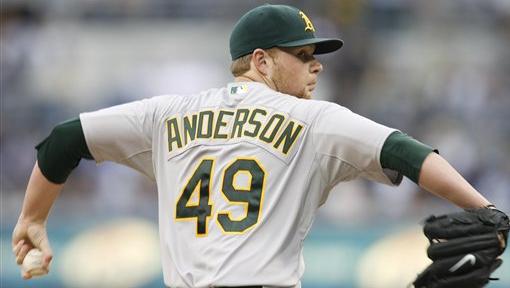 Brett Anderson
The 22-year-old Anderson (23 in February) would be the guy to target in any trade talks with Oakland. Acquired from Arizona in the Dan Haren swap, his rookie year in 2009 featured a 3.69 FIP in 175.1 innings, good for 3.7 fWAR. He's able to generate groundballs (52.4% career) with his low-90's heater and miss bats with both a slider and curveball (7.70 K/9 in '09), but Anderson spent two lengthy stints on the disabled list with a strained flexor tendon and inflammation in his throwing elbow this season. The injury complicates things, as does the four year, $12.5M contract they signed him to last April, but this is the most talented player on Oakland's pitching staff.
Dallas Braden
Pretty much every Yankee fans knows Braden after his run-in with Alex Rodriguez earlier this year, but we have to acknowledge that the guy is a quality pitcher even if he is a tool. He's pitched to a 3.77 FIP and 5.8 total fWAR over the last two seasons, but there are drawbacks. Braden is a fly ball pitcher (42.4% career) and doesn't strike out many batters at all (5.30 K/9 over the last two years) despite a top-of-the-line changeup, and he also missed time with forearm and elbow issues this year. My guess is that this is who the A's would like to move because his stock is at its high point (woo perfect game!), and also because he's due for a considerable raise his first time through arbitration this winter.
Trevor Cahill
Cahill started the season in the minors after posting an ugly 5.33 FIP in his first season as a big league starter in 2009, but he came up in April and rebounded very well, finishing the season with a shiny 2.97 ERA in 196.2 innings. The problem is that his FIP (4.17, still good of course) doesn't agree with the ERA because he only struck out 5.40 batters per nine. The 22 year old is a true sinkerballer (56% ground balls this year, fifth best in baseball), though as we know ground balls go for hits more often than their fly ball counterparts. Somehow Cahill managed to post a .238 BABIP this season, the best in baseball by nearly ten points. The chances of that being sustainable are somewhere between slim and none.
Gio Gonzalez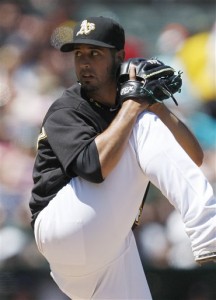 Oakland's workhorse this year, the well-traveled Gonzalez (he's been traded three times already) logged a team high 33 starts and 200.2 innings this year, finishing with a 3.78 FIP and 3.2 fWAR. Gio turned 25 late in the season and missed bats at exactly the league average rate this year (8.5% swinging strikes) thanks to his big breaking curveball, but he'll get himself into trouble with walks (4.13 BB/9) and can be homer prone (1.03 HR/9 career, but 0.67 this year). He's going to qualify as a Super Two after 2011, so his days of being dirt cheap are numbered.
Vin Mazzaro
Born and raised in Hackensack, the 24-year-old Mazzaro was exactly replacement level (0.0 fWAR) in 122.1 innings this year thanks to his 5.13 FIP. He's the least established starter on their staff but a case could be made that he has the best stuff of anyone besides Anderson, a lively low-90's fastball and a wipeout slider, plus a nice little changeup. Mazzaro hasn't figured out how to consistently strike batters out yet (5.81 K/9 both this year and last) and he's very vulnerable to the long ball (1.31 HR/9), but the equipment's there.
* * *
I'm assuming that Cahill (coming off a very good year) and Anderson (stock's down after the injury, and they did just give him a new contract) are off limits, and none of the other three really stand out. The A's might want to move Braden because of his upcoming arbitration case, but I'm certain that teams will show more interest in Gonzalez. Either way, no one outside of Anderson really fits what the Yankees need, a strikeout starter that an keep the ball on the ground.
Even beyond that, do the Yankees really have the bat to offer the A's? A Jesus Montero for Anderson swap would a) be pretty cool, and b) make sense for both teams, but the lefty's elbow issues make it too risky. Brett Gardner isn't the answer to any team's offensive woes, and both Curtis Granderson ($8.25M in 2011) and former Athletic Nick Swisher ($9M as part of a contract the A's signed him too) are likely out of Oakland's price range. Maybe Brandon Laird makes sense for them on some level, but it's a stretch to call him MLB ready. Maybe Eduardo Nunez whets their appetite, or Juan Miranda. I wouldn't get my hopes up though.
You guys get the point. Oakland has a bevy of young and cheap yet flawed (each in their own way) starters, and the Yanks don't really have the bat to offer up in return anyway. Unless the A's are willing to sell Anderson for pennies on the dollar (not happening) or the Yanks think they can maximize Gonzalez's abilities, I just don't see these two clubs matching up in a starter-for-a-bat trade.