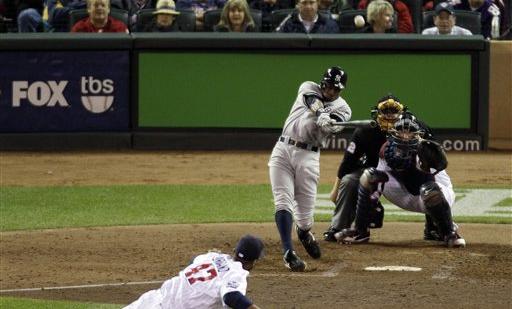 Joe looked at the first two-thirds of Curtis Granderson's season earlier today, when he hit just .240/.307/.417 (.308 wOBA) in 335 plate appearances. To call it a disappointment would be an understatement, as the Yanks thought they were getting a power hitting outfielder in the prime of his career. Instead all Grandy was giving them was a non-switch hitting version of Melky Cabrera, if that. With Austin Jackson and (to a lesser extent) Ian Kennedy and Phil Coke performing very well in Detroit and Arizona, Yankee fans were quick to slap the BUST moniker on this trade.
After finishing up an early-August six game homestand in which he went 3-for-19 with seven strikeouts against a pair of division rivals (Blue Jays and Red Sox), Granderson approached hitting coach Kevin Long and asked for help. The Yanks were in Texas to play the Rangers for two games on August 10th and 11th, but Grandy didn't start either game so he and Long could go to the work. He did pinch hit in the first game then pinch ran in the second, but that was irrelevant. School was in session behind the scenes.
Both Granderson and Long downplayed the changes, repeatedly saying they were minor adjustments and not a complete overhaul. It wasn't the first time they tinkered with the centerfielder's set-up and swing this summer, and the differences were very subtle. They spoke about quickening Grandy's hands to allow him to get to the inside pitch sooner, and even our untrained eyes were able to see that his follow through went from a one-handed helicopter to a more controlled two-hander.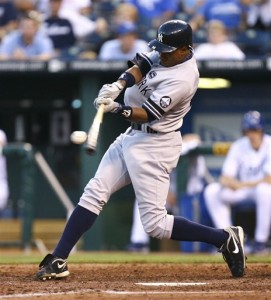 The results were immediate. In his first at-bat after the changes were implemented, Granderson singled off back up the middle off lefty Bruce Chen in Kansas City, driving in a run. Next time up he yanked a Chen pitch into the rightfield corner for a double, and although his third trip to the plate resulted in a flyout, the ball was hit to the warning track off righty (and former Yankee farmhand) Kanekoa Texeira. Granderson's first start with his new swing concluded with a four pitch walk off rookie righthander Greg Holland. He singled and hit two more balls to the warning track the next day, and then followed that up with a homer and two more deep fly balls a day later.
The adjustments weren't easy to see by the results were. Granderson hit .261/.356/.564 (.400 wOBA) after the changes, hitting more homers (14) than everyone in baseball not named Jose Bautista, Troy Tulowitzki, and Jay Bruce. He drew almost as many unintentional walks (24) in 192 plate appearances after the changes as he did in 336 plate appearances before (26), and his strikeout rate remained almost identical, from one every 4.54 plate appearances to one every 4.24 plate appearances.
Just as important as the overall improvement is the progress he made against lefthanded pitchers. Grandy's struggles against pitchers of the same hand was well documented coming into the season, and sure enough he hit just .206/.243/.275 with a total of four extra base hits (two doubles, ones triple, one homer) in 110 plate appearances against lefties during the season's first four-plus months. Once K-Long did his magic, Grandy clubbed southpaws to the tune of .286/.375/.500 with six extra base hits (three doubles, three homers) in 64 plate appearances. A night and day difference.
Granderson's improvements carried right into the postseason as well, when he was the team's best hitter not named Robbie Cano. He clubbed a two run triple off not just any southpaw in Game One of the ALDS, it was Francisco Liriano, who held lefties to a .234 wOBA in 2010. Overall, Grandy hit .357/.514/.607 (.471 wOBA) with more walks (eight, zero intentional) than strikeouts (five) in 38 trips to the plate during the playoffs.
As much as the hits and homers stick out, the outs became noticeably loud as well. Granderson seemed to drive the ball deep to the outfield with much more regularity after the fixes, even if they sometimes ended up in the outfielder's gloves. He also went to the opposite field far more often than he had been. Here's Grandy's spray chart from before the fix …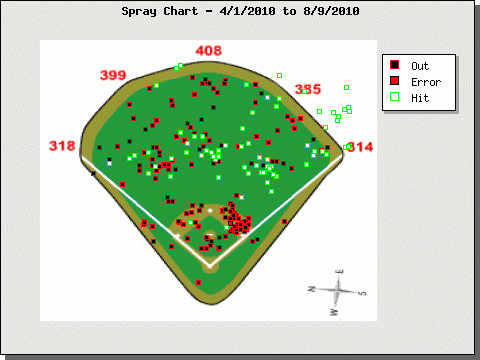 And here's after …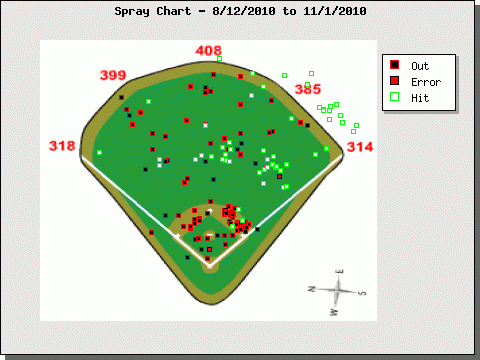 Focus on left-centerfield, the area in front of the 399 sign. Granderson hit almost nothing that way during the first few months of the season, there were just four balls hit moderately deep in that direction. After the changes though, he become much more adept at driving the ball the other way. There's six balls hit in front of the 399 sign in the second chart, which is basically one for every 21 times he put the ball in play. Before the changes to his swing, it was one every 58.5 balls in play. The results of going the other way aren't there just yet, the process has improved.
Granderson's late surge brought his season line up to a respectable .247/.324/.468 (.346 wOBA), which combined with very good centerfield defense resulted in a 3.6 fWAR season. Of course it's important to remember that we're dealing with a relatively small sample sizes here. Grandy came to the plate just 192 times after he and Long went to work, 230 if you count the playoffs. The results were very encouraging, as his production bounced back up to 2007-2008 levels. There's still a long way to go however, now it's up to Granderson (with Kevin Long's help) to keep making progress.