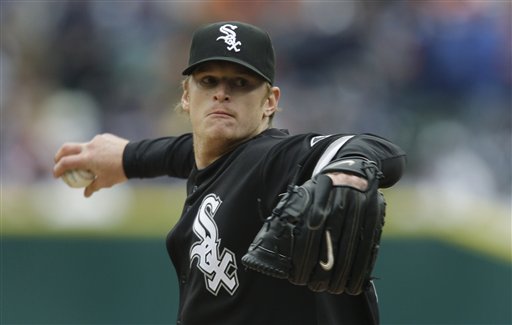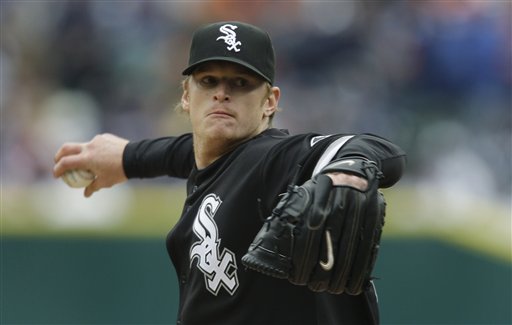 Everyone knows the Yankees are looking to add a quality starting pitcher to their rotation this offseason, and everyone also knows the team wants Cliff Lee to be that guy. He's proven to be an elite pitcher at the top of his game, and the Yankees have both the need and financial wherewithal to bring him aboard. The Rangers, the team that last employed Lee, also want to keep their ace and are fully expected to make a competitive offer to retain him. This won't be a CC Sabathia situation, where the Yanks' offer far exceeded everyone else's. Given that heightened level of competition, the Yankees no doubt need to have a backup plan and a backup to that backup plan to shore up their rotation.
We know the Yanks have already expressed some interest in Jorge De La Rosa, but another interesting name hit the market yesterday: Gavin Floyd of the White Sox. The ChiSox have multiple needs this offseason, including adding a hitter or two and strengthening the pitching staff. GM Kenny Williams has obliterated the team's minor league depth over the last two years, parting with a total off eleven prospects (eight pitchers) for Mark Teahan, Edwin Jackson, Juan Pierre, Tony Pena (the reliever), and Jake Peavy since the start of the 2009 season. Although we don't know what kind of return KW is seeking for Floyd, there's a good chance that he's looking to fill multiple holes with one deal similar to what he did when he sent Javy Vazquez to Atlanta.
Floyd is still just 27 years old (28 in January) even though it feels like he's been around forever. Philadelphia made him the fourth overall pick in the 2001 draft out of a Maryland high school (Mark Teixeira went fifth overall), and three years later he was in the big leagues. The right-hander made 19 starts (and five relief appearances) for the Phightin's from 2004 through 2006, pitching to a 6.96 ERA that matched his ugly peripherals (6.17 FIP). Frustrated by the ups-and-downs that come with a young pitcher, Philadelphia traded him (and Gio Gonzalez) to the White Sox for Freddy Garcia before the 2007 season.
The South Siders exercised a little more patience than the Phillies did, having Floyd make 17 starts in Triple-A (3.65 FIP) before calling him up to start the second game of a doubleheader in early-June. To say Floyd struggled initially would be an understatement. He allowed ten (!!!) home runs and 25 runs in his first 24.1 innings in Chicago, so the team shifted him to relief for a month or so before giving him another crack at the rotation. The move paid off, as Floyd finished the season with a 3.41 ERA (4.20 FIP) in five starts. Chicago gave him a rotation spot out of Spring Training the next year, and the rest is history.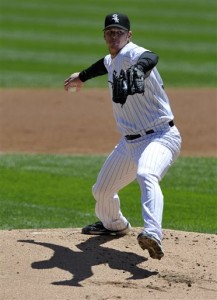 Since the start of the 2008 season, Floyd has pitched to a 3.99 ERA (4.02 FIP) in 94 starts, throwing at least 187 innings in each season. It's been nearly a decade since he was drafted, and Floyd has developed into a rock solid middle-of-the-rotation workhorse for Kenny Williams' team, eclipsing the 4.0 fWAR mark in each of the last two seasons. That performance earned the righty a four-year contract extension worth $15.5M. That deal will pay Floyd just $5M in 2011 and $7M in 2012 before his 2013 option comes into play ($9.5M with no buyout). Even if he doesn't improve one bit and remains the same guy going forward, that contract is a steal.
So then why, if Floyd is so young and so productive and signed so (relatively) cheaply, is he on the market? I'm guessing part of it has to do with a lack of other trade pieces. John Danks is off-limits as one of the game's best young lefties, Mark Buehrle and Peavy are untradeable given their contracts (and in Peavy's case, his injury), and Edwin Jackson is decidedly mediocre. Like Danks, Gordon Beckham should be off limits. That leaves Floyd as pretty much the only piece on the team's roster that has legitimate trade value, meaning he's not overpaid or under-producing or straight up old. Presumably, that's why he's available, because the ChiSox really don't have anyone else to trade.
Floyd's skill set is pretty simple. He misses a fair number of bats (9.5% swings-and-misses over the last two years, league avg is about 8.5%) and puts up solid strikeout rates (7.4 K/9 since 2009) thanks to a true four-pitch repertoire. Floyd's fastball has settled into the low-90's and he throws both a big breaking curveball and a slider. A changeup serves as his fourth pitch, but he only throws it about six percent of the time. The two breaking balls allow Floyd to handle both lefties (.337 wOBA against) and righties (.322) fairly well. His ground ball rate is trending upwards, going from 41.2% in 2008 to 44.3% in 2009 to 49.9% this year, and sure enough his homerun rate is trending downwards as a result: 1.31 HR/9 in 2008, 0.98 in 2009, and 0.67 in 2010. Remember, US Cellular Field is a homerun park, so those homer rates are a bit inflated. The only real concern is that Floyd missed the last two weeks of the season with tightness in his throwing shoulder, but he didn't need surgery and the ChiSox shut him down as more of a precaution than anything.
The problem I see is that the two teams don't really line up for a trade. Williams asked the Rockies for third baseman Ian Stewart in return and the Yanks simply don't have that kind of bat to give up. The ChiSox already have a speedy singles hitter in Pierre so Brett Gardner doesn't do much of anything, and you know they won't want Nick Swisher back. That leaves Curtis Granderson, but I can't imagine the Yanks will cut bait on him so soon after all the progress he made late in the season. Based on the present construction of their team, the White Sox are trying to win now, so a bunch of prospects probably won't cut it. I just don't see how this would work from where I sit, but KW likes to do crazy stuff, so maybe he figures out a three team trade or something. I'm not sure if the timing will work out either, meaning the ChiSox might want to act and make a trade before Lee is ready to sign, but that's the nature of the beast.
We know the White Sox are at least willing to listen to offers for their young right-hander, and we also know the Yankees need to pick up at least one starting pitcher this offseason. The fit might not be there in terms of trade pieces, but Floyd makes a ton of sense for the Yankees and he's a great Plan B should they be unable to land Cliff Lee for whatever reason.