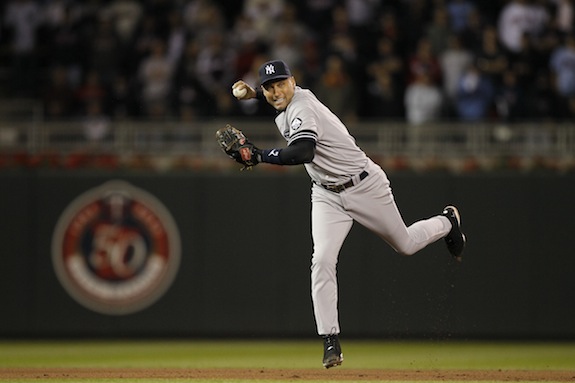 What's the difference between a three-year deal and a five- or six-year deal? For the Yankees, it is the difference between a 39-year-old short and a 41- or 42-year-old short stop. For the Yankees, it is the difference between what they want to offer Derek Jeter and what Derek Jeter wants to offer them. So as the Hot Stove League enters its 17th day, the Yankees and their captain might just be settling in for a long, cold winter.
The tale of a tense negotiation has emerged over the last few weeks as Derek Jeter's disappointing 2010 came to a close. We know he's looking for what seems to be one final big payday, and we know the Yankees are rightfully wary about signing a 36-year-old short stop with a slowing bat and who isn't a great defensive player to a long-term deal. Gone are the days of unnecessarily rewarding A-Rod with a ten-year contract, but here are the days of negotiating with the one player who will bear a grudge against that misguided ten-year deal.
The day of Derek drama began with a Joel Sherman column. Sherman explained how the team is trying to offer Jeter what they view as a fair baseball contract. They're willing to "add some dollars beyond what they see as strictly Jeter's on-field value to honor his status as an icon," but they are toeing the line on the years. Right now, their offer is for three more years.
Sherman, who later noted how Jeter has little leverage, explained the good cop-bad cop routine Hal Steinbrenner and Brian Cashman are playing with the captain. "Confidants of Cashman," The Post scribe wrote, "said the GM is determined not to have the team get so lost in the past that it destroys the future by giving Jeter a contract that either lasts way beyond his effectiveness and/or overpays him to such a degree that hurts financial flexibility elsewhere."
Later in the day, ESPN New York's Wallace Matthews added to Sherman's report. According to his own sources, Jeter is looking for a long deal with a big payday. He writes, "The source says the Yankees are willing to give Jeter more money than his play currently warrants, but fewer years than Jeter currently wants. Jeter, the source said, wants more. Four years, minimum, and preferably five or even six. Right now, it is a standoff, a dirty dance, a game of chicken in which one side or the other must eventually blink."
While some unnamed baseball officials believe the Yanks should offer a take-it-or-leave-it deal for three years and with an average annual salary of $15 million, the Yankees, Matthews said, are "fearful of taking that sort of a stance with their most beloved player since Mickey Mantle, fearful of a fan backlash and a public relations nightmare even though history says this team, better than any other, can survive parting ways with even the most beloved player in the bitterest fashion."
At the end of the day, after the anonymous reporting, Randy Levine went on the record with his comments on the process. "Derek Jeter is a great Yankee and he's a great player. With that said and done, now is a different negotiation than 10 years ago," Levine said. "He's a baseball player, and this is a player negotiation. Everything he is and who he is gets factored in. But this isn't a licensing deal or a commercial rights deal, he's a baseball player. With that said, you can't take away from who he is. He brings a lot to the organization. And we bring a lot to him."
Levine's comments echo those of Hal Steinbrenner's. Last week, on two radio appearance he stressed how the Yankees are "running a business" and how these negotiations would be business-like. It's no surprise then that the Yanks are trying to get as good a deal as they can in the early going.
It's easy to be worked up and outraged over this from either side. How could the Yankees not re-sign Jeter quickly? How could Jeter let his pride get in the way of reality and demand a six-year contract? Yet, the World Series ended on November 1, and pitchers and catchers aren't due in Tampa until mid-February. At some point, the Yanks and Jeter will have a press conference and begin to lick their wounds. Hopefully, the middle ground they reach won't hamstring the team for too many years or too many dollars. After all, the Yanks are indeed running a business, and they're in the business of winning.