Every year right around this time the hot stove seems to kick it up a notch, and 2010 is no different. Players that were previously thought to be untouchable are suddenly on the market and having their names mentioned in trade talk, and such is the case with The Justin Upton*. "I'm open to listening on anybody," said new Diamondbacks GM Kevin Towers. "We got more hits on Upton and [Stephen] Drew. They're difficult to move, but sometimes to make your club better, you have to move good players. You never know when a deal might present itself."
While the D'Backs are indeed listening to offers for their franchise player, it'll take a king's ransom to acquire him according to various reports, as it should. Both the Yankees and Red Sox have already inquired, and although their interest appears to be nothing more than due diligence, it's enough to get everyone all worked up. As Ben explained in his now infamous Carl Crawford post, the Yanks aren't really desperate for outfield help, but that's not going to stop us and Upton is a special case anyway.
The very first pick in the 2005 draft, B.J.'s younger brother reached the big leagues a little more than two years later. He was three weeks shy of his 20th birthday at the time. That 43 game cameo in 2007 resulted in just a .277 wOBA, but that was fine. No one expected the kid to come up to the show and start raking two years out of high school. Upton started the next season as the team's every day rightfielder and more than held his own. He wOBA'd .347 in 417 plate appearances, missing almost two months due to a left oblique strain. Combined with his defense, which was decidedly below average according to various metrics, Upton was just a half-a-win player that season, but again he was just 20. He should have been a sophomore in college, not playing everyday in the big leagues.
The next year, 2009, was Upton's masterpiece. He hit .300/.366/.532 (.388 wOBA) with 26 homers, and performed well enough on defense to be a 4.6 fWAR player. In all likelihood, TJU would have eclipsed the five-win plateau as a 21-year-old had he did missed three weeks with another oblique strain (this one on the right side). Just 26 players in the history of baseball have performed at a five-win pace at that age, 20 of which are either in the Hall of Fame or will be some day. The kid was that good already, and as a reward the D'Backs gave him a six-year contract worth $51.25M, buying out all of his arbitration years in addition to two years of free agency.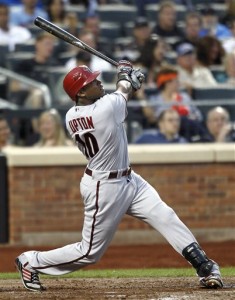 As awesome as he was in 2009, Upton was just pretty good in 2010. He dropped down to a .349 wOBA and 3.1 fWAR, which is still well above average, but just not up to the lofty standard he had set the year before. A sore shoulder originally suffered on a swing bothered Upton during the season's final month, and a visit to Dr. James Andrews after the season reveal a small tear in his labrum. He didn't need surgery and is rehabbing this winter, which brings us to these latest rumors.
Since the season ended the D'Backs have hired a new GM, one affectionately known as the Human Trade Rumor. That's just how Towers seems to operate, in a very public way. As if putting a package together to acquire Upton wasn't hard enough already for Brian Cashman and the rest of the Yankees' brain trust, it's made even more difficult by the fact that KT knows their players and farm system better than just about all opposing GM's after working with the team in 2010. Pulling a fast one with a great stats/meh tools minor leaguer like say, a Zach McAllister before he was dealt to Cleveland, is improbable.
What makes Upton so special is the raw talent and especially the power. When Baseball America ranked him the second best prospect in the game in 2007, they said he "does everything exceptionally well and already has the body and composure of a big leaguer," noting that he "whips his bat through the hitting zone and has great leverage in his swing, which allows him to sting the ball like few players can and gives him plus power potential." In his three full big league seasons, TJU boasts a .205 ISO, which is slightly off from the .215 ISO that Robbie Cano put up this year. That's the kind of power we're talking here. Take a look at his spray chart below, the power is to all fields as well, especially important in Yankee Stadium. It's not like he's pull happy.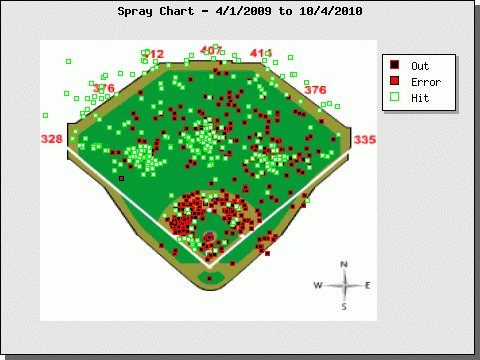 Now, as good as Upton is, he's not without his flaws. He strikes out a ton, once every 3.36 trips to the plate during his three full seasons. Of course there are the injury concerns, namely the shoulder, and he also has a sizable platoon split (.388 wOBA vs. LHP, .343 vs. RHP). Upton has also been much better in hitter friendly Chase Field (.384 wOBA) than he has been on the road (.326). Remember though, we are talking about someone that didn't turn 23 until this August; Upton's more than two full years younger than Ramiro Pena and just a month older than Brandon Laird, for example. The fact that he hasn't fully figured out how to consistently hit on the road and against same-side pitchers yet should be no surprise.
Dave Cameron figured that based on his contract, Upton has an excess value of $70M if he develops into merely a very good player (3.5-5.0 fWAR) and over $100M if he turns into a superstar (4.5-6.5 fWAR). Both totals seem a little outrageous, but let's roll with it since the legwork is already done. Towers is a smart fella, so you can bet he's going to market him as a superstar. A trade with the Yankees would unquestionably start with Jesus Montero, and even then you're adding two or three quality pieces. Including guys like Laird and Eduardo Nunez and Ivan Nova won't cut it. Manny Banuelos or Dellin Betances will have to be involved, maybe Brett Gardner, and then even more. Players of Upton's caliber don't come cheaply, especially when they're this young and signed at a below market rate for the next five years.
I'm a big Justin Upton fan and he's the kind of player you move mountains to acquire, so I hope that talks with Arizona progress from due diligence to legitimate discussions. It's sounding more and more like a trade is possible, too. As solid as the Yankee outfield is now, Upton makes it better and he instantly becomes the centerpiece of the offense going forward, a surer thing than Montero because he's shown he can do this and this in the big leagues (seriously, click that first link). It's a long shot, and it would be extremely costly to make it happen, but man, The Justin Upton in pinstripes would make the Yankees demonstrably better both now and in the future.
* In case you're wondering, the The Justin Upton nickname came about from a reader typo in one of Keith Law's ESPN chats like two years ago. TJU is a great nickname, so it stuck.