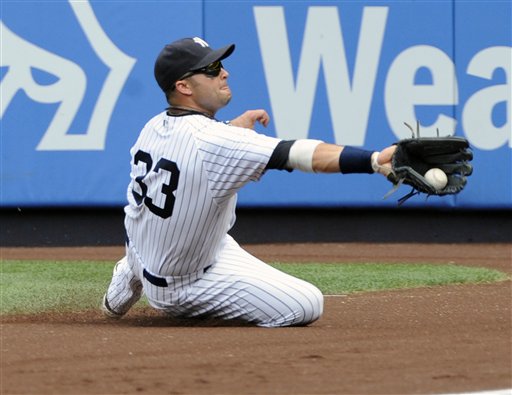 It's easy to forget that when the Yankees originally acquired Nick Swisher in a steal of a trade from the White Sox last offseason, he was expected to be their starting first baseman. It's even easier to forget that after the Yanks signed Mark Teixeira, Swisher was then pushed into a rightfield platoon with Xavier Nady even though he was a switch hitter. The rest is history. Nady blew out his elbow in April, giving Swish the playing time he deserved, and he rewarded the team with the best offensive season of his career (.375 wOBA).
There were no hurdles for Swisher to clear when the 2010 season started. The starting rightfielder's job was his outright, and he began the season with a six game hitting streak that never seemed to stop. Swish hit .298/.377/.524 (.391) with 15 homers in the first half, earning his first All Star Game berth as the Send Swish! campaign landed him the Final Man vote. He even got to take some hacks in the Homerun Derby. Swish opened the second half with a walk-off hit against the Rays (after tying the game in the eighth) in the first game after George Steinbrenner's passing. It was Nick's Bobby Murcer moment, arguably the most memorable game of the season.
While Swish has always been a productive offensive player, he did some work with hitting coach Kevin Long last winter to help him better combat breaking balls. The work really started during the 2009 playoffs, but the offseason gave the two plenty of times to get things straight. The result was a setup in the batter's box that was much quieter than in the past. Here's a video of Swisher from April 2009, and here's April 2010 for comparison. There's less movement in general but especially with his hands, and his stance closed up as well.
The result was, again, the best season of Swish's career. He hit a career high .288, trading in some base hits for walks, and his strikeout rate (24.6%) was the second lowest since his rookie season. Average offensive around the league fell eight points to a .321 wOBA in 2010, but Swisher improved two points to .377 (.288/.359/.511 with 29 homers overall). Add in basically average defense, and the total package was worth 4.1 fWAR, the best mark of his career and seventh best among AL outfielders. It's hard to complain about Nick Swisher's 2010 season, the guy has been nothing but productive in pinstripes since Kenny Williams gave him away.