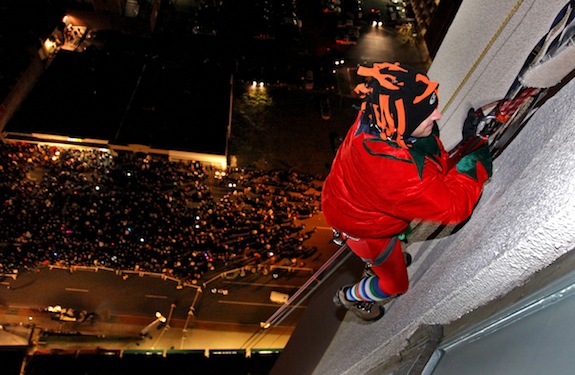 Now that the baseball world has debated Orlando and everyone is back at home, the Yankees are going to wait. For another day or two or three, Cliff Lee will take center stage as team executives in the Bronx and Arlington wait for the left to make his move. He has a new offer in hand from the Rangers and is now at the point where he must make a decision. Solicit a round of final offers; pick a team.
In an off-season filled with "reality potions" and other zingers, Brian Cashman isn't disappointing anyone. I don't envy him his job. If the Yanks win, detractors say it's because Cashman just signs the checks. If the Yanks lose, it's his fault they fell two wins short of the World Series. At least he has a sense of humor about himself.
In Orlando this week, Cashman spoke to the gaggle of reporters, and his quotes were blunt and even witty. He started these moments of honesty during the Derek Jeter saga. "Iconic off-the-field value doesn't translate in my world," he said.
And what exactly is his world? "I know my title is general manager," he said this week, "but I consider myself the director of spending of the New York Yankees. I don't make it. I spend it."
As for his current situation, he too had a witty remark for it. It is, he said, like "Hannibal Lecter in a straightjacket. Waiting on this Cliff Lee thing, it's kind of restricting my movements a little bit."
When pushed for explanation by reporters this morning, he offered up one that rings true. "I wouldn't say hostage," he said. "It's just you have to wait. He's a premiere free agent and so he's worth waiting for. So somebody will be happy and somebody will be disappointed. I'd rather be the happy one than the disappointed one. But either way, life will go on so we'll let the process play out."
Life will go on, and the process will play out. Many Yankee fans who comment here, who spend their days on Twitter, who call into Michael Kay's and Mike Francesa's radio shows, think life will not go on if Cliff Lee re-signs with the Rangers. But it will because the Yankees keep their hand in every pot. They might be hesitant to throw Zack Greinke into the New York mix, but Plan B exists. It's out there; it's in the works.
Cashman spoke, in general terms, about that aspect of his job as well. "Sometimes it" — meaning the team's plans and involvement with other free agents — "could change altogether. Sometimes it could get to the point where it doesn't make sense. It goes both ways," Cashman said. "There's a period of time where certain things make sense, and then sometimes those things become out of reach and don't make sense, because of the market. There's an ebb and flow to this stuff every year. We've had many a players we've had interest in but not at the levels that they were commanding."
That last line shows you what a general manager should be doing. The Yankees know they could use some help behind the plate; they know they need another southpaw reliever; they know their starting rotation is perilously weak. But they also know that the outfield can be very good without a long-term commitment, and they know what chits they have to trade. It's frustrating to see the Cliff Lee happenings go down so slowly, but it's all part of the plan.