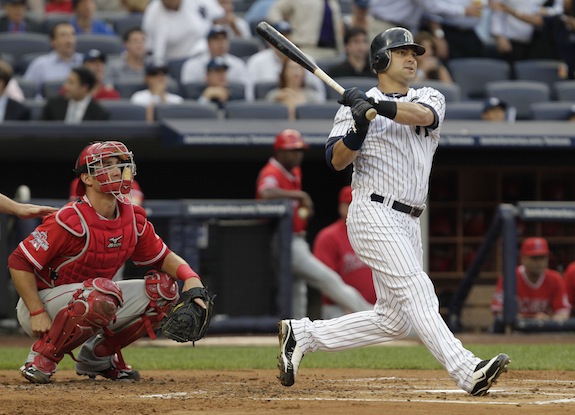 The Washington Nationals sent a bit of shock wave through the baseball community yesterday afternoon, announcing that they had signed outfielder Jayson Werth to a massive seven-year, $126M contract. Werth is undeniably a great player, but that contract is excessive. It (theoretically) set the market for Carl Crawford, and could have a trickle down effect on just about any upcoming free agent outfielder, such as one current Yankee.
Since coming to New York, Nick Swisher has posted the two of the best seasons of his career at 3.7 and 4.0 bWAR. He's hit 58 homeruns in pinstripes, getting on base at a .365 clip with a .235 ISO. He also made his first All Star team, all for the bargain price of $12.05M ($5.3M in 2009, $6.75M in 2010). Swisher is due to become a free agent after the 2011 season, so I'm sure he and his agent are licking their chops are seeing Werth's deal. Over the last two seasons, Werth has a .899 OPS, and Swisher's is not to far off at .870.
To get an idea of what kind of contract Swisher could be in line to receive, we should dig up comparables. Using the great B-Ref Play Index to find players with similar production during their two seasons leading up to free agency (what have you done for me lately?), we get names like J.D. Drew, Bobby Abreu, Jason Bay, and Brian Giles. Drew signed with the Dodgers for five years and $55M. Abreu re-upped with the Phillies for 5/64, Bay got 4/66 from the Mets, and Giles got 3/30 from the Padres. The average of those four is ~4/54, or $13.5M per season. Swish generally lags a little bit behind those guys in HR, OPS+, and in some cases bWAR in the years before free agency, but at least we have an idea of what he could ask for. Frankly, $13.5M per year seems rather reasonable.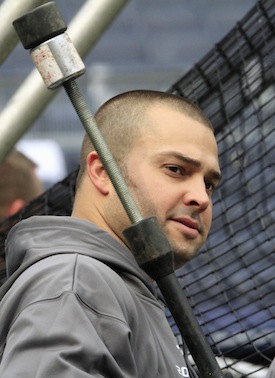 The Case For Extending Swisher
Making a case to sign Swish to a contract extension is rather easy. He's very productive (between 3.7 and 4.0 fWAR in four of the last five years), extremely durable (he's been on the disabled list once in his six full seasons, and it came five years ago), and still in the prime of his career (he turned 30 less than two weeks ago). He's also a fan favorite. The Yankees could end up saving themselves a few bucks by signing him now and avoiding the unpredictability of the open market as well.
The Case Against
While 2011 is the final guaranteed year on Swisher's contract ($9M salary), the Yankees do hold a club option for 2012 worth $10.25M. They could choose to buy him out for a million bucks, but at this point in time it would be an upset if they went that route. So in reality Swisher is two years away from free agency, when he'll be 32 and approaching his decline phase. While his stock is at an all-time high right now, it could be on the way down 24 months from now. Not extending Swisher now would also give the Yanks some semblance of roster flexibility going forward since his trade value is at an all-time high as well.
The Verdict
The Yankee policy is to not negotiate with players (not to mention field and front office staff as well) until their contracts expire, so this entire post is more academic than anything. But just for the sake of argument, let's assume the Yanks would be up to giving their rightfielder an extension.
I'm in the camp that thinks they should wait this one out and let Swish play out the final two years of his contract before worrying about an extension, and I love the guy. Like I said, they'd maintain some roster flexibility, which is extremely important with so many massive contracts. It also eliminates a ton of risk since they wouldn't be locked in for the next five years if he declines or something. The Yankees can afford to pay him when he becomes a free agent in two years if they want to, and that's the route they should go. The financial advantage allows them to wait and pay people later rather than have to gamble and pay them now.