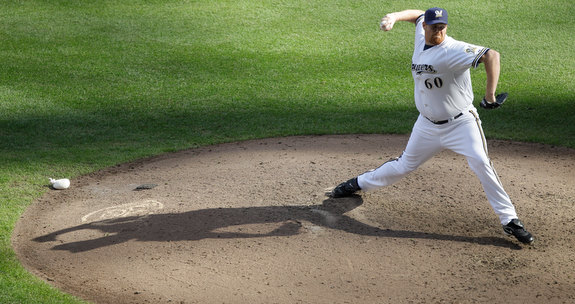 Aside from the obvious need for a starting pitcher, the Yankees also have to fill some voids on the bench and in the bullpen. While David Robertson and Joba Chamberlain are a fine setup tandem, no one would mind an upgrade. The problem is that unless you overpay for Rafael Soriano or trade half the farm system for Joakim Soria, that guy just isn't available. The best course of action may be to simply add depth and upgrade the middle relief corps instead. I've already looked at Chad Durbin for this role, but another name caught my eye today: Todd Coffey.
A 41st round pick way back in 1998, Coffey slowly climbed the Reds' minor league ladder before reaching the big leagues in 2005. He pitched out of Cincinnati's bullpen in parts of four seasons before being designated for assignment and then claimed off waivers by the Brewers in September 2008. Coffey's time with the Reds wasn't anything special – a 6.0 K/9 and 2.3 uIBB/9 in just over 200 innings – but the now 30-year-old seemed to find himself in Milwaukee.
Spending the 2009 season as manager Ken Macha's bullpen ace, Coffey threw a whopping 83.2 relief innings, the third most in baseball. His strikeout rate was just okay at 7.0 K/9, but he made up for it by walking just 1.9 batters per nine innings unintentionally and getting a ground ball 52.3% of the time with his low-to-mid-90's fastball and mid-80's slider. Batters swung and missed on 10.7% of the swings they took against Coffey, more than they did against strikeout artists like Bobby Jenks, Heath Bell, Carlos Marmol, and Kerry Wood. That fine season earned him a $2.025M salary for 2010 in his second trip through arbitration.
Coffey's peripheral stats took a bit of a hit in 2010, not coincidentally as he battled a thumb contusion on his throwing hand that cost him three weeks in June. His strikeout and whiff rates actually climbed to 8.1 K/9 and 11.2%, respectively, but his walk rate jumped to 2.6 uIBB/9 and his ground ball rate fell just about five percent to 47.6%. Coffey's ERA, just 2.90 the year before, shot up to 4.76, but you can blame that on a microscopic 63.9% strand rate. League average is right around 72%, so he ran into quite a bit of bad luck there. Instead of giving Coffey another raise through arbitration, the Brewers non-tendered him earlier this month, a completely understandable move.
Although the walk, ground ball, and improving strikeout rates are traits you want in a reliever, Coffey is flawed. His platoon split is pretty massive, as lefties tagged him for a .344 wOBA over the last two years while righties were held to just a .288 wOBA. He's also surprisingly homer prone despite the proven ability to keep the ball on the ground, giving up the long ball at a rate almost exactly equal to one for every nine innings pitched over the last two seasons (0.98 HR/9, to be exact). Coffey is flawed, no doubt about it, but so is every other middle reliever on the face of the earth.
It shouldn't cost much to sign Coffey at this point, definitely nothing close to what he earned in 2010. A one-year contract with a six-figure salary seems almost inevitable regardless of what team he joins, a price that's just a drop in the hat to the Yankees. Right now the Opening Day bullpen projects to have two of Romulo Sanchez (out of options!), Ryan Pope, Danny Turpen, Luis Vizcaino, etc. in it, so adding Coffey would be an obvious upgrade. He can be a very valuable piece if used correctly, meaning he's kept away from lefty batters. Cheap moves that are easy to back out of, like this would be, is the name of the bullpen game. The risk is minimal.
Aside: Not that it matters, but the 6-foot-4, 240 lb. Coffey has been a fan favorite wherever he's played, mostly because he comes out of the bullpen to the Ultimate Warrior's entrance music and does a full sprint to the mound. The Brewers even started keeping track of his sprint times and called it Coffey Time!, even keeping a leader board. It's irrelevant to his value as a player, but baseball's supposed to be fun and Coffey is just that.