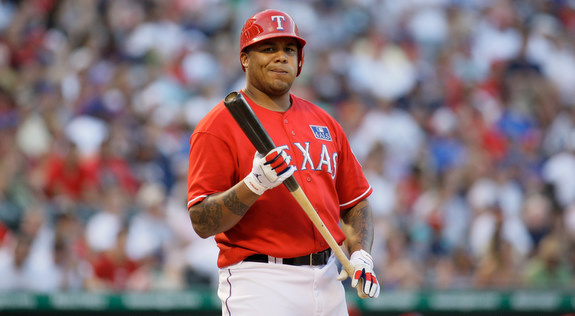 Seb asks: As I'm from Holland and a huge Yankee fan, I would love to see a fellow Dutchman in pinstripes. Do you think there's any chance the Yanks will pursue Andruw Jones this offseason? He fits their needs as a fourth outfielder/power bat off the bench. He's put up some solid power numbers the past two seasons in Texas and Chicago with his splits against lefties looking much better than against righties. He is still a solid defender, definitely better than Thames, and although he might not be the player he used to be.. to me he looks like a pretty good fit for the Yanks. Do you see a spot for him on the 2011 Yankees?
It's been a long, long time since Jones broke onto the scene as a 19-year-old in 1996, terrorizing the Yankees with a two-homer game in the World Series. Tough to believe that his borderline Hall of Fame career is rapidly coming to a close, but that doesn't mean he's incapable of helping a big league team in a limited role. The Yankees need a right-handed hitting outfielder, and the still just 33-year-old Jones might be their guy.
Since leaving the Braves as a free agent three seasons ago, he's bounced from the Dodgers to the Rangers to the White Sox, hitting just .204/.312/.411 (.328 wOBA) with 39 homers along the way. It's an ugly slash line, no doubt about it, but it masks a rather pronounced platoon split. During that time Jones has hit just .196/.288/.402 (.304 wOBA) against righties but .219/.352/.428 (.344 wOBA) against lefties. If we look at just the last two seasons to remove that horrific 2008 campaign with the Dodgers, we get .215/.310/.477 (.340 wOBA) vs. righties and .234/.369/.463 (.363 wOBA) vs. lefties. Dude can't hit for average to save his life, but he'll certainly take his walks and he still hits for a ton of power.
One concern I have is how Jones has tailed off in each of the last two years, something Joe wrote about it at FanGraphs this summer. Andruw dropped off from a .424 wOBA in his first ~110 plate appearances in 2009 to just a .320 wOBA in his final ~220 plate appearances of the season, then the same thing happened in 2010. He had a .427 wOBA in his first ~110 plate appearances, and just .340 in ~220 plate appearances after that. The drop off wasn't as severe this past season, but it still happened and we can't ignore it. Jones has been a hot starter in each of the last two years and then he's been merely average, if not worse after mid-May.
Defensively, Jone is no longer the historically great defender in center that he used to be. In fact, he's spent more time playing the corners than center over the last three years, and even more time at designated hitter. He's even dabbled at first base on occasion. His UZR's during that time are just okay at best, and we should expect him to get worse going forward, not better. If he's playing once or twice a week, below average glovework in a corner outfield spot won't be the end of the world.
Bench players are bench players because they have flaws in their game and aren't good enough to be starters. Jones' problem(s) is that he's struggled against right-handers and hasn't performed consistently over a full 162 game schedule over the last two years, not to mention that he strikes out a ton (once ever four at-bats in recent years). That last part is to be expected with power hitters, however. The good news is that he should come cheap, really cheap actually. Last year the White Sox paid Jones just $500,000 with another million bucks in incentives, the second straight year he's settled for a six-figure base salary. The market has exploded this winter, but it still shouldn't take more than $1.5-2M to sign Jones. And if it does, let someone else pay him.
I still prefer Scott Hairston as the righty outfield bat off the bench, but Andruw isn't a bad option, probably the second best on the free agent market. The Yankees offered Jones an invitation to Spring Training as a non-roster player two years ago, but he turned them down for a guaranteed deal with the Rangers. If nothing else, that tells us he's on their radar, and I'm willing to bet they're at least considering him again this offseason.