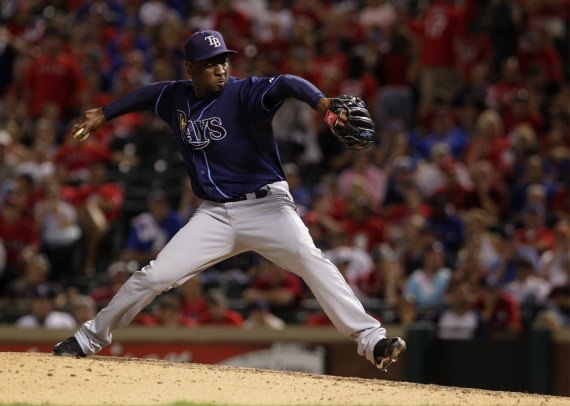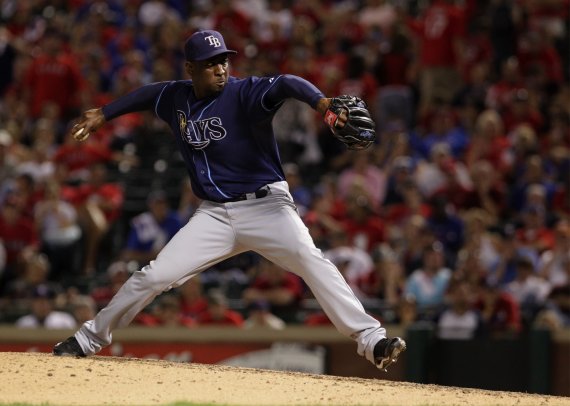 theyankeewarrior writes:
Here's an unlikley scenario that I pulled out of mowhere over Christmas break: The Washington Nationals already have three of the first 34 picks. They don't have a second rounder. What if the Yankees worked out a sign-and-trade with them for Soriano? The Nationals would only be surrendering the 86th pick for him, and the Yankees could easily make up for that (and some) with a guy like Phelps/Mitchell/Warren, right? This way, the Yankees get to keep their 31st pick in a stacked draft, secure one of the best relievers in MLB for about 4 prime years, and trade from a position of depth (SP/C?). Seems like a decent fit for both sides. What do you think?
This idea reminds me of Juan Cruz's situation two winters ago. He had pitched very well for the Diamondbacks in 2008 and was labeled a Type A free agent. But, because of his inconsistent track record teams weren't willing to surrender their first unprotected pick. And so he languished on the free agent market well into February. At one point a sign and trade was discussed, though it was quite a bit different than what is suggested above.
The idea two years ago was that the Diamondbacks would re-sign Cruz and then trade him to another team. They wouldn't get a draft pick in return, since they re-signed their own player. But they would receive a player, or players, from the team that eventually got Cruz. That package wouldn't be equal in value to an unprotected pick, or else the the receiving team would have just signed him straight up. But it would provide Arizona something. That situation never developed, though, as Royals GM Dayton Moore bailed out everyone by signing Cruz to a two-year, $6 million contract.
With Soriano the situation is a bit different. He's clearly a better pitcher than Cruz, and I'm sure that eventually a team will surrender its first unprotected pick in order to sign him. More importantly, in the above scenario the Rays would be getting absolutely screwed. They would lose their best reliever to a division rival and not even get their first unprotected pick. They'd instead get Washington's first unprotected pick, which, again, will be somewhere around No. 90 once all the free agents sign. If Washington straight up signed Soriano there's nothing the Rays could do. But if it's a sign-and-trade I can see the complaint board at the Commissioner's Office lighting up.
Let's just pretend for a second that all involved parties approve this. Let's say the Nats would rather have a AAA player than the 86th pick in the draft. Let's say that they won't use Austin Romine, the 90th pick in the 2007 draft, as a reference point. Let's say that the Commissioner's Office ignores the Rays legitimate complaints and allows the trade to move forward. Would the Yankees want to sign Soriano at that point?
While draft pick compensation acts as a tax, the removal of that tax does not necessarily make Soriano a better bet. He's still a relief pitcher with an injury history:
There are downsides to signing Soriano, of course. First, he's going to command a multi-year, big money contract. We know that relievers are volatile creatures, and while Soriano has been relatively consistent throughout his career, he's still susceptible to random fluctuations. His health is also somewhat of a concern. After his Tommy John Surgery he missed time in 2008 with further elbow troubles.
There are upsides, of course, not least of which is Soriano's ability to step in for Mo after the latter retires. But does that potential advantage outweigh the massive risk that is giving four years to a reliever with an injury history? I'm leaning no. The Yankees have plenty of money available this off-season, and I think they should use every penny in order to improve the 2011 team. But when they start adding money to the 2012, 2013, and 2014 payrolls is when I start to get a bit wary. They still have a lot of money committed to those years, and to add potentially dead money to those years will only make things worse.
Removing the draft pick compensation — or at least making it a bit more palatable a sacrifice — definitely makes Soriano a more attractive option for the 2011 bullpen. The Yanks have quite a few question marks with the starting staff, so adding another high quality reliever can help Joe Girardi and Larry Rothschild balance everyone's workload if the bullpen is needed more frequently than in years past. It's the implications this has for future years that has me leaning no on the issue. I wouldn't be upset if the Yankees did this, though it sounds like an impossible scenario. But it's also not a move I would actively pursue.