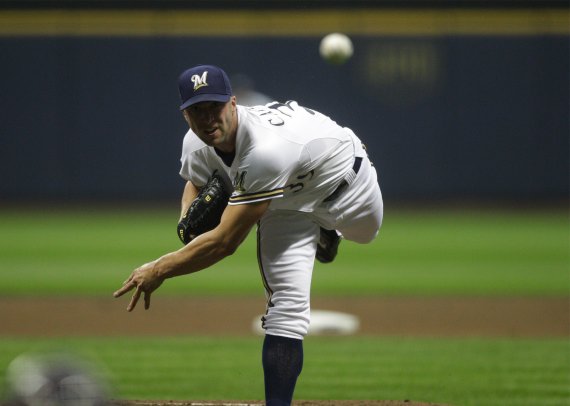 Mark L. writes: Worthwhile to look at [Chris] Capuano?
Yesterday I was looking for an excuse to write about Chris Capuano, and I thank Mark L. for handing it to me. Capuano is an interesting pitcher for a few reasons, though not all of them are good. But given the Yankees' current pitching situation, they can't turn away and possibly productive additions.
The first thing many people will want to know after looking at Capuano's FanGraphs page is why there are no entries for 2008 and 2009. This is the first reason why Capuano is interesting. He spent those two years recovering from Tommy John surgery. That might seem like an inordinate amount of time for recovery; usually we see pitchers come back in 12 to 18 months, and some have made it back quicker. For Capuano, though, it was his second TJ surgery. He did pitch some low-level minor league innings in 2009, but after surgery in May of 2008 his real comeback didn't begin until 2010.
After about 40 minor league rehab innings, Capuano re-joined the Brewers in early June for a start in Florida. He got lit up pretty bad in 3.2 innings and after that moved to the bullpen. After 15 relief appearances he moved back into the rotation for a final seven starts. Save for the first one they went quite a bit better than his first go-round. All told he had nine starts, which is hardly a sample from which we can draw conclusions. Of those nine starts, only four laster six innings or longer. That makes him a tough candidate for a starting staff. Yet his insistence on being a starter next season was part of the reason why he and the Brewers broke off negotiations.
As expected, Capuano's numbers were better out of the pen than they were in the rotation. These numbers run the gamut: strikeout rate, walk rate, FIP, xFIP, ERA, WHIP, etc. This is to be expected. Most pitchers' stuff will play up better in the pen than in the rotation. While that doesn't mean that all pitchers are destined for the pen, it does mean that some will perform far better in relief than they do as a starter. Given Capuano's history and his numbers, it appears that he is one of those guys. Unless he doesn't find a starting gig and relents, I can't see much of a fit for the Yankees.
My biggest problem with Capuano is his home run rate. In 777.2 career innings he has allowed 110 HR, or 1.27 HR/9. That rate has been fairly consistent from year to year. He combines this with neither a superb strikeout rate, 7.4 per nine, or an outstanding walk rate, 3.02 per nine. Both of those numbers are good, but they're not enough to overcome the home run rate. This shows up in his peripheral ERAs, a 4.47 career FIP. This does not sound like a guy I want facing the potent offenses of the AL East.
What plays in Capuano's favor is his handedness. Anyone who throws with his left arm, regardless of how many times that arm has been reconstructed, will get chance after chance. Considering the bevy of left-handed power threats in the AL East, having a few lefties on hand is certainly desirable. The Yankees have already addressed this issue by signing Pedro Feliciano, plus a number of lefties on minor league contracts. Capuano could be another solid addition to the bullpen.
While he does allow home runs to lefties, it's not nearly to the same degree as to righties. He also strikes out more lefties and walks far fewer. Again, we can turn to his peripheral ERAs to get a good comparison. Against righties he has a career 4.79 FIP, while against lefties he has a 3.23 FIP. If this doesn't scream lefty reliever I don't know what does. If he were willing to sign a deal as a reliever, I'd completely advocate this move. But I don't think that scenario will ever arise.
There are plenty of teams that can afford to gamble on a lefty with some upside. The Pirates, for instance, can likely find a spot for Capuano in the rotation. If he wants to rebuild his value, he's probably better off heading to bottom dweller and proving himself there. He'd then likely be in line for a bigger contract next winter. He could rebuild some value pitching out of the pen for a first division team, but if that were the case why wouldn't he just stay in Milwaukee? They've built up quite a 2011 team, but they don't have room in the rotation.
We enjoy exploring all possible free agent options, and I'm glad someone wrote about Capuano (though I'm sure I would have written about him anyway). But at this time it doesn't appear there's a match. Capuano wants a starting gig, but that's not his optimal role on a contender. If for some reason he doesn't find a gig in a poor team's rotation and decides he'll pitch in relief for a first division team, I'd love to see him as another lefty in the Yanks pen. Otherwise, he's just another guy whom we'll discuss, but we'll never see in pinstripes.