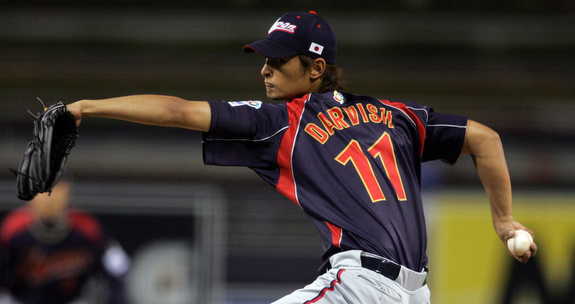 Nigel asks: With the Yankees out on Lee and no premiere pitchers available in the near future, is Yu Darvish the next big time Yankee signing at SP?
Let's get the easy stuff out of the way first: Darvish is the best pitcher on the planet not currently employed by one of the 30 MLB clubs. He's crushed the competition in Japan over the last four years, striking out 9.2 batters per nine innings while walking just 2.1 per nine. Opponents have taken him deep just 34 times in 792.1 innings over the last four seasons, or roughly once for every 23.1 IP. Aside from a brief bout with "lower body strains" in 2009, Darvish has been perfectly healthy, throwing no fewer than 200 innings and ten complete games in three of the last four years.
Patrick Newman of the indispensable NPB Tracker wrote a post at FanGraphs this past March explaining why Darvish is the real deal, and that was before the righty put up the best season of his career. I suggest giving that a read before going any further, and when you're done with that, here's a video to watch.
Darvish was expected to be posted by the Nippon Ham Fighters this offseason, but he decided to delay the move to MLB by a year because of a divorce. I hate to speculate, but you have to think he's waiting the year because he doesn't want his future ex-wife to get half of the mega-contract he's sure to land when he comes stateside. Anyway, Darvish now plans to join MLB after the 2011 season, and so we wait.
We know that the Yankees have scouted him extensively in the past, and of course they'll have interest when the time comes simply because he's young (two months younger than Phil Hughes!) and a top flight pitcher. The team's pitching rotation will change quite a bit between now and next offseason, but that won't stop them from pursuing a high end arm. It all comes down to price.
Brian Cashman has said that he considers posting fees to be a waste of money (after the Kei Igawa deal, obviously), and they pretty much are because all they buy you is a 30-day exclusive negotiating window. You still end up paying the player very handsomely. Talk of a $70M+ posting fee has been bounced around for years now, but I can't imagine it'll go that high. Teams are not oblivious to what's happened with Daisuke Matsuzaka, who has done anything but justify Boston's $100M+ commitment. The posting fee will certainly be exorbitant, but I'm willing to bet it's closer to $50M than $70M.
As for a comparable contract, Felix Hernandez's five-year, $78M deal makes sense. Darvish won't be a true free agent in the sense that he'll be able to solicit bids from every team, so that will limit his leverage. That means you're looking at a $130M or so total investment, something only a handful of teams can afford. Basically the Yankees, Red Sox, probably the Mets ($36.5M coming off the books after 2011, and that's just three players), Angels, and the Mariners. Maybe a few other clubs get involved, but it's tough to see.
As good as Darvish is, there's a ton of risk in acquiring him. His strikeout totals in Japan are very good but not great, and his workload at such a young age is pretty ridiculous. Remember, they pitch once a week in Japan, not in a five-man rotation. That's a big adjustment that has to be made and should not be overlooked. It's not like Darvish is Igawa though, he's is a power pitcher that misses bats and limits homers, so even if the AL East turns him into a 7.5 K/9, 3.0 BB/9, 1.0 HR/9 guy, he's essentially Matt Cain going forward. Any team would add that guy to their rotation.
Next winter's free agent pitching crop is pretty weak, assuming common sense wins out and Adam Wainwright's option for 2012 kicks in. That alone will make the competition for Darvish pretty stiff. I think the Yankees will submit a competitive bid next winter and make a legit run at acquiring him regardless of happens between now and then, but I would not be at all upset if they lose out on him because some team is trying to make a statement with a huge bid. Of course, if the 2011 seasons turns into a pitching disaster and the Yanks miss the playoffs, all bets are off.