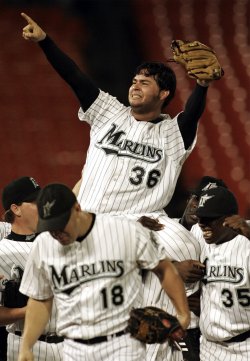 The normally frugal Marlins have gone on a relative spending spree this winter. It started when they signed John Buck to a three-year, $18 million contract and continued through yesterday, when they signed Ricky Nolasco to a three-year, $26.5 million extension. In the middle they also signed Javier Vazquez to a $7 million one-year deal and Randy Choate to a two-year, $2.5 million deal. Those deals bring Florida's payroll to over $40 million in 2011. Arbitration raises and reserve clause obligations should bring it to near $50 million, which means the Marlins will increase payroll for the third straight season.
That appears very un-Marlins-like. The team has been one of the stingiest in the majors for the past half-decade. A move to a new Stadium could open up new lines of revenue, so maybe the Marlins will maintain their current payroll level for now and in the future. Or maybe they'll look to sell off one or two of their more expensive pieces in exchange for cost-controlled talent. Looking through their payroll forecast, one name stands out as someone who might interest the Yankees. Anibal Sanchez, coming off the best, and healthiest, season of his career, is due a decent raise over the $1.25 million he earned in 2010. If the Marlins are listening, the Yanks should do a little trade talking.
Sanchez, you might remember, went to Florida in the Josh Beckett trade. After a slow start to his career he had gained plenty of value by that point, having dominated advanced-A ball before putting on a fine showing at AA as a 21-year-old. He arrived in Florida during the winter of 2005-2006 as the Marlins No. 3 prospect, and as baseball's No. 40 overall. In 2006 he opened the season in AA, but pitched so well there that he earned a call-up to the bigs. His first 114.1 major league innings went about as well as possible, as Sanchez overcame iffy peripherals to produce a 2.83 ERA — including one no-hitter.
Sanchez's strong 2006 season came with one drawback: it was the second straight year in which he drastically increased his workload. In 2005 he threw 136 innings after throwing 76.1 in 2004. Then in 2006 he threw 200 on the nose. After just six starts in 2007 Sanchez hit the DL with a shoulder injury that would eventually require surgery to repair the labrum. That kept him out of the majors until July 31, 2008. He again made six starts in 2009 before succumbing to a shoulder injury, which kept him out until June. After just three innings of work he hit the DL again, this time the 60-day variety. It was, for the third time, a shoulder issue.
Things have gone well for Sanchez since that last injury. He came back in late August of 2009 and threw 50.1 innings to a 2.68 ERA the rest of the way. But it was in 2010 that everything seemed to come together. While Sanchez produced quality results in 2006 and 2009, his peripherals were considerably worse than the performance. In 2010 Sanchez pitched 195 innings to a 3.55 ERA, but more importantly his FIP, 3.32, and xFIP, 4.21, were both career lows. Even his tERA was a nice, low 3.32. Injuries might have hampered his progress, but it appears as though Sanchez has overcome the obstacle and is now starting to fulfill his promise.
If the Yankees are to inquire about Sanchez, they need to first ponder two questions. First, how big an injury risk does he represent in the future? Second, how have his previous injuries affected him already? The first one is pure speculation, and requires someone with actual medical expertise. Even then, it's merely informed speculation rather than a blind guess. To the second, though, we can see some signs in Sanchez's 2010 numbers that might give us an indication. For instance, his velocity, according to both PitchFX and Baseball Info Solutions, is right where it has always been — and in fact might have been a bit faster in 2010. That's an encouraging sign for a player who has undergone labrum surgery and who has suffered a subsequent shoulder injury.
If the Marlins are open to trading Sanchez, I imagine they'd settle for nothing less than taking the Yanks to the cleaners. They have a fairly strong team in 2011 and could contend for the wild card, so to trade their No. 2 starter would deal a serious blow to those hopes. Still, we have a good idea of how the Marlins operate, and the right package of young players could tempt them. I imagine they'd ask for Montero, but the Yanks won't go there. A package that included Manny Banuelos, Brandon Laird, and Austin Romine might get the conversation started, but certainly won't finish it. For all we know, the Marlins might not settle for anything less than Montero — and at that point there's simply no way this gets done.
The Yankees must explore every possible pitching option on the market, and I imagine that they will inquire on Sanchez. I also think that he'd be a good fit for the Yankees' rotation. He induces a fair number of ground balls and strikes out hitters at a rate slightly above league average. His control was on display in 2010, and when healthy he's shown an ability to limit home runs on fly balls. He will get a bit expensive in the next few years, he has a considerable injury history, and he's set to hit free agency after the 2012 season, which are all reasons that Florida would consider trading him. But I don't think they'll do it on the cheap. They could hold onto him and trade him in July for a similar return — which is exactly why Brian Cashman has preached patience so far this off-season.