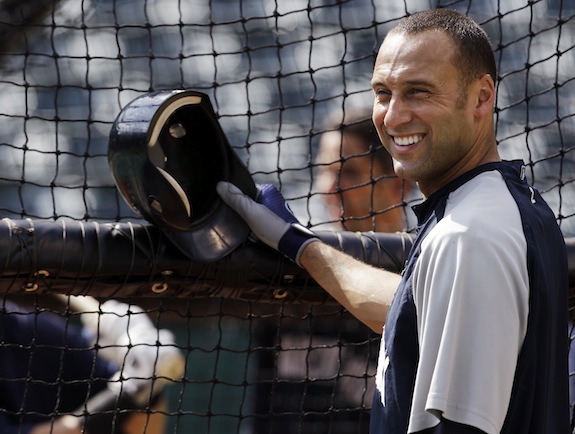 Update by Mike: It's a done deal, says RAB fave Jack Curry. It's a three-year contract worth a guaranteed $51M with a fourth year player option for $8M. Jeter can also earn an additional $9M in incentives that final year, and there's a $3M buyout of the option (so $16M per season). Jon Heyman explains that the incentives are based on finishes in the MVP, Silver Slugger, and Gold Glove voting. I don't like the player option at all; Jeter might as well pick it up now.
Original post by Ben (12:55pm ET): According to George A. King III, the Yankees and Derek Jeter will "finalize a three-year deal today." The two sides are haggling over the final details of a contract that will guarantee Jeter up to $17 million a year. As Jack Curry reported earlier, both Jeter and the recently re-signed Mariano Rivera have agreed to defer money to move the process along.
According to King, "The contract includes a tricky option for a fourth season, neither a vesting situation nor a club option. It is linked to what happens across the three guaranteed years." Late last night, WFAN's Sweeney Murti reported that the option would probably be worth around $10 million, bringing Jeter's total package to a potential four years and $61 million.
In one sense, the Yankees are bidding against themselves for Jeter. No other team has put in an offer, and comparable players are signing for less than 50 percent of what Jeter will earn annually. On the other, though, by upping the offer to $17 million a year for the next three seasons, the Yanks have ensured that Jeter will earn a higher salary than A.J. Burnett. That fact was a sticking point for many.
Ultimately, even though this deal was inevitable from the day the Yanks lost the ALCS, this is a gamble for the team. Jeter will be playing his age 39 season in the final guaranteed year of this contract and will be 40 for the option year. Despite his declining range, there are no plans to move him off short and no obvious landing spots either. We can live with the dollars and the short term, but we'll have to hope that Jeter's career-worst .270/.340/.370 was an aberration and not a sign of things to come.
Meanwhile, by wrapping up this deal ahead of the Winter Meetings, the Yanks have all but assured themselves a singular focus in Orlando. Cliff Lee, you're next.
Additional reporting by Mike Axisa.