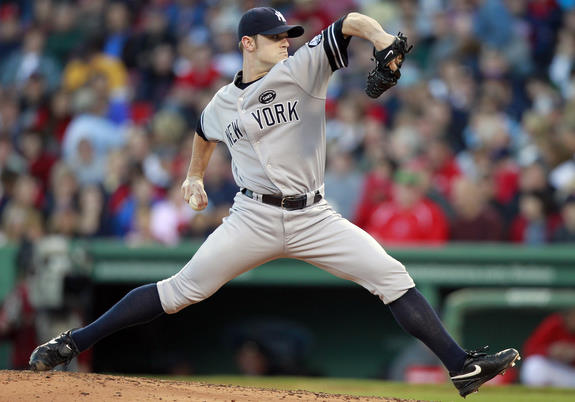 First round draft picks and high profile international signings garner most of our attention and make us excited for the future, as they should. These players are the best of the best, at least when it comes to the amateur ranks. They're drafted early and signed to seven-figure contracts because teams expect them to be above-average contributors at the Major League level, if not franchise cornerstones. The Yankees have one of the better farm systems in baseball right now, and although first round picks and international bonus babies contribute a great deal to that, scouting director Damon Oppenheimer and his staff have done an exceptional job of finding talent in the middle and lower rounds of the draft.
Of the 20 drafted players among the Yankees' top 30 prospects according to Baseball America, nine were selected after the fifth round. Seven of those nine were selected in a double digit round, and four of those seven signed for no more than $150,000. This isn't just a case of the Yankees throwing money at top amateurs who've fallen for whatever reason, though they've certainly done that aplenty (Dellin Betances and Austin Jackson come to mind). They've legitimately drafted and developed quite a few middle round talents into actual prospects.
Depending on who you ask, the best of the middle-to-late round crop is Brandon Laird, a 27th round pick that signed for just $120,000. It could also be David Phelps (14th round and $150,000) or maybe even D.J. Mitchell (10th round and $450,000), but that's just players still with the organization. Late round picks Casey Erickson (10th round) and Dan McCutchen (13th round) were flipped for help at the big league level, as were middle rounders Mitch Hilligoss and Chase Weems (both sixth round picks). Two recent fifth round picks  – Zach Kroenke and George Kontos – have been selected in the Rule 5 Draft (Kroenke twice), so it's clear other clubs value them.
Oppenheimer has been at the helm for six drafts now, and he's had a total of ten players reach the big leagues (only counting players the Yankees actually signed, so they don't credit for Doug Fister, Justin Turner, and Drew Storen). That doesn't seem like a lot, but remember, the last few drafts are still a work in progress. Of those ten players, just three (Brett Gardner, Ian Kennedy, and Joba Chamberlain) were drafted before the fifth round. Of the remaining eight, five were taken no earlier than the eighth round. David Robertson highlights this group, a completely unheralded 17th round pick that signed for $200,000 and has turned into a strikeout heavy setup reliever.
Of course, it's important to keep our expectations realistic. We're not talking about stars here; getting Albert Pujols in the 13th round or Andy Pettitte in the 22nd round or Jorge Posada in the 24th round or Mike Piazza in the 62nd round is a once in a lifetime event. Most of the middle-to-late round players project to be back-end starters or role players or extraneous relievers, but that has value. For every D-Rob the team develops, that's one less Jesse Crain or Matt Guerrier they have to sign as free agents. Each Colin Curtis or Kevin Russo is one less Randy Winn or Miguel Cairo. The Yankees are getting away from that reliance on veterans in this miscellaneous roles, which saves payroll and allows for greater roster flexibility.
The Yankees will surely need to rely on some of these non-top draft picks this season, especially given the current state of their rotation. Whether that means throwing Phelps or Mitchell to the AL East wolves or using them in trades for an established starter remains to be seen, but they're an important cog in the pinstriped machine going forward.